A new era is about to be ushered in at Real Salt Lake, as the Utah side are set for their first season since entering MLS in 2005 without Jason Kreis as a player or head coach.
But apart from that… not much has changed at RSL. New head coach Jeff Cassar was Kreis' assistant at the Rio Tinto Stadium since 2007 and knows the club inside out, so settling in with the 2013 MLS Cup runners up wasn't exactly difficult. Add to that the fact that RSL didn't lose any of their stars and only a handful of youngsters and lower-league players arrived, and you could be forgiven for thinking Kreis is still around.
LATEST 2014 MLS PREVIEWS, RIGHT HERE
Even though the coach who helped build the RSL organization into the well-oiled machine they are today is gone, newly appointed New York City FC head coach Kreis has left behind a legacy which should see the '09 MLS Cup champions go far once again in 2014. Looking to make up for their defeats in the U.S. Open Cup and MLS Cup finals last season, a fired up RSL side led by veterans Nick Rimando, Kyle Beckerman and Alvaro Saborio await the rest of MLS.
Be warned, underestimate RSL at your peril.
Transfers In: Luke Mulholland (Undisclosed, Tampa Bay Rowdies), Jordan Allen (RSL – Arizona academy, Homegrown player), Ryan Neil (Drafted, first round), Joey Dillon (Drafted, third round), Daniel Jackson (Drafted, fourth round)
Transfers Out: Lovel Palmer (Trade for allocation money, Chicago Fire), Khari Stephenson (Released), Brandon McDonald (Released), Josh Saunders (Released), Enzo Martinez (Waived, Carolina RailHawks)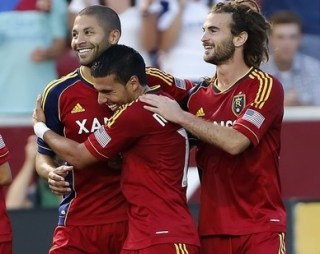 Key Player: Alvaro Saborio
Many would point to captain Beckerman in the engine room or Rimando between the pipes but if Sabo is firing on all cylinders, RSL's machine slots into action seamlessly. The Costa Rican forward is fired up ahead of a trip to the World Cup and he's scored three of RSL's four goals in the Desert Diamond Cup this preseason. He's red-hot after an injury-hit season in 2013. At 31, he's been around the block a few times and knows how to manipulate even the best MLS' defenses to his advantage. With his pace still a threat and a lethal set of shooting boots, Saborio will be hoping to better his MLS tally of 12 goals from 16 games last season. If he stays healthy, Salt Lake has a chance of lifting their second MLS Cup.
Manager: Cassar is a bit of an unknown quantity, but he's been around MLS for a long, long time and knows exactly what makes a successful team tick. A goalkeeper during his playing days, which took him to Bolton Wanderers, Miami Fusion and FC Dallas among others, Cassar will be keen to keep RSL's tradition of punching well above their weight going. Getting of to a good start is important for the new man in the hot seat at the Rio Tinto. Everyone is intrigued to see if he deploys the famous diamond in midfield and is able to take Kreis's sterling work to the next level.
Outlook: As we've mentioned, not much has changed around RSL. The old saying "if it ain't broke, don't fix it" rings true here, as a solid spine of the side is still intact. With the playing philosophy set throughout the club from the academy level up, you have to think the youngsters who have been brought in can easily slot into Cassar's side. With experienced heads likes Saborio, Beckerman and Rimando staying on and two near misses in both domestic finals last season, will those heartbreaks spur Salt Lake on this year? It could be the fuel to their fire, as another deep playoff run and a top three spot in the Western conference beckons. Under a new manager it will take time to readjust but I expect RSL to be up where they belong… with MLS' elite as the underdogs. They thrive in that role and the rest of MLS' knows better than to underestimate the team from the Rio Tinto.