Yesterday we brought you a series of four uniform moves made my MLS teams during "Jersey Week" (San Jose, Houston, L.A. and DC). Today we move to Portland and Seattle.
Let's get Cascadian, folks.
Portland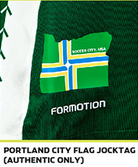 Portland is abiding by the Meatloaf corollary, that "two out of three ain't bad." I'm cool with both the red road kid and the throwback kit (full marks to Alaska Airlines for playing along by allowing an alteration of its logo). What I don't like is the jagged design running along the sides of the home shirt, or what adidas is calling "two-sided Chevron design." It totally messes around with a kit that look that is already messing with the eyes, within reason, by the stark green and white. All three jerseys are amplified by their "jocktags," which include, in order of coolness, the Portland City flag, the Rose City alternate logo and "RCTID."
**
Seattle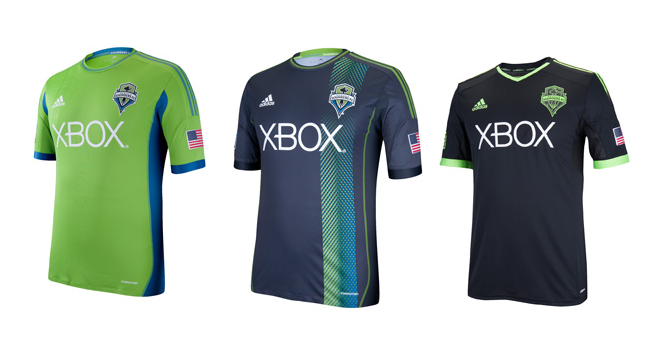 No beef here, as all risks being taken are happening on the road and third kits. Love the simplicity of the primary shirt; When your club has as unique a color combo as the Sounders, there's no need to slap your supporters' retinae around. The vertical blue and green stripes on the navy shirt take what Los Angeles was doing with its diagonal stripe and make it work well (though I assume a lot of this aesthetic judgment comes from the lesser contrast that comes with not doing it on a white shirt). The "Pitch Black" third kit (right) is just perfect for a night match in Seattle. Dig it.