Whenever a team reaches new heights, the next year is defined by whether it falls back to earth. For the New York Red Bulls, 2013 featured unprecedented heights, with the club claiming its first major honor: the Supporters' Shield. Now, with Mike Petke entering his second season on the sidelines, the question is whether the team can offset a series of indicators that hint they'll decline.
The big one is age. Thierry Henry, who took a small step back last year, is staring at the grind of a Major League Soccer season as a 36-year-old. Tim Cahill, so crucial to the team's surge to first in the East, is now 34. Jamison Olave, indispensable at the back, turns 33 in April. If any of these veterans slip, New York may not have enough to hold of Sporting Kansas City. If they fall flat, the Red Bulls may have to completely rethink how they approach the 2014 season.
Right now, three days away from the team's season opener in Vancouver, a team that eschewed changes in the offseason looks primed to compete for another Shield. Spanish important Armando has joined former Toronto FC fullback Richard Eckersley as reinforcements at the back. A midfield built on the ethic of Dax McCarty, Eric Alexander, and Jonny Steele is capable of out-working most teams – effort that will create chances for Cahill and Henry.
It's a formula that worked in 2013. Short of another contender surging past the field, it's one that should allow New York to compete in 2014. Though another year on some worn wheels means there's an increased chance of a blowout, the Red Bulls could also roll to another successful season.
LATEST 2014 MLS PREVIEWS, RIGHT HERE
Players in: Armando (signed, Cordoba (Spain)), Bobby Convey (trade, Toronto), Richard Eckersley (trade, Toronto)
Players out: Brandon Barklage (option declined, San Jose), Fabian Espindola (re-entry draft, D.C. United), Markus Holgersson (contract terminated), Rafhinha (released), Amando Moreno (signed in Mexico), David Carney (signed in Australia)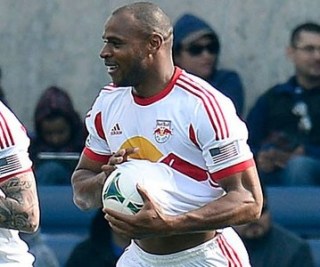 Key Player: Eckersley. Miller. Armando. On paper, New York's defensive doesn't seem too impressive, but if you add Jamison Olave's name to the mix, all of a sudden the back line looks workable. With a center back capable of playing like one of the league's best over long stretches of time, Olave is capable of raising the level of over an otherwise unspectacular group.
Henry and Cahill grab the headlines, and they are undeniably important pieces, but if Jamison Olave doesn't give another borderline Best XI performance, it's difficult to see this defense holding up. He is as "key" as either of his more famous teammates.
Manager: Mike Petke's 2013 success earned him Coach of the Year votes, carving a place for him among a growing class of young, recently ex-MLS players who are making an impact on the sidelines. Relying almost exclusively a conventional 4-4-2 formation, Petke opted for simplicity over sophistication. In the process, he did what good coaches do best: Give his most influential players a platform to succeed.
Even amid a drop of in production from Henry (2012: 15 goals, 12 assists; 2013: 10 and 9), Petke produced historic results. If he can keep his team focused and humble, Petke should be able to maintain his 2013 results, even if that doesn't necessarily mean another Supporters' Shield.
Outlook: Given how Sporting Kansas City finished the season (raising MLS Cup), it's difficult to call New York favorites in the East, and with Toronto FC assembling a sold (and star-studded) lineup up north, the conference looks more competitive than last season. Whereas last season saw New York and Kansas City fight it out (after a fade from Montréal), this year the Reds and Houston could also factor into the equation.
But in a managerial world where coaches prefer to focus on their own teams, Petke has is own internal obstacles. The threat of further regression from Henry is real, and with Cahill set to miss a large chunk of the season at the World Cup, the team could find itself short on scoring options. If Olave starts experiencing some of the same injury concerns that defined his last years in Salt Lake, New York suddenly looks like a candidate to collapse.
That would require a lot of ifs to fall in line; then again, when things go south, the negatives often start complementing each other (see San Jose, 2013). New York is capable of competing near the top of the East once more, but in 2014, Petke's likely to see a new set of problems.