Odd to say about a team with a "genius" coach, the fewest losses in MLS and the best goal differential, but it's hard to get a confident read on the Portland Timbers. Caleb Porter clearly knows how to coach up a team, and the Timbers cleaned up at the MLS Awards, but who were they really in 2013? And who might they be this year?
The reason to put it that way is the Timbers tied a remarkable 15 matches last season. That's nearly twice as many as any playoff team and four more than the club with the second-most ties (FC Dallas).
LATEST 2014 MLS PREVIEWS, RIGHT HERE
In a Western Conference where their first place point total was just six points higher than the San Jose club that missed the playoffs, Portland may have very well been the best team in the entire league… or just another squad. Their 15 ties are the highest in two entire seasons of MLS play, so were they a goal away from the Supporters Shield or a couple goals away from missing the playoffs entirely?
Likely the former (See: the playoffs), but something to keep an eye on before we go all gushy on a team loaded up for 2014. Darlington Nagbe, Will Johnson and company will have their say yet again this year, but how loud will they roar?
Transfers In: Gaston Fernandez (transfer from Estudiantes de La Plata), Norberto Paparatto (transfer from Tigre), Steve Zakuani (Re-Entry draft), Jorge Villafana (trade from Chivas USA), Andrew Weber (free), Schillo Tshuma (MLS SuperDraft), Taylor Peay (MLS SuperDraft)
Transfers Out: David Horst (option declined), Ryan Johnson (out of contract), Andrew Jean-Baptiste (traded to Chivas), Sal Zizzo (trade to Sporting KC), Milos Kocic (retired), Mikael Silvestre (contract terminated), Brad Ring (out of contract), Jose Valencia (loaned to Club Olimpo)
Key Player: Diego Valeri
How will the reigning MLS Newcomer of the Year improve on a 11-goal season (10 regular season, 1 playoff)? That's the big question, and I'd expect to see Valeri be even more a playmaker than a finisher this season. Yes, it's nice to see Nagbe move in tight spaces and the Akron family reunion (Zakuani, Zemansky, Porter) will likely pay dividends, but Valeri slots in just above Will Johnson in position and importance as to whether the numbers go the way of PDX.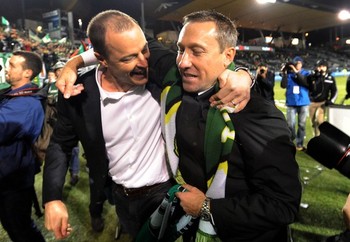 Manager: Caleb Porter
He's got all the tools you'd like in a manager, plus the brash attitude to reshuffle his deck at will. Remember the incredible flipped roster of last season? Well, Porter's brought in a big center back in Paparatto and slick Fernandez from Argentina. He continues to make the right moves in the Pacific Northwest.
Outlook:
I'll admit to having my concerns about the Timbers repeating their success, but the numbers say that Porter and Portland should challenge for the Supporters Shield and the MLS Cup. In fact, if Porter is who many think he is, this could be the season where he starts getting whispers for jobs even "bigger" than the one supported by the wonderful world of Timbers Army.