The countdown to the 2014 Major League Soccer season is ticking away and very shortly MLS will be back with a bang, as a spectacular season awaits.
We've been rolling out season previews of every team at PST and now it's time to focus on each position and share who we think are the top 10 players.

LATEST 2014 MLS PREVIEWS, RIGHT HERE
Let's take a look at the best defenders as our season preview continues.

1. Matt Besler
The hometown kid won his first MLS Cup for Sporting Kansas City last season, is a starter for the U.S. national team at center back and has just been named SKC's captain for the 2014 season. His reading of the game is superb and with a quick turn of pace Besler is as solid as they come. From ball-boy to captain of KC, Besler's the best of the best in MLS.
2. Omar Gonzalez
Besler's central defensive partner for the USA, Gonzalez has certainly earned his Designated Player status with LA Galaxy in the last few years. Towering above most MLS attackers, the giant center back has poise on the ball and he's reading of the game is improving all the time. Could easily be playing in Europe somewhere but has rebuilt his career as an MLS star after that bad injury set him back in 2011. Gonzo is great.
3. Jose Goncalves
The Portuguese center back had a sublime season for New England in 2013 and played every single second for Jay Heaps' side. The Revs are a mean defensive outfit and with Goncalves anchoring things from the middle, it's no wonder. In his debut season in MLS he won Defender of the Year honors and was also named in the Best XI. He has all the tools to do even better in 2014.
4. Victor Bernardez
San Jose have seen other defenders like Steven Beitashour and Justin Morrow leave the franchise but Bernardez has stuck around. The Honduran defender is a man mountain at the back and has an impressive turn of pace to go along with his aggressive style of play. At 31 the Honduran has a wealth of experience and he'll likely be the first name on Mark Watson's team sheet in 2014.
5. DeAndre Yedlin
This young man continues to divide opinion in MLS, but in my view he's the best right back out there. At the age of 20, he still has plenty to learn. But with the fans in Seattle driving him on and the experience of being involved in a couple of Jurgen Klinsmann's U.S. squad's, Yedlin will continue to grow. Exciting prospect who already has bags of MLS experience.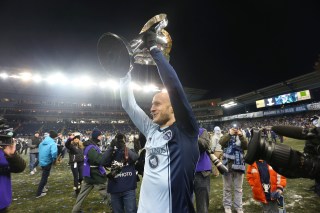 6. Aurelien Collin
Besler's partner in crime at KC, Collin scored the crucial penalty kick in the MLS Cup final last season and is key to Peter Vermes plans at Sporting Park. Many would question his distribution but Collin's job, first and foremost, is to defend and he does that superbly. The 27-year-old will be in his fourth season for Sporting and the French defender should be around a long-time after that, too.
7. Clarence Goodson
Another San Jose man makes it into our list, as Goodson's return to MLS towards the end of last season showed how good he is. The former Brondby defender is aiming to get into Klinsmann's USMNT squad and a strong start to the 2014 MLS season will likely see Goodson heading to Brazil. With Bernardez, the Earthquakes have a veteran partnership that should shut down most offenses. Cool on the ball and good in the air, Goodson is a coaches dream.
8. Carlos Bocanegra
Boca can still do it in MLS and with Chivas USA having a brighter future on the horizon, expect the former U.S. national team captain to pull everyone together in L.A. The future franchise, whatever they're called, will likely see Boca still around, as the former Chicago Fire, Glasgow Rangers and Fulham star has so much to offer. His lack of pace may worry some, but that first yard is in his head.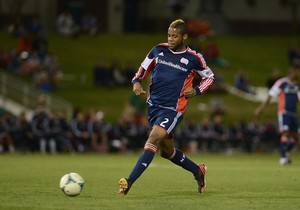 9. Bobby Boswell
Yes, he was waived by Houston but Boswell has bags of MLS experience and D.C. United will build their defense around him. His time was up at Houston and going back to D.C. will do him the world of good. An experienced man with a great attitude, D.C. United coach Ben Olsen could have pulled a masterstroke by getting Boswell on board. A young core of defenders will look up to Boswell as their leader.
10. Andrew Farrell
As a rookie, Farrell got better as the season went on. A beast at right back for New England and able to play elsewhere, expect him to kick on this season for the Revs. 32 games last year saw the Louisville product grow in stature and his pace and power suit MLS perfectly. Will we see him partner Goncalves?
MORE: Top 10 rookies in MLS
MORE: Top 10 goalkeepers in MLS