On Tuesday night, we went through the list of U.S. Men's National Team players who needed to impress against Ukraine in order to improve their World Cup stocks. They weren't Clint Dempsey or Jozy Alitdore types – slumping players who, despite their club troubles, are destined to be with the team when it lands in Brazil. They were players who could have used Wednesday's game to make their case to Jurgen Klinsmann, whether that case is to be on the 30-man provisional roster U.S. Soccer will name mid-May or the 23-man final team that will dress when the U.S. kicks off its Brazil 2014 against Ghana.
During a 2-0 loss in Larnaca, Cyprus, most of those World Cup aspirants failed to improve their positions. In some cases, players may have opened  doors for others to claim their spots, be those places on the list for May's camp or seats on the charter that will take off for Brazil.
We highlighted eight cases yesterday. Here's how they graded out. Obviously, we're not grading on a curve:
Defense
John Brooks – The 21-year-old Hertha Berlin defender likely has a long international career ahead of him, and in that sense, Wednesday may be eventually been seen as a low point. Whereas Brooks had a chance to play himself into a spot in Brazil (particularly with players like Geoff Cameron and, potentially, Michael Parkhurst able to backup Omar Gonzalez, Matt Besler, and Clarence Goodson), his performance against Ukraine made it hard to justify the spot. He was badly, inexplicably out of position on the game's opening goal. Grade: D.
Edgar Castillo – Castillo regularly draw negative reviews form onlookers for his performance in defense, but that's part of Castillo's game. The determining factor is whether he balances those deficiencies with influence going forward. On Wednesday, that influence was rarely seen, part of the reason why he was among the second  half's first subs. Grade: D+.
(MORE: Ukraine 2-0 USA: Disjointed U.S. display sees fired up Ukraine prevail)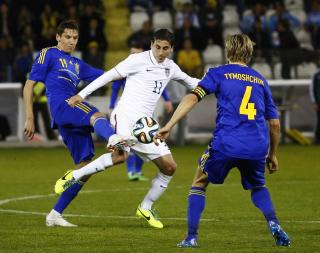 Midfielders
Alejandro Bedoya – With the U.S. rarely able to get anything going in attack (particularly in the first half), Bedoya and Fabian Johnson were  forgotten men, with their team unable to get enough of a hold on the midfield to make use of its wingers. Bedoya, who was a favorite to be in the final 23-man squad before Wednesday's match, didn't hurt his stock. Given the nature of the game, though, he also wasn't given many chances to improve it. Grade: C+.
Sacha Kljestan – The Anderlecht midfielder was the main culprit in the team's midfield problems. We discussed it in an earlier post, but you can't have a player give the ball, go, and never get back in position to receive a pass (especially in a two-man midfield). In the second half, Kljestan was pulled off, with Clint Dempsey pulled back into the space he was forced to occupy anyway. Grade: D.
Brek Shea – Shea got limited minutes off the bench – a spell that determines how he should be judged. What you're really looking for in that role is somebody who can come off the bench, provide a different (in Shea's case, more direct) look, and give you another option to threaten the defense. Shea's execution came up short on Wednesday, but we saw what he's capable of doing. He may be another look in May. Grade: C+.
Danny Williams – That he only got 10 minutes speaks to the impression he made in camp, but once he came on in Cyprus, Williams provided a spark. At one point, the Reading man surged toward the penalty area in a way you couldn't imagine from Wednesday's Jermaine Jones. While that moment is unlikely to overshadow what Jurgen Klinsmann saw throughout the camp, it was enough to remind viewers of the player that used to be a regular call up. Grade: C.
(MORE: Ukraine vs. United States: Looking back on our five focal points)
Forwards
Juan Agudelo – Like Williams, the lack of time was telling. The new Utrecht (by way of Stoke) attacker only received a few minutes at the end of the match, hinting he hadn't made enough progress in training to justify significant minutes. With Chris Wondolowski and Mike Magee impressing  in January camp, Agudelo's chances of making the World Cup squad seem thin, at this time. Grade: C.
Terrence Boyd – Dressed, but did not play. His grade may be incomplete (because he didn't hurt himself during the game), but having failed to win playing time this week, Boyd now looks a longer shot to be on the plane to Brazil. Grade: Inc.
Bonus
Geoff Cameron – Cameron's spot on our list wasn't about making the World Cup squad (he's definitely going to Brazil). It was about winning the job at right back. On Wednesday, he treaded water. The defense was so bad that you don't want to judge Cameron too harshly, but on a couple of occasions, he was a part of the chaos. Brad Evans should feel slightly better about his chances of starting game one in Brazil. Grade: C.