Wednesday's match in Cyprus was all about the U.S. Men's National Team's depth chart: who was staking a claim to a starting spot; who was putting themselves in contention for the 23-man team; and who was trying to earn a place on May's 30-man preliminary roster. In an ideal situation, Jurgen Klinsmann would have seen players hungry to improve their stock make life difficult for the Major League Soccer players who couldn't make the trip. The depth chart would have been complicated.
The 2-0 loss to Ukraine did anything but. A flat performance defined by defensive mistakes, midfield ineffectiveness, and a lack of chances gave the U.S. nothing positive to take into new month's friendly against Mexico. With most of today's squad unlikely to feature in that out-of-window friendly, players like Sacha Kljestan will be left watching their competition try to make the impact Wednesday's team could not.
(MORE: Ukraine 2-0 USA: Disjointed U.S. display sees fired up Ukraine prevail)
Last night, we identified five areas of focus for the U.S. national team. Here's how they played out:
1. Geoff Cameron's chance to lay claim to the right back spot
How Cameron did depends on who you ask. Joe Prince-Wright felt he vaulted himself to the top of the right back depth chart, though as Cameron stood staring at a Ukraine attacker that had drifted into his channel ahead of a first half cross, you couldn't help but wonder if the Stoke City starter had tuned out. Would Brad Evans had made the same mistake?
After taking two steps toward the middle of the field, Cameron allowed his Ukrainian mark to settle in the space between himself and Oguchi Onyewu (turned toward the left flank). Moments later, after a successful cross for Cameron's man helped beat the U.S. defense, an offside call saved the Americans from conceding a second goal. On a ball Cameron should have positioned himself to attack, the U.S. nearly conceded a goal.
That was one of Cameron's bad points. A more apropos moment came earlier when Cameron was isolated against Yevhen Konoplyanka. The Dnipro Dnipropetrovsk winger, through multiple moves, initially had trouble shaking the U.S. right back. Eventually, however, Konoplaynka was able to create room toward the line to float a left-footed cross near post.
Compared to the rest of the defense, Cameron's day was fine, but that's comparing a bent fender to a caved in engine compartment. Still not providing much of wide as the U.S. builds through the middle, Cameron didn't help his stock on Wednesday. Unlike the rest of the defense, though, he didn't hurt it, either.
(MORE: Three things we learned in USA's defeat to Ukraine)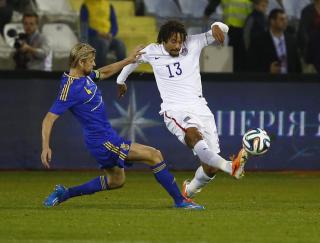 2. Is Jermaine Jones carrying any rust?
Jones' performance in front of the defense was consistent with somebody who has played one club game in two months. In the first half, as the deepest man in midfield, he often failed to provide a third passing option for his center backs, who were often left to play back to Tim Howard. Jones compounded that problem with an inability to serve as an outlet when the ball reached the attackers. Though he improved as the game went on, Jones's overall performance was languid, one that looked especially ineffective in the absence of Michael Bradley.
3. Will "U.S. Jozy Altidore" transcend "Sunderland Jozy Altidore"?
Jozy Altidore was one of the few players who looked decent from the opening kickoff, but with the U.S. unable to build many decent opportunities, Altidore was given few chances to play beyond 'decent'. Some nice work holding up play led to a few forays forward before intermission, but ultimately, Altidore was unable to pose a meaningful threat on Andriy Pyatov's goal.
Given the U.S.'s problems all over the field, there's a risk of being too harsh on Altidore, yet the kind of descriptions you read above could apply to almost any of Altidore's performances at Sunderland. At some point, hard work is not enough for a forward, and while one game with the U.S. isn't enough to pass judgment on his suitability for Brazil, this game's fit in a bigger, unproductive pattern is one of the most worrying parts of the current national team.
4. Wanted: Clint Dempsey of 2012.
Speaking of fitting into patterns, Wednesday's Dempsey looked eerily similar to the man who struggled to get anything going at the end of the 2012 season for Seattle. In the first half, with the U.S. midfield broken, Dempsey was forced to drop deeper and deeper to get the ball, taking him out of position to do what he does best – pick up opportunistic goals.
This will be the key to Seattle's season, but it may also define whether the U.S. can threaten to get out of their World Cup group: When will Dempsey's teams stop trying to make him into something he's not. With good technical skill, it's tempting, even logical, to say 'We need to get Clint on the ball more.' After two years of seeing teams do this, it's time to admit: Dempsey is not that type of guy.
Find another plan. Tweak the system. Bring in other players, or just go back to the drawing board. As Sounders fans now know, if you're starting Dempsey underneath a striker and counting on him to be a focal point in a  possession game, you're going to see a lot of performances like today's. Perhaps this was a worst case scenario, but it was still another example of Dempsey's versatility being used against him.
As has been the case since he left Fulham (in 2012), Dempsey wasn't put in a position to succeed. As a result, his day in Cyprus was an ineffectual one.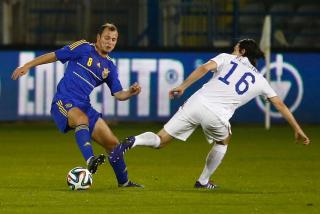 5. Midfield spots up for grabs
Jones's partner on Wednesday, Sacha Kljestan, didn't help his case. If anything, he highlighted the contrast between him and Mix Diskerud.
When, in the first half, the U.S. was trying to hard to build through the middle, he was often nowhere to be seen. For every time he came back to help Jones, OguchiOnyewu, and John Brooks get the ball out of defense, there was another time where he was in no position to offer the outlet the team needs in the middle of the park. He'd give and go and never be heard from again, a performance that forced Dempsey to keep dropping in midfield.
Brek Shea, in the 27 minutes he saw, showed he can provide the change-of-pace option your can afford to gamble on with the World Cup's huge 23-man rosters. His brief flashes on Wednesday may keep him in the picture, with similar displays from Danny Williams in the middle perhaps earning the Reading man some momentum going into May.
As for Alejandro Bedoya, the man who started on the right, he was as victimized by the U.S.'s play as Dempsey or Altidore. Too often the answer to "why isn't Bedoya doing more" was "because the ball's nowhere near him." But just like the U.S.'s forwards, Bedoya probably didn't lose any ground. A heavy favorite to make the World Cup squad before the match, Bedoya may have been helped by others' struggles. He didn't seize his opportunity, but he didn't waste it, either.