Kostas Mitroglou is injured. Again.
With Fulham manager Felix Magath confirming the Greek tweaked his hamstring on international duty, there are a myriad of questions that fans are demanding answers to.
The Cottagers are bottom of the league, and with relegation a major possibility Magath has maintained that Mitroglou is not fit enough even for bench duty.
Mind you, the 25-year-old is no ordinary January transfer target.
Having bagged 14 goals in 12 Greek Super League matches for Olympiakos, Fulham shelled out a club-record $20 million looking to save their Premier League status.
The transfer sum broke Fulham's previous record signing – Steve Marlet. That name conjures demonic thoughts in the minds of many Fulham fans, as the French striker proved a massive flop at Craven Cottage.
Marlet scored 11 goals in 54 Fulham appearances between 2001-2005, and his performances were so poor they caused former owner Mohamed Al Fayed to sue then-manager Jean Tigana for the ridiculous $19.3 million transfer fee.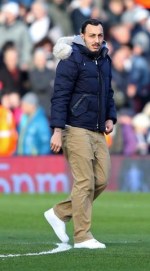 Fans were eager to purge those painful memories, and Mitroglou's signing was a promising step towards both erasing Marlet from the Fulham record books and bolstering an offense not capable of making up for a porous defense.
But none of that has happened.
Instead of leading a Whites charge out of the relegation zone, Mitroglou has spent a grand total of 30 minutes on the pitch for Fulham, against West Brom, and he looked utterly baffled in both mind and body.  Otherwise, Mitroglou hasn't even made the squad once since signing.
Prior to facing Chelsea last weekend, Magath explained his reasoning by confirming his striker wasn't injured, just plain unfit.
Then, despite this allegation, the club released Mitroglou to play in the international break.  The decision is a baffling one, and sure enough the striker pulled his hammy after an hour.
So we come full circle to the original question – who in the heck sanctioned a club-record transfer for a player who can't last a half hour in the Premier League before looking exhausted, and can't go an hour in international competition without getting injured?
If you believe ousted Fulham manager Rene Meulensteen, the transfer decisions were almost solely in the hands of longtime CEO Alistair Mackintosh.  A former member of Manchester City's front office, Mackintosh is a fan-favorite at Craven Cottage, having orchestrated the club's rise from Premier League newbies to Europa League contenders.
But in the last few years, Mackintosh was handcuffed by a transfer policy dominated by frees and cheap journeymen purchases. The policy often caused former manager Martin Jol to say Fulham were required to be "creative" in the transfer market.
Now, the squad is full of these players, and Mackintosh needed to make a splash to rescue Fulham's Premier League status.  Using an injection of cash by new owner Shad Khan, he failed to rope in Steven Defour but cashing in on Mitroglou along with Lewis Holtby.
Unfortunately, the Greek's arrival has only produced more questions than answers at the front of Fulham's attack. When will he play? Why was this purchase sanctioned if it took just a set of eyes to see he's not fit? If he's unfit, why was he released to international duty? Will he stay if Fulham are relegated?
With Dimitar Berbatov gone to Monaco and just Darren Bent left at Fulham to run the attack, the future remains bleak for Fulham's season, and Mackintosh has plenty of explaining to do after flushing money down the toilet on obviously damaged goods.