Whenever Lionel Messi so much as heaves a sigh, the world sits up and takes notice. So when the Barcelona superstar started heaving more than just air, naturally he attracted plenty of attention.
Not even ten minutes had passed in the match in Bucharest on Wednesday evening when Messi stopped short, bent over and began vomiting – not the first time it's happened to the Argentine. But the episode didn't last long, with Leo soon back running around, trying his best to hamper the Romanian defense. Alas, he had little luck. Romania and Argentina played out a goalless draw, and most forgot about the match entirely.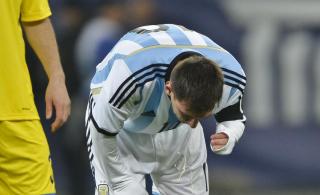 But not fans of the superstar, or of Barcelona. Or fans hoping that Argentina makes a big run in this summer's World Cup. Messi was throwing up. Something was up. And it wasn't good.
Relax. "It's no big deal; it's happened to me before," Messi said. The Argentina team doctor also stressed that there was nothing to worry about, that such reactions are common in sport: "One cause can be physical and/or mental strain. The change in time zones – jet lag – and changes in diet also take a toll. Sometimes when people change their eating habits, it can trigger intolerance, leading to nausea and vomiting."
Messi himself had his own theory behind why he was once again ill on the pitch: "Sometimes I accelerate very fast and the change in air intake that involves causes me to heave. I felt completely fine at the end of the match."
Barcelona are currently one point behind Real Madrid in the La Liga title race, edging Atlético Madrid by just two points. Saturday's clash with Real Valladolid, currently in the relegation zone, likely doesn't worry them much, but supporters will be hoping Messi holds it together when Manchester City pay a visit to Camp Nou for their Champions League clash midweek.