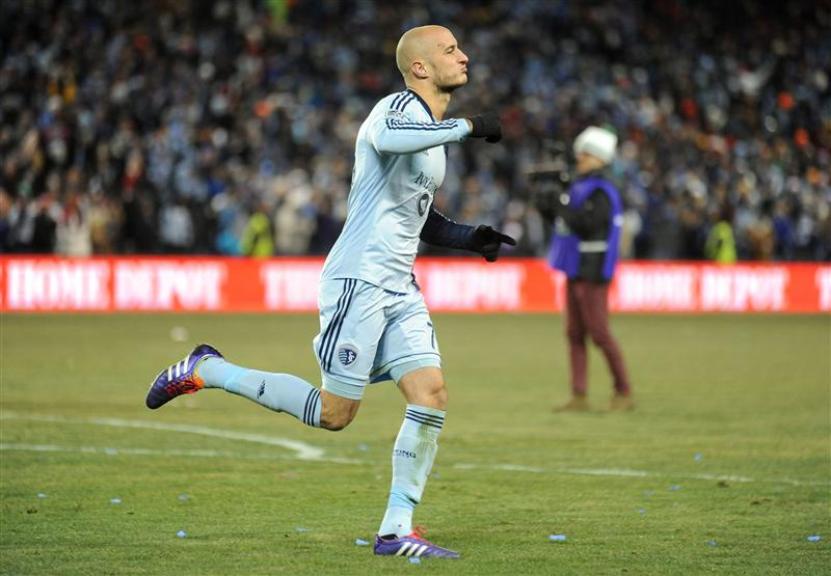 The various outlets that cover Major League Soccer (including ProSoccerTalk) have spent the better part of February telling you how the 2014 season will go. This post is definitely not part of that coverage. With a broken crystal ball and an ill-advised disregard for common sense, PST's Richard Farley gives you this version of the 2014 regular season:
March 
Telling moment: The Major League Soccer season opens with a bang when Aurélien Collin converts a corner kick 38 seconds into Sporting Kansas City's game in Seattle. Running across the front of the Emerald City Supporters, Collin lifts his jersey to reveal a picture of Eddie Johnson above the caption, "You can hate me now". "I'm not sure about that one," Peter Vermes says after his team's 1-0 win at CenturyLink, with the early goal allowing Sporting to hold 68 percent of the ball and limit both sides to that single shot on goal. Disillusioned Seattle Fan (legal name) mumbles, "I don't know what the hell I just saw, but I'm assuming the Seahawks are still good." One Seattle blog hastily suggests replacing Sigi Schmid with Russell Wilson.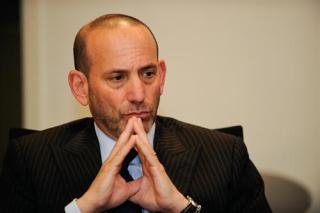 Highlights: MLS's Champions League entrants (San Jose, Sporting KC, LA Galaxy) sweep their Mexican opposition (Toluca, Cruz Azul, Tijuana) out of the competition. Asked for comment, MLS commissioner Don Garber says:
"We're the best league in the region. When you try us with a sorry trio like that, that's the result you gonna get! Don't you ever talk about us! … Liga MX! Don't you open your mouth about the best, or MLS gonna shut it for you real quick! Single-entity, baby!"
Chivas USA finishes the month on top of the West with nine points, prompting Major League Soccer to put a $101 million price tag on the franchise; Montréal starts the season with four straight draws before confessing "we have no idea if we're any good"; With 10 points and a spot in the Champions League semifinals, Sporting KC concedes "We're kind of bored. It's too easy playing in temperatures so far above freezing. When there's no threat of toes breaking off, the game lacks obstacles."
At month's end, reporter Franco Panizo from the league's website asks Thierry Henry about March:
"What can you say? It is a word that can mean two things. You ask me about a month. I think about a walk. Maybe the questions should be better?"
Franco decides to stop writing his Henry biography in favor of a wall calendar of Henry quotes.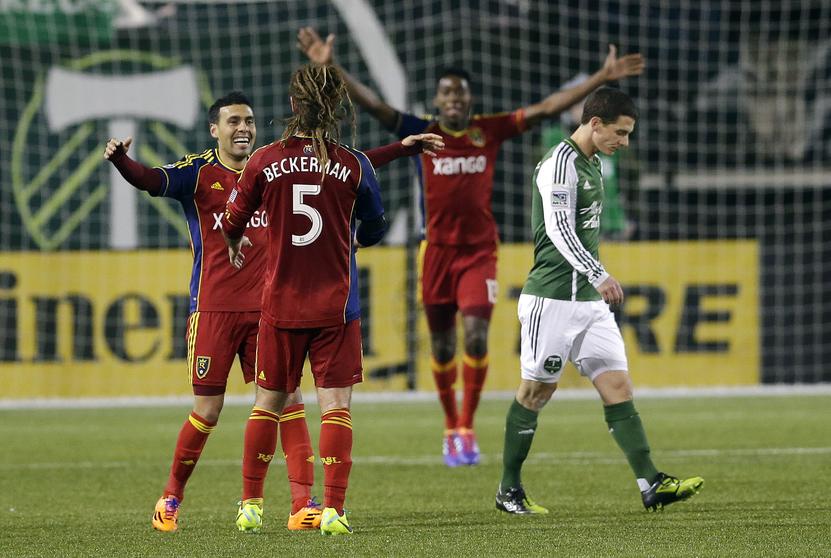 April
Telling moment: After being eliminated from both the U.S. Open Cup and MLS Cup playoffs by Real Salt Lake in 2013, Portland gets their first crack at the Western Conference champs on April 19 at Rio Tinto. An early header from Norberto Paparatto and a late first half goal from Gastón Fernández prompts Caleb Porter to confess at halftime, "We were just that little bit away last season, so this isn't too much of a surprise." With his team down 2-0 in stoppage time, Kyle Beckerman cuts a lock out of Sebastian Velazquez's mullet, laying it on the center line in sacrifice to the spirit of Andy Williams. RSL goes on to win, 3-2.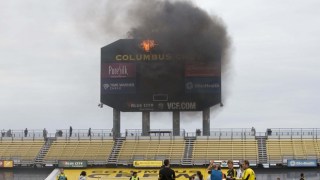 Highlights: Celebrating the one year anniversary of their scoreboard catching on fire, Columbus shows a lighter side by bringing a 20 ft. fire extinguisher replica to the center circle, firing confetti out of its nozzle after the national anthem. The replica then proceeds to spontaneously combust, with damage from the flames forcing the game against New York to be postponed.
Chivas USA ends April on top of the West with 17 points. "I have this great balanced budget proposal, too," Nelson Rodríguez admits, "but nobody in Washington listens to me"; Montréal's streak of draws hits eight, forcing Frank Klopas to confess "we have no idea if we're any good"; still without a goal, Seattle's Clint Dempsey says, "it will come, I'm not worried," while head coach Sigi Schmid derides the media for not counting the goals Clint "really, really wanted"; Sporting KC draws all three of their April games, with players responding to the spring heat with Instagram explanations: "Way too warm."
With the Red Bulls in first place, Franco Panizo asks Thierry Henry to summarize April:
"It doesn't waste my time. It starts with the first letter of the list. It has two syllables, like my name. It was a wise choice. I will miss April, just like I miss all great things. You have to appreciate art."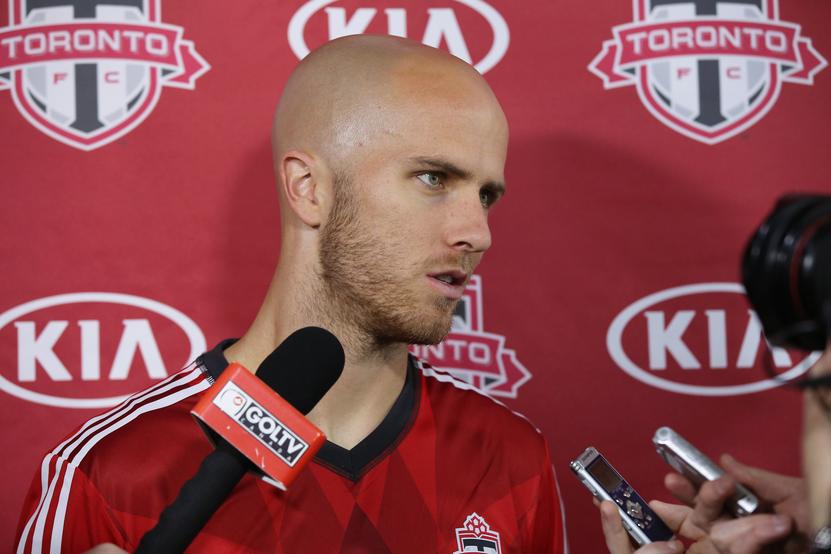 May
Telling moment: The last day of May finally comes for a Sporting team forced to play seven games over the course of a month. "What is this crap," Oriol Rosell asked, in Catalan, before the team kicked off on May 4 again Columbus, noting Matt Besler and Graham Zusi would leave for the U.S.'s World Cup camp halfway through the month. After a 2-0 May 31 loss in RFK Stadium's humidity leaves the team exhausted, Collin notes, "As the rats are to this building, so are we to May. I will not be sorry when both go."
Highlights: With Michael Bradley on international duty, Toronto GM Tim Bezbatchenko convinces Tim Leiweke to sign another Designated Player. "Don't worry, I'm a salary cap expert," he assures his boss, only to have the league's New York office explain a temporary exemption will not be approved for Peter Crouch's three-month loan.
With two more wins in May, Chivas USA are three points clear at top of the West. Nelson Rodríguez admits he's considering running for Congress; After a win against visiting Sporting, New England's communications department sends an exuberant update to executives at Kraft Sports. The email doesn't receive a response; Bruce Arena, tired of his team's inattention to detail, spends 15 minutes explaining why coffee cups should be placed top-down on their shelves ("There's no secret here."); and after watching his team draw their 12th game in a row, Montréal owner Joey Saputo admits "we have no idea if we're any good."
Now with a potential buyer for his calendar, Franco Panizo asks Thierry Henry about May:
"When I was in Europe, it was the best month, because we would say good bye and I would go to Monaco or Tibet and practice answering questions. Sometimes I would sigh. Other times, I would not. But now, I'm caught off guard. Please ask me again next month."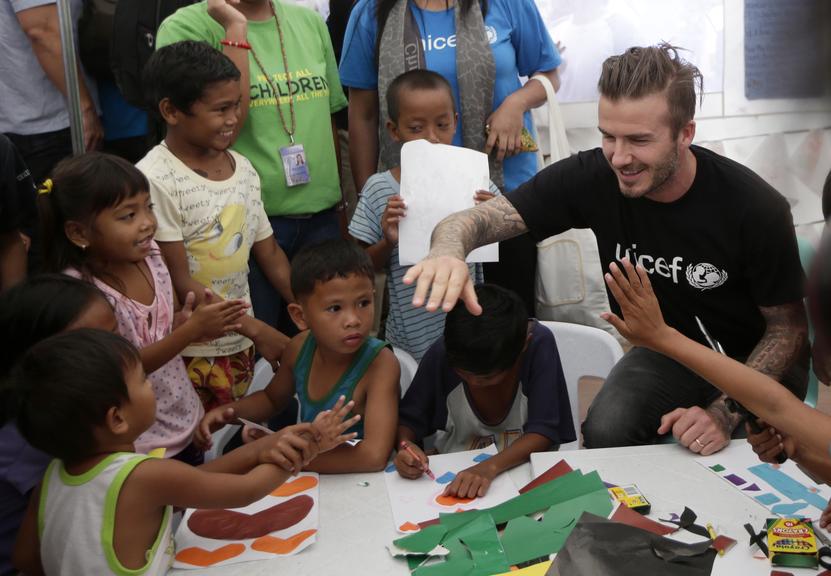 June
Telling moment: "We're back," MLS announces when Vancouver hosts Montreál on June 25, the league returning after a break for most of the World Cup's group stage. Two days later, the league headquarters hits "resend" on the same email before New York hosts Toronto. "We're seriously back now," the league's web site says on Monday, June 30, trying to draw attention from the festivities in Brazil. At 5 p.m., Don Garber authorizes the site to float a "Beckham planning July return" rumor. When fan interest increases, Garber allows "Unnamed Miami Franchise" to begin play in July, snickering "maybe they can earn a spot in Soccer Bowl."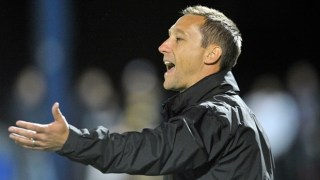 Highlights: Depleted by World Cup call ups, Real Salt Lake defeats Portland 2-1 at Rio Tinto, with Caleb Porter calling his luck against RSL "absolutely ridiculous"; Despite the loss, the Timbers claim first in the West, prompting Major League Soccer to lower Chivas USA's franchise asking price to "OBO"; Amid World Cup call ups, D.C. United temporarily claims first in the East. The team celebrates by hanging an "OBO" banner outside RFK; With its team playing only two times in the month, Kansas City proclaims itself "Recovery City USA," not bothering to see if another place had already claimed the title; Montréal loses their first game of the season in Vancouver, with Marco Di Vaio conceding "we now have a good idea of how good we are."
When Panizo asks Henry about June, the New York forward says,
"It's too much. June in New York is terrible. June in New Jersey: Slightly worse."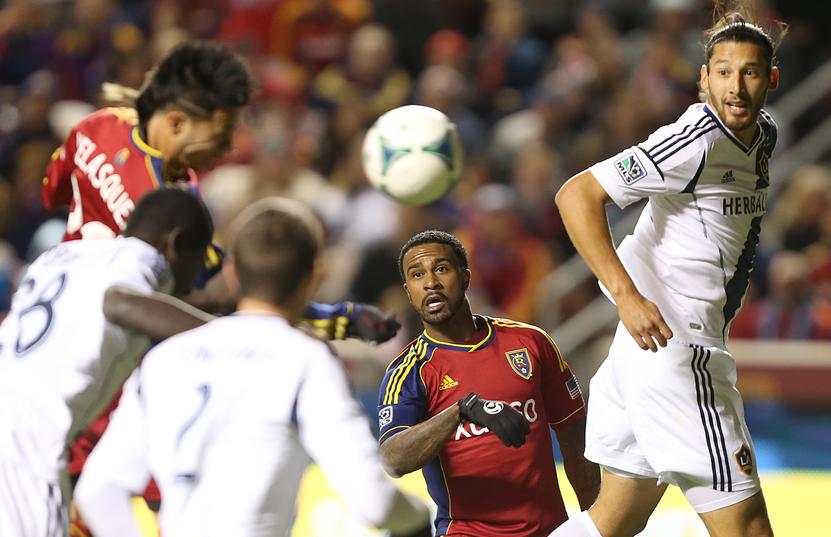 July
Telling moment: Tired from making up games crammed together by the World Cup break, MLS's teams complete the nine-match, July 18-20 weekend with nine 0-0 draws. "Please help," Omar Gonzalez says after the Galaxy's game in Kansas City. "I promise I'll never go to a World Cup again." The Players Association demands a 20-game schedule in World Cup years. MLS threatens to make Spirit Airlines the league's official carrier.
Highlights: A winless month sees D.C. slide to fifth in the East. "What did you expect," Ben Olsen asks a set of incredulous reporters. "Do you think last year never happened?"; Chivas USA reclaim first in the West, prompting Nelson Rodríguez to lose a friendly bet when he tries to walk across the top of his pool; After helping the U.S. national team into the second round of the World Cup, Clint Dempsey scores at hat-trick in his first game back, with Seattle beating rival Portland. "You guys are funny," he says, sarcastically, to swarming reporters afterward. "Really funny."
"Franco!" Thierry Henry says on July 31, "I love this month, so much. Ask me what it means." Panizo's iPhone shatters as it drops to the pavement. Henry gives him a hug.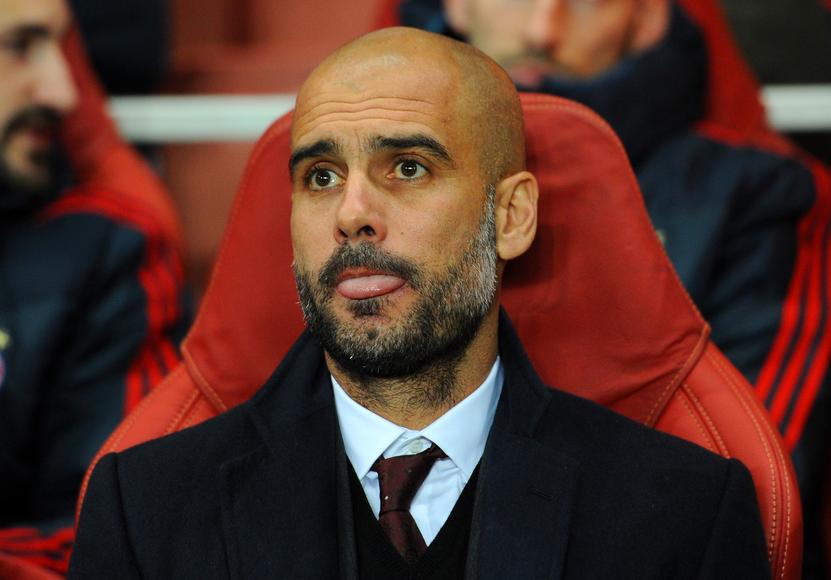 August
Telling moment: With Bayern Munich in town to face the MLS All-Stars, Portland Timbers owner Merritt Paulson declares "I wouldn't trade Caleb [Porter] for Pep Guardiola. That's just how I feel." Coaching MLS's team, Porter sees his side lose 1-0 while maintaining just 14 percent possession. "That's a great team, but we were right there," Porter says after the game. "You don't need to control the ball to control the game."
Highlights: Losing a long-standing bet to Garth Lagerwey, Kyle Beckerman shaves his head after scoring four goals in Colorado on Aug. 2. "You say one stupid thing in Miami and some smart guy remembers it 10 years later. I don't know, man."; Tim Bezchatchenko, obsessed with a high-end Keurig coffee maker Daryl Morey told him about at Sloan , defies the office budget and orders a new machine online. Tim Leiweke eventually packs up the unit and sends it to Carl Robinson; With 50 points, Chivas USA is one point ahead of RSL in the West, earning Nelson Rodríguez an interview with the Lakers for Mitch Kupchak's job; With all their stars back, Sporting Kansas City has a five-point lead in the East, but as Matt Besler notes, "Winter is coming," words that prompt Collin to rise out of his locker and start walking south.
"Franco, you look sad," Henry asks on Aug. 30. Panizo says he's lost interest in his calendar. Inside, he wants another hug. "I have lost interest in many things in life, Franco," Thierry explains. "Apathy is my muse."
September
Telling moment: After scoring nine goals in four games, lifting his total to a league-leading 15 on the season, Clint Dempsey holds a press conference on the docks outside the Seattle Yacht Club. Arriving in a restored Toyota Land Cruiser and wearing beige cargo shots with flip-flops, Dempsey announces his immediate retirement from soccer. "I just decided I'm done with you, and you, and you," he says, pointing at various reporters before tossing the Land Cruiser's keys to the Seattle Times' Joshua Mayers. One day later, Adrian Hanauer reveals the team secretly registered Didier Drogba before the end of the summer transfer window, with the league agreeing to pay the Ivorian's entire 2014 salary.
Highlights: At the beginning of the month, the league announces a new Collective Bargaining Agreement with the Players Association that will eliminate the salary cap, allow promotion-relegation, and shift the competitive calendar to an August-to-May schedule. "It's just time," Don Garber confesses. After taking a series of questions from assembled press, the league commissioner finally cracks: "Ha! Got you, bad. It's five Designated Players and 15 percent annual cap increases. We're not doing any of that other crap."; As the Galaxy clings to the edge of the playoff race, Bruce Arena tells the team "it's about commitment to the little things. The toilet paper goes over, not under."; With Chivas still in first place, Nelson Rodríguez starts parking in Galaxy president Chris Klein's spot at StubHub Center. "Sometimes I even park diagonally, across two spaces," he explains. "I just really like it that way."
In New York, Henry buys himself and Panizo matching berets. "You get me," he says. Panizo's calendar is dead.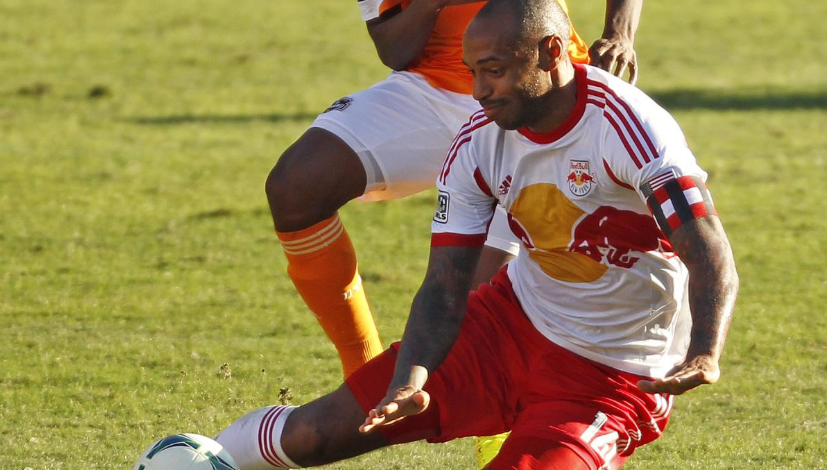 October
Telling moment: A 1-0 loss to LA on the final day of the season sees Seattle miss the playoffs for the first time in franchise history, with the high-priced forward combination of Didier Drogba and Obafemi Martins injured over the season's last six games. Twenty-four hours later, Joe Roth and Hanauer announce Sigi Schmid will return for a seventh season. "Dempsey retired and both our big forwards got hurt," Hanauer explains, offering, "I take as much of the blame as anybody."
Chivas USA finishes first in the West, one point ahead of both Real Salt Lake and Portland. "Chris [Klein] keyed my car, though," Rodríguez admits. "Totally worth it."
In the East, Sporting Kansas City claims the Supporters' Shield, with Vermes accidentally confessing "Oh, it's totally easier to win this thing in the East." Toronto finishes second, closing the season with an eight-game winning streak that prompts Michael Bradley to stop shaving his head.
After New York finishes in third place, Henry shows up to training on Oct. 31 dressed like Panizo. "You are my hero now, Franco," he explains. "Happy Halloween, friend."
The Red Bulls are again eliminated in the conference semifinals.