The countdown to the 2014 Major League Soccer season is ticking away and very shortly MLS will be back with a bang, as a spectacular season awaits.
We've been rolling out season previews of every team at PST and now it's time to focus on each position and share who we think are the top 10 players.

LATEST 2014 MLS PREVIEWS, RIGHT HERE
Let's take a look at the best attackers in Major League Soccer as our season preview continues. With the league's top scorer from last year gone, the field is wide open.

1. Marco Di Vaio
Let's face it – at the end of the day, it's a striker's job to put up the numbers and keep the scoreboard ticking.  Last year, just two players were better than Montreal's ageless wonder at putting the ball into the back of the net, and one of them is gone.  What the 37-year-old is doing is nothing new in his book; Di Vaio has 11 seasons in his 16-year career where he put up double-digit scoring totals, with many of those coming in European leagues.  Oh, and he's done it in each of the last 5 season, all at the age of 32 and older. Add the fact that he's by far the best player on his team, and it's no wonder he tops this year's list, despite stiff competition.
2. Robbie Keane
Despite a down year for the LA Galaxy as far as they are concerned, Robbie Keane helped his squad remain a force on the attack, one of six MLS teams to score over 50 goals last year – 27 of which came directly from his foot.  What makes the Irishman so dangerous is not only did he bag 16 goals last year, but he assisted 11 as well. It helps that his strike partner is also on this list, but at 33 Keane remains effective and lethal on the attacking end, and his ability to play a multifaceted game helps him climb our list.
3. Mike Magee
Like we said with Di Vaio, in the end all that matters is an ability to keep the scoreboard ticking, and Magee's breakout year last season singlehandedly allowed the Chicago Fire to challenge for a playoff spot. They fell just short, but with a full season on Magee's back, the Fire should be a serious contender for the final playoff positions in the East.  Don't be surprised if his pure numbers fall, as he will be sure to attract added attention, but it will open up spaces for Patrick Nyarko, Chris Rolfe, and the rest of his strike force.
4. Jermain Defoe
While his MLS canvas remains blank, the Toronto newcomer is a force at the front, and that is not debatable.  With his Spurs career petering out, Defoe had to make a switch, and he is ready to return to his form. His numbers from his final Spurs season are misleading, as any player's form will dip sharply when forced into a reserve role.  Still, he managed a pair of impressive matches in his final two appearances at the club, scoring a goal off the bench against Crystal Palace.  He immediately becomes a marked man in Major League Soccer, and with a proven Premier League track record in his recent past, he has more than earned his place on the list.
5. Landon Donovan (Even though he was in the top 10 MF's list too, LD is a proper 'tweener' so he made it)

Do we really need to explain Donovan's presence in the MLS top 5? It's a bit redundant at this point. 10 goals and seven assists last season in a down year, the important player in one of the league's most prolific attacks, needs just one goal to set an all-time scoring record, yata yata yata, you know who he is. Next.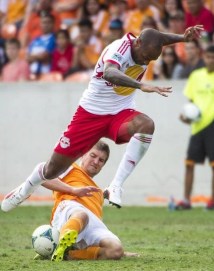 6. Thierry Henry
In a list bursting at the seams with proven age, Henry tops the "body of work" category.  At 36, he's still got it, and that's not even up for debate.  Last year he bagged 10 goals and set up seven more, and let's not forget this is the same guy who two years ago picked up two goals in 96 Premier League minutes for Arsenal in an emotional winter return.  One of the most purely skilled players in MLS, Henry looks to lead New York back to the Supporters Shield.
7. Chris Wondolowski
Wondo may not have the national team pedigree that Landon Donovan has, but in Major League Soccer, he's just as deadly.  A busy summer for the USMNT in which the 31-year-old had his best go-around yet, it put a dent in his MLS production, with 11 goals marking his lowest league goal tally in the last four years.  But don't think he's slowing down – he played half the season broken foot. Suddenly those 11 goals don't seem so mediocre. He's a force.
8. Alvaro Saborio
Saborio gets lots of mentions as the most underrated, under-appreciated striker in MLS.  While that's true, it's largely because he doesn't put up flashy numbers.  But in a RSL system that midfield solidity above all else, Saborio remains a consistent threat at the top.
9. Eddie Johnson
A set-piece machine, Eddie Johnson has found a new home in DC United's rebuilding project. He's streaky to say the least, but when Eddie Johnson's on, he's one of the best in the biz. He has a lot to be thankful for from his time with the Sounders, but with his new Designated Player contract, it had to be outside of Seattle. He's ready to be the guy in DC.
10. Federico Higuain
He's a flashy player, and while like the man above him the goals come in streaks, but there's no doubt he's the most important person in the Columbus squad. His numbers from last year rival those of Robbie Keane, with 11 goals and nine assists, and the best part about his assists total – his nine dishes were served up to six different teammates.  Higuain gets everyone involved, and it speaks volumes that he's known for his assists and yet the Argentine's 11 goals flew under the radar.
Honorable Mention:
I felt it necessary to add some names to this list even if they didn't crack the top 10, because all those names up on the list – not surprisingly – are established strikers with proven track records.  However, there are players who remain just as important to their club – like Claudio Bieler, Blas Perez, and Obafemi Martins – who simply don't have the numbers to crack the top 10. There's Tim Cahill who falls not because of his skill or ability, but because he's second fiddle in the strike pair with Thierry Henry. There are also a number of younger players such as Jack McInerney and Kekutah Manneh who haven't shown the consistency to be a top striker but have all the talent in the world and could easily be here as soon as next year.
Finally, there's one glaring miss on this list – Clint Dempsey. The American has shown not just poor, but horrific form since the latter part of the 2013 MLS season, and the 30-year-old has to prove his career isn't tumbling down the stairs before he can return to the league's elite. In both his final matches with Seattle and his loan stint at Fulham, Dempsey looked like he was running with shackles on his ankles, and he wasted most of the precious few chances he could muster.  He didn't look much better in the friendly against Ukraine either, and it's clear much work is left to be done for the forward from Nacogdoches.
MORE: Top 10 rookies in MLS
MORE: Top 10 goalkeepers in MLS
MORE: Top 10 defenders in MLS
MORE: Top 10 midfielders in MLS