Paul Pogba. Europe's Golden Boy. One of the most promising young players in Europe. And currently helping Juventus on their way to a third-straight scudetto.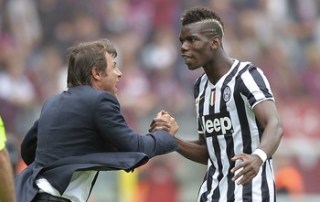 As Pogba grows in stature, so, to, does interest in his future. The 20-year-old has been with the bianconeri since 2012, when he moved from Manchester United. Thanks to injuries to both Claudio Marchisio and Andrea Pirlo, the Frenchman was given his chance to shine in midfield this season, becoming a regular starter. He has six goals and five assists in his 26 league appearances with Juventus, and he's also tipped to be headed to the World Cup with France.
It's little wonder, then, that some of the biggest clubs in the world are rumored to be after his signature. Juventus, however, insist that Pogba is not for sale. The Old Lady are a buying club, not a selling one, says president Andrea Agnelli, and because they're still working at building the side's future, they have no intention of selling Pogba.
But that won't stop other clubs from trying…
The Contenders
Manchester United
Yes, the club that let Pogba go for nothing now wants him back. David Moyes was in the stands on Wednesday, watching while France defeated the Netherlands 2-0. It's said that the Frenchman is one of United's top targets come summer, which is no surprise as the Red Devils are still lacking oomph in the midfield. Juan Mata may have brought them a bit of creativity, but Pogba's technique wouldn't go amiss in a side hoping to get themselves back on track.
Real Madrid
Real might be top of La Liga, in the hunt for a Champions League trophy and in general one of the best teams in the world right now, but that doesn't mean they couldn't use another midfielder in their midst – particularly one with Pogba's power. Sky Italia reported that Beppe Marotta was in Madrid for talks with Real – under the cover of the friendly between Spain and Italy – but the Juve director general refused to say whether the talks had been about Pogba.
Paris Saint-Germain
Marotta was in Madrid, Agnelli in Paris, so where, oh where is Pogba going? Well, PSG are keen to add a few more native sons to their soil. Yes, they landed Yohan Cabaye in January, but the Parisians would sure love to put Pogba in midfield as well. If any club can test Juve's desire to keep ahold of Pogba, it's PSG and their piles of cash. You'd think that their squad is strong enough already, sitting eight points clear of Monaco in the Ligue 1 table and almost certainly securing a spot in the next round of the Champions League after beating Bayer Leverkusen 4-0 in Germany, but if there's anything that Bayern Munich have taught us, it's that it's impossible for a team to be too good.