1. CHELSEA MASTERS OF SECOND HALVES, PREMIER LEAGUE
Half time on Saturday at Stamford Bridge brought plaudits for the way Tim Sherwood had prepared his team. The second half brought reality. Jan Vertonghen's slip and corresponding back pass allowed Samuel Eto'o to open the scoring in the 56th minute, with a red card three minutes later to Younes Kaboul leading to a penalty conversation from Eden Hazard and a late brace from Demba Ba.
(MORE: Chelsea 4-0 Tottenham Hotspur: Blues blitz Spurs to extend their lead at the top)
Playing down a man, things got out of hand for Spurs, producing a final score that doesn't reflect the quality they showed over the first 55 minutes. From Chelsea's point of view, the result builds on the second half dominance they showed at Fulham, where Andre Schürrle scored three times between the 52nd and 69th minute. Go back one earlier, and John Terry's scoring a stoppage time winner against visiting Everton.
The explanatory mechanism here is José Mourinho; or, more readily, his style. Avoid mistakes, make adjustments, wear down your opponent, and seize your opportunities. No doubt that's a greatly oversimplified view of what's happening with the Blues, but over the last three weeks, that's how life at Chelsea has played out. The Eto'os, Willians, Schurrles that Mourinho brought in have produced an intensity and depth's led to wins like these.
The end result: Chelsea are now seven points clear in the Premier League, and while much of that is do to having played more games than Liverpool (one), Arsenal (one), and Manchester City (three!), Mourinho is still putting pressure on the chasers. As the season enters its final two months, perfection may be required to prevent Chelsea from re-claiming the title.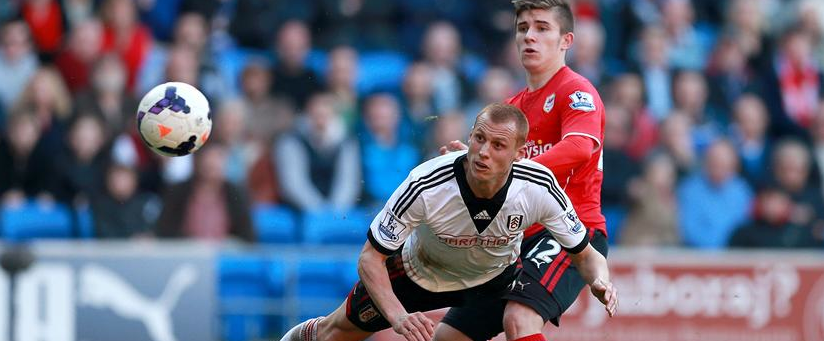 2. FULHAM SPARKS CARDIFF'S HOPES OF SURVIVAL
Through much of what's become a nightmare season, Fulham could placate itself with the league's inability to distance themselves from the bottom dwelling Cottagers. After Sunday's loss in Cardiff, however, that's no longer the case. Even if Felix Magath's team wins next week against visiting Newcastle, they'll still be in last place. Important side note: The last time Fulham won a Premier League game, True Detective wasn't on television.
(MORE: Cardiff City 3-1 Fulham: Bluebirds win the relegation dogfight)
This has gotten really bad. On form as well as record, the Premier League had two clearly inferior teams before Saturday's kickoff at Cardiff City Stadium, yet Ole Gunnar Solksjær's team proved a clear step ahead of their relegation rivals. Two goals from Steven Caulker and an own goal from Sascha Reither sent Fulham to a 3-1 defeat – a result that leaves them five points from safety.
The obligatory caveat is the 'one hot stretch' rule, but how is that stretch going to come? Or, as important, who cares enough to fight for those results? Fulham looks is a collection of players already looking toward their next moves, and perhaps rightly so. Almost all of them have the talent to hook up with another Premier League team. Together, however, they're about to end the Cottagers' 13-season run in the top flight.
3. WEST BROM GIVES MAN UNITED REASON TO SMILE
That's more like it, was David Moyes' reaction after his Red Devils took a 3-0 win out of the Hawthorns, but given how poorly the Baggies have played under Pepe Mel, the result looks more obligatory than a sign of progress. With West Brom slipping closer and closer to the drop (and a series of games in hand for Sunderland looming large), the hasty dismissal of Steve Clarke looks like a terrible idea. The backbone the former boss had in place could have carried West Brom into the summer, when Richard Garlick could have made a more prudent move.
(MORE: West Bromwich Albion 0-3 Manchester United: Baggies in real danger after loss (video))
With that in mind, we should hold off praising Manchester United too much. Yes, in accordance with a long-standing tradition was put in place in August, we have to overreact to every United result, but 28 games into the season, the Red Devils have a well-established record of slightly above-averageness. Likewise, West Brom has an ever-growing collection of performances that hint it's barely a Premier League-quality club.
In that context, a 3-0 for the Red Devils isn't surprise, particularly considering West Brom have been trended downward ever since Mel came on board. Whereas their entire body of work hints the Baggies are among the league's 17 best, recent returns say this is one of the first division's worst teams. They're down to 10 games to prove otherwise.
(MORE: David Moyes on Manchester United's win vs. West Brom: "That's more like it")
4. JON WALTERS GOOD; JOHN WALTERS BAD
Walters's foul on Alexander Tettey seemed more instinctual than a sign of maliciousness, but contrary to contrarian thinking, some soccer instincts can be rather dangerous, and danger is something players are asked to avoid. When the Republic or Ireland international saw straight red in the 78th minute at Carrow Road, I sympathized, knowing I would also recoil and try to protect myself in the same situation. I also know that a recoil that leaves my spikes in another man's g will send me walking. Stoke finished the match with 10.
Thankfully for Mark Hughes's club, Walters had just blasted a penalty conversion past John Ruddy, pulling the Potters even with the Canaries. After twelve minutes of holding off there hosts, and Stoke City had another result. Though Norwich had been terrible in its previous match, losing at Aston Villa, 4-1, Stoke City isn't beyond seeing the value in a road result. With a point at Carrow Road, Stoke have only lost one in six, a run that's pushed them to 12th in the Premier League.
(MORE: Norwich City 1-1 Stoke City: Result helps neither side feel safer)
This is the best Stoke could have hoped for in their first season without Tony Pulis. Much of the squad still reflects their old boss's style and preferences, meaning Hughes was always destined to go through a transition season. If that transition means mid-table safety with minimal relegation drama, break out the bunting and book the aircraft carrier: Mission accomplished.
5. J-ROD GOAL ENOUGH FOR SAINTS AT PALACE
The middle of the season has been about adjusting expectations around a Southampton team that teased Champions League relevance in the season's opening months. The team's fall to ninth place has left the Saints a relatively forgotten side, albeit one that continues to play some of the most attractive soccer in the Premier League. Not going to Europe but also not battling the drop, Southampton is left to play out of string of games that will serve as Rickie Lambert, Adam Lallana, Jay Rodriguez, and Luke Shaw's auditions for World Cup 2014.
That's not to say the team's no longer capable of strong results. On Saturday, at a Crystal Palace seem seemingly capable of drawing anybody at anytime (see: Swansea, last weekend), Mauricio Pochettino's side got a well-earned goal from Rodríguez, whose ability to fight through Julian Speroni showcased one of the individual talents that have distinguished Southampton from the league's bottom half. Able to hold the Eagles at arms' length for the final 53 minutes, Southampton snapped their two-game losing run, defeating Palace, 1-0.
(MORE: Crystal Palace 0-1 Southampton: Rodriguez's bizarre strike seals Saints' win)
Given Pulis's arrival at Palace, Saturday's was a result that shouldn't be taken for granted. Teams with more talent than the Saints have struggled with the refurbished Eagles, yet Southampton were able to seal their result early. They may not be competing for anything, but the Saints are still showing signs of progress.

6. FA cup conflicts? not a problem, unless you're Arsenal
Manchester City was either terrible, has a very specific Wigan problem, or fell victim to a Latics team that is secretly upper-Premier League quality. In terms of the first division's title race, however, Sunday's upset loss to Wigan has a huge silver lining. Where fixture congestion posed a problem for the Citizens' quest to claim a second Premier League title, the team will soon be down to one competition. No FA Cup semifinals. No final. Likely, no more Champions League (already trailing 2-0 ahead of a trip to Barcelona). In a short period of time, Manuel Pellegrini will be able to leverage his club's depth to pursue their main goal.
Arsenal, however, remains in the race for the FA Cup, their emphatic, 4-1 victory Saturday over Everton making the Gunners favorites to claim their first honor since 2005. While memories of the 2011 League Cup will keep Arsenal fans from being too assumptive, their club will be heavy expected to move past Wigan next mont. Survive those giant killers, and Hull or Sheffield United will meet them in the final.