First up, let's just say it hasn't been a great weekend for Manchester City or FC Barcelona.
Both teams lost to opponents they should've really wiped the floor with, as they head into a UEFA Champions League showdown at the Nou Camp on Wednesday low on confidence and struggling for form.
Although City lost shockingly at home to Wigan Athletic in the FA Cup quarterfinal on Sunday, Barcelona's defeat to La Liga basement boys Real Valladolid on Saturday was arguably more damaging.
Barca's new coach Gerardo "Tata" Martino has come under increasing scrutiny in recent months as the Blaugrana have stuttered their way through the domestic campaign. Like David Moyes has found at Manchester United, Martino has found it difficult to kick start and rebuild a global soccer dynasty. Under Pep Guardiola and then Tito Vilanova, that's what Barca had become. After their defeat to Valladolid they are now four points behind leaders Real Madrid, while if City win their three games in hand over Chelsea they go joint-top of the PL.
(MORE: How things stand in Champions League after first legs of knockout games)
This season — especially lately in the league as they've lost two of their last three games — there seems to be a little something missing from Barca's play. Sure they went to the Etihad and won 2-0, giving themselves an extremely healthy cushion ahead of Wednesday's second leg. However it wasn't as if Barca outclassed City, rather that City handed victory to the Catalan club on a plate after a second half implosion that saw the Spanish side gratefully accept a penalty kick opener and a red card to City's Martin Demichelis.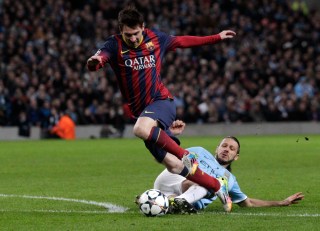 The rhetoric emanating from Barcelona before this game has been all about how City will now be facing a fully-fit Lionel Messi, as the Argentine star was apparently nowhere near 100 percent when the sides squared off at the Etihad in February. Well, that's just fine. But what about Barca's somewhat shaky defense coming up against a fully-fit Sergio Aguero?
In the first leg Barcelona didn't have to deal with Messi's good friend and predatory striker partner for the Argentine national team, Aguero. With the 26-year-old forward raring to make up for last time after suffering an ill-timed hamstring injury, expect City to come flying out of the traps at the Nou Camp with their diminutive top scorer — who has 26 goals to his name in 27 games — leading the line.
All the pressure is on Barca to kill off any City comeback effortlessly and put on a show. But as we've seen in recent seasons at the Nou Camp, they've failed to break down the likes of Inter Milan and Chelsea who came to defend. But this time they will be facing a team hell bent on attacking and trying to make up for their two-goal deficit as quickly as possible. Will that play into Barca's hands, who knows? With makeshift center back Javier Mascherano easily overpowered by Edin Dzeko and Alvaro Negredo, plus Aguero likely to run a few rings around Baca's other central defender Gerard Pique, I fancy City's chances to go and score a few in Barcelona… but can they keep a clean sheet at the other end?
City do not deserve to be two goals down from the first leg, but will Barcelona make them pay for one mishap in the second half of the opening match that spun the tie on its head? Or does Barcelona's poor form heading into the much-anticipated encounter really mean anything at all?
On Wednesday we will find out. But it's sure to be an intriguing game between two teams searching for form, one with nothing to lose, the other with everything to lose.
I know which position I'd rather be in. He who dares, wins.