With New York City Football Club readying themselves to enter Major League Soccer in 2015, the club have now narrowed their search for a new club badge down to two selections.
And NYC FC (still not sure if that catchy moniker will stick…) have given you the chance to vote on which badge they will call their own when the club begins play in the Big Apple in less than 12 months.
Voting runs from today until Thursday March 13 and the winner will be announced on March 20. Both designs come from designer Rafael Esquer and have been chosen by NYC FC after an extensive search for the right team logo.
The first design on the right is my personal favorite with the rounded outline inspired by the old NYC subway token and the initials of NYC placed on top of each other, it resembles a similar design to the logo of the New York Yankees and New York Mets. It is simple, fresh and just seems like a badge that can be plastered across baseball caps, shirts and apparel across the globe to become instantly recognizable.
Of course the alternative, pictured on the left, isn't entirely different but I feel like the fancy pants outline of the crest is just a little too over the top and there are too many colors going on. The shield design is inspired by world soccer but also the "historic shield of the official Seal of New York City – a mark that signifies the pioneering spirit of the early settlers," according to the release from NYC FC. I'm still sticking with first option, keep it simple, folks. That's my two cents on this, anyway.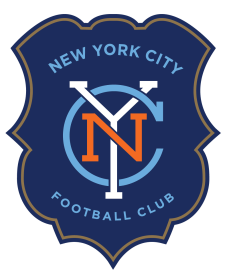 Both are strong badges and great designs.
In a unique and pretty cool twist, you have your chance to vote for whatever badge you prefer, with fans of other MLS teams (ahem, New York Red Bulls) surely set to vote for the most unpopular option to try and scupper NYC FC's look. Or perhaps not… We shall see.
Claudio Reyna, Sporting Director of New York City FC, is excited to launch the vote and give the people of NYC the chance to select a key component of the club's identity.
"This badge is to be the symbol of our Club, a symbol of our players and we hope in time, a symbol of this City.  That is why we decided to give our fans the power to take part in such a fundamental way," Reyna said. "Thanks to the work of Rafael Esquer we feel that we have two designs that truly represent our Club and our City, and we're excited to see which badge they choose."
Let us know which badge you prefer in the comments section below. Get voting.