WOULD A FIFTH PLACE FINISH REDEEM UNITED'S SEASON?
In the second half of their 3-0 win against West Bromwich Albion on Saturday, as they have done for fits and starts throughout the 2013-14 campaign, the real Manchester United showed up.
Full of clever running, panache, tricks, flicks and attacking intent, David Moyes's side finally clicked going forward against the Baggies.
"It was more like it. We were more creative and played well," Moyes said. "It's never the easiest of places to come and we had lost to them earlier in the season so it was good to get a good result. We earned the right to be in front. When we did, we sort of controlled chunks of the game."
Robin van Persie, Wayne Rooney, Adnan Januzaj and Juan Mata weaved in and out of one another majestically, especially in the second half, and with Marouane Fellaini breaking things up expertly in midfield United looked a much better outfit at the Hawthorns. If you look at the average position for United's attackers in the image from Opta on the left, you can see how Rooney and RVP were right on top of each other, while Januzaj is almost like a third striker and Mata isn't far behind him. Not many PL teams can contain that front four when they're on form.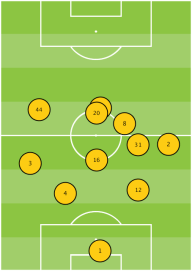 Aside from the swaggering style emanating from the Red Devils, there was a sense of belief in the way they played, a solid defensive showing from Phil Jones and Chris Smalling and pure relief that they hadn't suffered yet another damaging loss. In their previous five games, United had won just once. But after beating the Baggies they now sit in a somewhat respectable sixth spot in the PL, just five points behind Tottenham Hotspur with a game in hand.
So if United finish fifth this season, despite all their struggles, is that okay?
Is this acceptable for Moyes, who inherited and aging squad that many deemed lucky to win the PL title last season, to rebuild the side and just miss out on qualification for the UEFA Champions League?
(MORE: Latest Premier League standings)
One thing we know for sure, Moyes' teams have always been slow starters but extremely strong finishers. In four of his last five season in charge of Everton in the PL, his side have been no higher than seventh after 11 games, like United, but then rallied in the last 11 games of each season and lost just four out of 44 games across the closing stages of those seasons.
That gives United hope. Despite everything that has happened since Sir Alex Ferguson left and Moyes took over, they now have nine games left and an outside chance of making the top four.
Although that looks distant, finishing fifth wouldn't be an embarrassment considering how bad it has been this season.
Premier League Schedule – Week 29

FAREWELL FULHAM
With his club issue glasses, which resemble a mishmash of Harry Potter and John Lennon's specs, Fulham manger Felix Magath was oddly redundant as his side crumbled to a damaging 3-1 loss away at Cardiff City, in a massive relegation six-pointer over the weekend.
Magath knows, even if he doesn't want to believe it, that Fulham are destined for the drop.
At least, that's the way he was acting. Chewing ferociously on gum while sitting in the dugout, even when his team fought back to equalize with over 20 minutes left there wasn't much emotion shown by the veteran German coach. Following the loss which maroons Fulham five points from safety at the bottom of the PL standings, Magath lambasted his squad for not having enough desire to fight and suggested the players at his disposal aren't cut out for a relegation scrap.
"If you are at the bottom of the league, you have to fight," Magath told the BBC after the game. "Maybe we do not have players that are used to it. They have come from situations where they have never had a relegation fight. They are not fighting enough."
Well, that doesn't sound like fighting talk from a manager trying to keep Fulham's sinking ship from dropping into the Championship next season.
LUKE SHAW: NEXT SUPERSTAR FROM SAINTS
It's been quite a week for Southampton's 18-year-old left back Luke Shaw. On Wednesday Shaw made his England debut at Wembley against Denmark and earned raved reviews in a typically composed second half display. The youngster from Kingston in South West London has surged onto the scene for Saints in the last year. He made his PL debut in November 2012 and hasn't looked back since. Shaw has handed England manager Roy Hodgson a massive dilemma with Leighton Baines his first choice left back for the World Cup this summer, but England legend Ashley Cole is now battling it out with Shaw for the other spot.
(MORE: Man United set to bid $50 million for Southampton's star duo)
Cole has been out of form, favor and fitness at Chelsea and the man who has 107 caps for England could well see himself pushed off the plane to Brazil by a teenager who grew up idolizing Cole at Chelsea as a lifelong fan of the Blues. Shaw is the latest product to roll off the line of Saints' famous academy. In England's squad last week Shaw was joined by fellow graduates Adam Lallana, Saints' current captain, and Arsenal attacker Alex Oxlade-Chamberlain, while Arsenal's other former Saints youngster Theo Walcott would've been on the plane to Brazil had he not had a season ending knee injury. Plus Saints had three players who've all featured for their first team represent the England U-19 team in midweek, Sam Gallagher, Harrison Reed and Calum Chambers, while James Ward-Prowse played for England's U-21 side. There are more where Shaw came from. Check out the photo below, Shaw is second from the left in the front row with those flowing blonde locks… Four of those 10-year-olds are now in Southampton's first team squad and have played together for almost a decade.
Shaw's rise has been dramatic, swift and spectacular. Yet through it all he's played with the poise and control of a seasoned pro. They say that some players are born with talent to become internationals of the highest caliber, and Shaw is certainly one of those. Against Denmark he took everything in his stride and surged forward on many occasions from left back like he does for his club side. On Saturday in Saints' narrow win over Crystal Palace, predictably Shaw was solid as a rock and hugely impressive going forward.
18 years old, living the dream in the Premier League and possibly on his way to Brazil, Shaw's one of the hottest properties in England's top-flight and is a future, if not present, star of the PL.
Now, can Southampton hold onto him as Chelsea, Manchester City and Manchester United try to out-bid each other?
SHERWOOD'S TIME UP AT THE LANE? ARE SPURS FOR REAL….

It seems ridiculous to be talking about yet another change of manager at White Hart Lane, but that's looking more and more likely as the current season plays out. Tim Sherwood was handed the Spurs job on a caretaker basis to start with after the sudden sacking of Andre Villas-Boas earlier in the campaign. However after leading Spurs to several wins and swashbuckling performances Sherwood was handed a permanent contract, albeit a very short 18-month deal, to manager Spurs.
After their 4-0 battering against Chelsea on Saturday, Sherwood has admitted he doesn't know what to expected at the end of the season, as rumors of Louis van Gaal and Michael Laudrup taking charge have not been batted away by Spurs Chairman Daniel Levy.
"The silence is deafening, isn't it?" Sherwood said. "It's up to Daniel. I didn't know if he was at the game or not. Maybe he was traveling. It's up to the club to make the decision. One thing I can guarantee people is that no one cares more than me. I want the team to do very well and it hurts me when they don't. I'm afraid I need people in that dressing room to be hurting like I am. I never want to be a number two. I'd be no good, I'm too opinionated. I wouldn't want to do the job."
What makes Sherwood coming under intense scrutiny even more ridiculous is that Tottenham have been vastly improved since he took over. His record as a PL manager reads played 13, won seven, lost three, drawn three. Two of the three defeats have been blowout losses to Manchester City and Chelsea, the league's top two teams after Spurs had a man sent off and penalties were given against them in both matches.
(MORE: Does Tim Sherwood deserve more credit for reviving Spurs?)
Is that really Sherwood's fault? Tottenham are desperate to finish in the top four, but with defeat to Chelsea that looks increasingly like Spurs' shot at bringing Champions League soccer to White Hart Lane next season is over. 6-0 and 5-1 defeats to Man City, a 4-0 hammering by Chelsea and a 5-0 loss to Liverpool shows that despite all their spending Spurs are miles away from the current top four in the PL. Sherwood may not be the man to help with that, but it's harsh to blame the firefighter who arrived midway through the season and has done a pretty remarkable job thus far.
FA CUP 2014: ARSENAL'S TO LOSE
In case you hadn't noticed, this weekend we have a pretty light schedule in the PL. That was down to four Premier League teams involved in FA Cup quarterfinal matches… and now only two remain as the semifinal field at Wembley is set. Wigan Athletic shocked Manchester City to set up a semifinal clash with Arsenal, who beat Everton 4-1 at the Emirates, while Sheffield United (the first third-tier side to reach the semis since Wycombe in 2001) face Hull City in the other semifinal after they overcame Charlton and Sunderland respectively.
(MORE: Arsenal 4-1 Everton – Gunners book FA Cup semifinal spot)
The FA Cup is often deemed a poisoned chalice by PL managers and players, as a decision is made early in the competitions whether or not to go all out to win it. Arsenal manager Arsene Wenger has done just that and it's pay dividends. As other PL big dogs have fallen by the wayside and paid the price for giving their reserves a run out, Arsenal have faced Tottenham, Liverpool and Everton on the road to Wembley… they simply haven't had a chance to rest their big stars.
If you'd told Gunners fans at the start of the season they would finish in the top four and win an FA Cup title, the vast majority would've snap your hands off. Arsenal's best chance of winning silverware since 2005 has arrived. They'd be fools to blow this.
Premier League Playback takes an alternative look at all the weekend's action from the PL, it comes out every week.