Forwards
Will Bruin, Houston Dynamo – Also known as PST Player of the Week Will Bruin, the Dancing Bear had two goals an an assist in the Dynamo's 4-0 win over visiting New England.
We could be wrong about: Joao Plata, Real Salt Lake
Midfielders
Sebastián Fernández, Vancouver Whitecaps – Starting wide left in Carl Robinson's 4-2-3-1, the Uruguayan was a constant presence cutting in underneath Darren Mattocks. He scored the weekend's best goal, blasting home from well outside the area in Vancouver's 4-1 win over New York.
Kenny Miller, Vancouver Whitecaps (pictured, above) – With his trademark relentlessness on display, Miller bagged a brace against New York, with his conversion from the spot opening Saturday's scoring at BC Place.
Federico Higuaín, Columbus Crew – Two goals and his trademark command of Columbus's counterattack helped Higuaín and the Crew overcome the absence of Dominic Oduro to hand D.C. United a 3-0 opening day loss.
Boniek Garcia, Houston Dynamo – The weekend's best two-way performance also saw Boniek get on the scoresheet with Houston's third goal. A Best XI-caliber player gave a Best XI-caliber performance.
Nigel Reo-Coker, Vancouver Whitecaps – The acquisition of Matías Laba allowed Reo-Coker to pursue the gaps in midfield, creating a balance that underpin Vancouver's postseason hopes. His freedom to get forward was evident on Pedro Morales' goal.
We could be wrong about: Kyle Beckerman, Real Salt Lake; Mauro Rosales, Chivas USA; Mauro Díaz, FC Dallas; Osvaldo Alonso, Seattle Sounders; Maurice Edu, Philadelphia Union
Defenders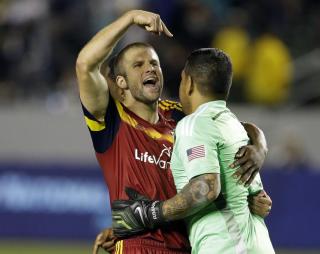 Josh Williams, Columbus Crew – D.C.'s Nick DeLeon did little to hinder the run, but Williams early surge down the right and well-hit cross for Jairo Arrieta allowed the Crew to claim an early lead at RFK. Also helped his team keep a clean sheet, an effort that require him to remain strong when Eddie Johnson drifted to his flank to serve as a target for D.C. long balls.
Chad Marshall, Seattle Sounders – The value he provides on set pieces is already evident, with Marshall's overall game also hinting he'll be a significant upgrade to what Seattle took into last year's playoffs.
Michael Parkhurst, Columbus Crew – Crucial tackles showed the value the U.S. international brings in Marshall's place. Though he and his teammates were rarely tested by D.C., Parkhurst still showed the talents that could against make him one of Major League Soccer's best defenders.
Corey Ashe, Houston Dynamo – A great read to create a turnover ahead of a well-served ball meant Ashe played a crucial part in Houston's second goal. Already with two All-Star appearances, Ashe is off to a strong start in his quest for a third.
We could be wrong about: Amobi Okugo, Philadelphia; Bobby Burling, Chivas USA, Nat Borchers, Real Salt Lake; DeAndre Yedlin, Seattle Sounders
Goalkeeper
Nick Rimando, Real Salt Lake (pictured, with Chris Wingert) – Were it not for one (albeit big) first half mistake, the U.S. international would have been our Player of the Week. Even with that error, Rimando was clearly the week's best keeper, delivering eight saves and a penalty kick stop in the Western Conference champions' 1-0 win in Los Angeles.
We could be wrong about: Donovan Ricketts, Portland Timbers