Following Arsenal's UEFA Champions League exit to Bayern Munich on Tuesday, it seems like a good time to reflect on another disappointing European campaign for the Gunners.
Despite their brave effort in Bavaria — Arsenal drew 1-1 but barely threatend Munich who prevailed 3-1 on aggregate over the two legs — the North London club somewhat stuttered through the Champions League this season.
LATEST UEFA CHAMPIONS LEAGUE NEWS
There were some bright spots along the way, but some familiar problems popped up as Arsene Wenger's men bowed out at the last 16 stage for the third time in the last four years.
Let's take a look at what we learned from another UCL campaign to forget for the Gunners.
Lack of squad depth horribly exposed
In Arsenal's 1-1 draw with Bayern  Munich on Tuesday they had to rely on players like Serge Gnabry, Lukazs Fabianski, Thomas Vermaelen and Tomas Rosicky. Most of those names — who by the way, let nobody down — have been bit-part players this season and too many times throughout this domestic and European campaign they've been called upon on short notice and rushed back into the fray. The Gunners lost Nacho Monreal, Kieran Gibbs and Yaya Sanogo over the past weekend, that was on top of missing Nicklas Bendtner, Jack Wilshere, Aaron Ramsey and Theo Walcott. That's a lot of injuries, but it only acted to reinforce what we already knew: outside of their starting XI, Arsenal haven't got much depth. Instead of spending $63 million on one player — we'll get to you in a minute, Mesut Ozil — they should have added strength in-depth throughout the squad during both the summer and January transfer windows.
That cost them dear in the UCL knockout stages, as injuries in the PL and FA Cup have come back to haunt the Gunners. The players replacing Walcott and Ramsey in the lineup were simply nowhere near good enough to cause teams like Bayern problems. We saw that play out twice, painfully.
Ozil hasn't delivered expected UCL pedigree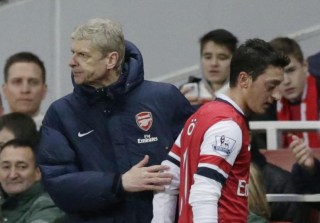 When Mesut Ozil arrived at the end of August to delight and delirium on the streets of North London, many believed he was the missing cog in Arsenal's well-oiled machine. "He will make the difference in the Champions League," they said, "Ozil has delivered on the biggest stages, he can be our leader" exclaimed plenty of Arsenal's fans. Well, it didn't quite work out that way in the UCL, did it? Yes, the German playmaker had his moments, after years of experience with Real Madrid on Europe's biggest stage that was bound to happen. But when the biggest moment of all arrived, a penalty kick in the opening 10 minutes of their last 16 tie to give Arsenal a 1-0 lead over Bayern, he fluffed his lines. Even before that tie-changing PK miss, Ozil only scored once in Arsenal's Champions League campaign and failed to turn up when it really mattered.
The official reason for replacing the German at half time of Arsenal's second-leg away in Munich was "a hamstring injury" but he simply looked off the pace and disinterested. The man Arsenal bought in to quarterback their UCL charge didn't deliver. Will this failure have a lasting impact on his legacy at the Emirates?
Okay, it's not all doom and gloom. Besides the crazy 2-0 loss away at Napoli in the final group stage game, which Arsenal never looked losing until the last 15 minutes and then somehow were almost heading out of the tournament on goal difference, the Gunners were solid and sensational away from the Emirates. In recent seasons the Gunners have struggled away from home in the UCL group stages, winning just twice in the last two season on the continent. But early in the campaign with Olivier Giroud, Walcott, Ramsey and Ozil firing on all cylinders, the Gunners looked unstoppable away from home with their silky style shocking homes teams on the break.
Wins away at Borussia Dortmund and Marseille in the group stages were added to by their 1-1 draw away in Munich, and if you take into account their 2-0 win in the last 16 of the 2012-13 UCL tournament to Bayern, Arsenal have now lost just one of their last five away games in the Champions League. Not many sides can say that in the UCL, so a silver lining, of sorts, for Wenger to chew on as he tries to digest Arsenal's latest failure to get over the first hurdle of the Champions League knockout stages.