Manchester City's draw against Barcelona in UEFA Champions League promised to give us a semifinal matchup in the tournament's first knockout round, but after shock weekend losses, both titans find themselves limping into their tie's second leg. Against a club battling to avoid relegation from La Liga (Real Valladolid), Barça lost 1-0 on Saturday, an indignity that pushed them into third in Spain. Manchester City somehow managed to do their Wednesday opponents one worse, losing 2-1 at home to second division Wigan Athletic in England's FA Cup. Where at one time this meeting could have been the leaders of the world's two best leagues, today's second leg will feature Spain's third-place team against a club that sits fourth in the Premier League.
That fourth place team, who'll start Wednesday's second leg with a two-goal deficit, will also be without their manager. Manuel Pellegrini begins a suspension incurred after criticizing officials in the wake of City's 2-0 loss to Barça at the Emirates, one which puts leaves assistant coach Rubén Cousillas in charge. The 56-year-old Argentine, who has been with Pellegrini since the Chilean's days coaching in South America, is tasked with not only making history in Catalonia but also moving the Citizens past an embarrassing Sunday result.
"We had a big sense of frustration because we wanted to be back at Wembley and win another cup," Cousillas said, "but Wigan surprised us. We have turned the page and we have experienced and quality players, which means we are more united than ever and we have forgotten everything in preparation for tomorrow."
Barcelona will need a similarly faulty memory to regain their confidence before kickoff on Wednesday. Whereas City can assuage themselves with having lost to the same team that beat them in last year's FA Cup, Barça's loss at Real Valladolid is less explicable. Shut out against a team that had not won in five games, Gerardo Martino suffered his second loss in three. While its +52 goal difference is still the top mark in the Primera Division, a third place standing is the lowest Barcelona has sat since the opening days of the Pep Guardiola era.
"After the match in Valladolid, I said we made mistakes but under different circumstances – because all our defeats this season have been different," Martino explained. "There's not a specific reason for us being inconsistent. We need to be more consistent at this stage of the season to maintain our chances of winning all three competitions."
That need for improvement underscores a heightened urgency for Barcelona. Though they are unlikely to give up their two-goal leads to City, they are less than two weeks away from the season's second Clasico – one they can't afford to lose if they're going to retain their La Liga title. Already four points behind first place Real Madrid, Barcelona have 180 minutes to raise their game before entering the Santiago Bernábeu.
Though they were missing midfield star Andrés Iniesta this weekend, against Manchester City, there'll be no excuses. Both Lionel Messi and Neymar are fully fit. Xavi Hernández is ready to play in midfield. UEFA reports no injuries to Martino's regulars along the back. Though Barcelona can claim Real Valladolid surprised them on Saturday, it won't be able to use similar excuses on Wednesday.
"We have to think that 10 or 12 days ago," Martino explained, "we played a very good match against Manchester City. I don't see why we can't do the same tomorrow and I'm sure we will play well."
City is not as quite healthy as their hosts. In addition to Pellegrini's loss, the Citizens will be without Martín Demechilis (suspended) and backup Matija Nastasic, leaving Joleon Lescott to start to the left of Vincent Kompany in City's defense.
The rest of the team — from leading goal threat Sergio Aguero up top to former Barcelona defensive midfielder Yaya Touré in the middle — will be laid out according to Pellegrini's plans, even if the Manchester City boss will be in the stands.
"The decisions are taken by Pellegrini," Cousillas confirmed. "I have worked with him for 13 years and I know what he wants."
What he truly wants may be out of Cousillas's reach. Down two goals, Manchester City will be looking to make history in Spain, not only hoping to reach their first quarterfinal but also trying to become the first team to turn around a two-goal deficit incurred at home.
Barcelona's recent results say City may be catching it at the right time, but the Citizens will have to shake off disappointment of their own if they're to survive in Champions League.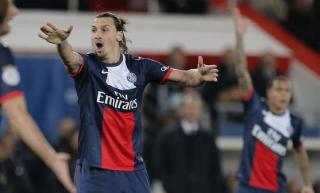 Paris Saint-Germain try to kill off wounded Bayer Leverkusen
PSG's matchup with Bayer Leverkusen joins Real Madrid's pairing with Schalke as the most lopsided battles in the competition's Round of 16. Whereas PSG put up a 4-0 win three weeks ago at the BayArena, all but eliminating Sami Hyypia's team before they'd boarded their plane for Paris, Real Madrid posted a 6-1 victory in Gelsenkirchen. The German Bundesliga may be an up-and-coming league, but last year's third and fourth place finishers are having trouble keeping pace with the league's new reputation.
What that means for Champions League fans is a second, perfunctory 90 minutes in at the Parc de Princes, one that's unlikely to feature PSG star Zlatan Ibrahimovic. The main reason for watching today's return leg is set to be held out of the team, with head coach Laurent Blanc sounding a cautious note about his focal point's back injury ahead of the match. Likewise, Blaise Matuidi — a midfielder who nearly rivaled Ibrahimovic's influence in Germany — is also unlikely to be held out, with Marco Veratti, Gregory van der Wiel, and Jérémy Menez joining him as doubts.
All of which would spark worry from Bayer Leverkusen if the score was closer. Even then, Bayer would have to have shown something more than one point in six games leading into Wednesday's match – form that's seen them relinquish second place in the Bundesliga. Only five points ahead of fifth place Wolfsburg, Bayer now have concerns about whether they can maintain a Champions League spot, especially with their annual trip to Bayern looming on Saturday.
"The team needs to build confidence and self-belief, and one way to do so could be with a good performance here.," Hyypia explained. "The most important thing is we need to find some stability defensively, especially now that we're going through difficult times."
With PSG set to take a cautious approach, Bayer may get their reprieve. That doesn't necessarily mean their winless run will stop.