When watching soccer on TV, have you ever sat there and wondered what the man behind the microphone really thinks?
Maybe this will go someway to helping with that.
In the latest edition of "View from the Booth" we chat with NBC Sports' lead soccer announcer Arlo White about Tim Sherwood's future at Tottenham Hotspur, Cardiff's survival hopes, a massive "Rivalry Sunday" in the Premier League this weekend, which big teams could slip up and much more.
(MORE: VIEW FROM THE BOOTH ARCHIVE)
You can hear Arlo calling live games every weekend on NBC Sports Network and NBC, and watch every single game available live online via NBC Sports Live Extra,
So, let's get to it.
With Tottenham's capitulation against Chelsea on Saturday, is that the end of their top four chances? Do you fear for Tim Sherwood's future… like he does?
I'll let Tim Sherwood answer your question. After the 4-0 defeat to Chelsea, his response was this; "We're miles away. You can't finish top four if you can't beat the top teams." Spurs have won at Old Trafford. They also beat Everton at White Hart Lane in a big game recently. But against the true class of the Premier League, they have been blown away too many times. They've conceded 11 goals to Manchester City, they conceded five at home to Liverpool and now four at Chelsea. My fear for Spurs is that they'll finish fifth and end up in the Europa League again.
I thought Sherwood devised a very interesting tactical plan at Stamford Bridge. I'm certain that they felt really good about things at half time. Bentaleb and Sandro were terrific in the center of the park and Kyle Walker was taking up some decent positions on both sides of the ball. But it all unraveled in the blink of an eye, and from a performance that should have been a great source of confidence for Spurs, it became a hammering and soon after, a potentially damaging post-match chastisement from the manager.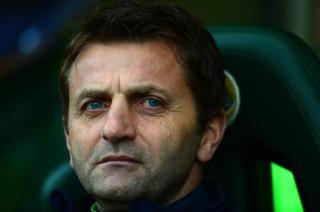 Sherwood's appointment has always had a temporary feel to it, but Tottenham's results and performances have improved in comparison to the previous regime. It wasn't Sherwood who sold Gareth Bale last summer, and it wasn't Sherwood who recruited so many expensive players with the subsequent windfall (none of whom started at Stamford Bridge.)
(MORE: Cracks starting to appear in Sherwood's leadership at Spurs)
As for the future, the Spurs job will be coveted by some very big managerial names, not least Luis van Gaal. Sherwood himself admits that he couldn't be a number two at the club, and he's unlikely to want to head back to the academy. If he is relieved of his duties, he would depart with his head held high, with a years severance money in his pocket and some valuable experience to take to another club. His talents would surely be utilized somewhere.
With Cardiff City beating Fulham in the relegation six-pointer, how important was that result? And has it complicated the fight for survival at the bottom of the table?
It was a huge result. I saw Cardiff lose narrowly at Tottenham in their previous game, and there were signs of life for Ole Gunnar Solksjaer's side. Their next two games are extremely tough outings against Everton and Liverpool, but it's the run of five games after that which I think will define their season. They face West Brom, Crystal Palace, Southampton, Stoke and Sunderland. The Barclays Premier League is a tough place. It's survival of the fittest. For Cardiff City, who have gone through all the trauma and turmoil that they have this season (most of it self inflicted), it is a dream run of games to try and save themselves.
(MORE: Latest Premier League standings)
Fulham are clearly struggling whilst West Brom are in free fall. Let's see how Sunderland, who gave such a good account of themselves in the Capital One cup final, fair against relegation rivals Palace and Norwich in their next two games.
Looking ahead to this weekend, two massive derbies are playing out on Sunday, Manchester United vs. Liverpool and Tottenham vs. Arsenal, how do you see these games going?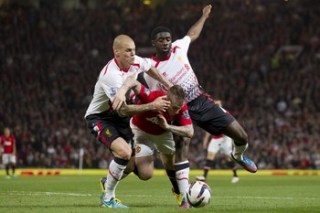 I bet Liverpool can hardly wait to get to Old Trafford on Sunday. They had a weekend off and must be raring to go. All the talk over the last couple of weeks has been about Chelsea and their new found grip on the title. Liverpool will still have a massive say in that, particularly as Chelsea have to go to Anfield in April.
My formative years following Football were in the 1980's. Back then, Liverpool were the kings and United simply the pretenders. Then came Sir Alex Ferguson. It's a long time since Liverpool visited Old Trafford as the title chasers, with United the also rans. The problem for the chasing pack at the moment is that Chelsea always seem to have extra games, and they keep winning them!
By the time Liverpool kick off on Sunday, Chelsea could be ten points clear of them if they win at Villa Park on Saturday, albeit having played two games more. The Reds have lost six consecutive games at Old Trafford in all competitions, but they'll be hoping for a repeat of their last victory, a 4-1 romp in 2009. Now that would make a statement.
(WATCH: PST Extra – Traditional giants of England tangle this weekend)
I'll be at the North London derby which follows the game at Old Trafford. Arsenal need a statement victory themselves. A performance that says to their rivals that they are still in the title race. Their response to going out of the Champions League last season was incredible, and they need more of the same this season to challenge for the top prize. It's been a decent week for the Gunners just when it was all threatening to fall apart. They won through to the FA Cup semi final, saw the Cup field depleted by Manchester City's defeat to Wigan and then exited the Champions League to Bayern Munich with their pride in tact. The imminent return of Aaron Ramsey could provide a huge boost.
Perhaps Emmanuel Adebayor holds the key for Spurs. He seems to love the big game atmosphere, having scored 8 goals in his eleven north London derbies. Spurs will need him firing at the Lane on Sunday.
Chelsea and Manchester City both face tricky away games this weekend, which one of these title contenders is more likely to slip up?
Based on pure form, then Chelsea are the least likely to slip up when they travel to Aston Villa. They didn't play in midweek, and they have the late kick off. Chelsea are purring nicely and must be favorites for the title despite Jose's repeated assertion that the table isn't "realistic."
Manchester City spent a long time chasing Barcelona players around the enormous Nou Camp pitch on Wednesday night and they have a quick turn around at Hull City in the Saturday lunch time kick off. It's the sort of game that City struggled in earlier this season, but they desperately need to win. The free scoring City of a few weeks ago have cooled off considerably recently. They've only managed eight goals in their last eight games. All of a sudden, talk of scoring records and unprecedented thrashings has ceased, but like Liverpool, City are free to concentrate purely on the Premier League run in.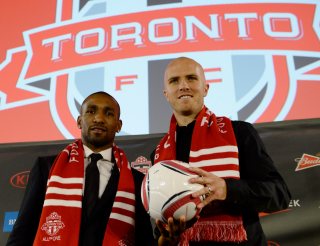 Finally, what else are you looking forward to this weekend?
Some MLS action! The Seattle Sounders against Toronto FC on NBCSN on Saturday afternoon. It's a big day for the league. U.S. national team stars Clint Dempsey and Michael Bradley will be on the field together, and that is a huge deal.
(WATCH: Seattle vs. Toronto FC, NBCSN, 4:30pm ET, Saturday)
Obafemi Martins and Jermaine Defoe playing up top for either side, is a terrific prospect. This game will showcase where MLS is heading as a league.
Have a great weekend everyone…