Barking out orders to a bunch of local youth players on a cold, wet and misty morning in the Glasgow suburbs last autumn, it was clear for all to see that Steven Caldwell's leadership skills are second to none.
After spending his career as a central defensive stalwart with various Premier League teams in England, Caldwell oozes experience and composed confidence. His career has seen him represent Scotland, play in the UEFA Champions League and spend several seasons in England's top-flight.
WATCH: Seattle vs. Toronto FC, 4:30 p.m. ET live on NBCSN and online
But now arguably his biggest challenge awaits, as the veteran Scottish defender captains Toronto FC. Caldwell, 33, arrived in Major League Soccer midway through the 2013 season and signed a permanent deal to stick around in what could be a breakout season.
Following a major cash injection from TFC's owners Maple Leaf Sports and Entertainment (MLSE) over the offseason, Jermain Defoe and Michael Bradley arrived to much fanfare as Toronto's much-anticipated 2014 season kicks off away to the Seattle Sounders on Saturday (Watch live on NBCSN, 4:30pm ET and online via Live Extra) with the rest of the league casting a watchful eye on Ryan Nelsen's revolution on the banks of Lake Ontario.
Expectation levels at TFC are high after several below-par seasons and not a single playoff appearance in their seven-year MLS history.
"We've got a great front office, great coaching staff, great players and a fantastic city. We've got everything here to be a major force in world football," Caldwell said. "MLS is growing at such a rapid rate, one or two teams are going to rise from MLS and become a global brand. That's what we want to be. As players we have to start making playoffs and winning MLS Cup's, once that happens I believe this club can be huge."
Going back to that opening image of Caldwell coaching in his native land, I was fortunate enough to work alongside him in a professional capacity back in November 2012 as we both completed our UEFA B coaching license in Scotland. A calm coach who knew when to step in and when to let sessions flow, Caldwell's aura off the pitch was indicative of a leader who lets his boots and actions do the talking.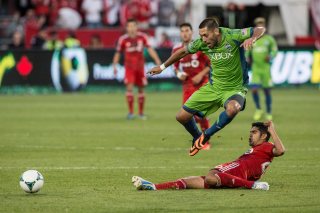 "We are expecting big things, but we know it's not going to be easy," Caldwell said of TFC's hopes for 2014. "There are a lot of very good, established teams in this league. We've got a lot of new guys trying to gel, it's going to take a little bit of time. But with the quality that we have we're hoping for at least the playoffs and then to try and push for MLS Cup. That's the aim."
MLS Season Preview: Toronto FC
That task of launching a monumental turnaround in Toronto — the franchise has failed to win more than 10 MLS games in a single season since they arrived in 2007, plus have a record of 17-51-34 over the last three campaigns — is not an easy one, and Caldwell accepts that.
TFC have suddenly vaulted from a team used to propping up the standings to a favorite for the Eastern conference and MLS Cup. Without even kicking a ball in 2014. Dealing with those expectations and fostering a winning mentality at TFC, where struggles have been commonplace for most, if not all, of the teams existence, is easier said than done.
"We have got to accept that responsibility and take that pressure on," Caldwell said. "It will come with the players we've signed, but we need to embrace that and enjoy the challenge of having to win every week. That's a little bit new to Toronto Football Club. Hopefully we can rise to that challenge and be the team everybody wants to beat."
As for Toronto's season opener, it could hardly be tougher. A trip to CenturyLink Field is something most teams and players dread, as Seattle's talented squad, in front of their sizable, loud home crowd, makes for a tough environment. But Caldwell is the type of character who thrives in a cauldron of animosity. And the 6-foot-3 Scotsman revealed his side are 'champing at the bit' to get their season underway, after being forced to watch on during opening weekend as TFC had a bye-week.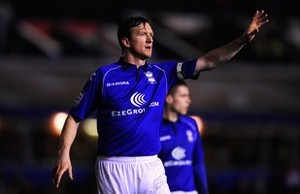 "It is a huge game, they're expecting a massive crowd, so it will be a very exciting game to play in," Caldwell said. "Seattle have got some top players, they've brought Clint Dempsey back to MLS and are going to be a challenge. We understand it's going to be a tough, tough game. But we are of the caliber now that we feel like we can go anywhere and achieve results. We have to be hard to beat, first and foremost, but our quality means we're capable of winning most, if not every, game."
That new-found star quality Caldwell speaks of comes mostly from the acquisition of Bradley, the U.S. international midfielder. Arriving from Italian giants AS Roma for $10 million in January, and reportedly paid $5.8 million a year in wages, Bradley is the focal point of TFC's revolution. On Saturday fans across the USA and Canada will be tuning in to watch Bradley go head-to-head with USMNT colleague Dempsey, as two of MLS' poster boys square off.
In terms of settling back into MLS with Toronto, it's a case of so far, so good, for the "General," according to Caldwell.
"I've been very, very impressed. He's a very mature young man and a fantastic player," Caldwell said. "Michael is a real winner, which is very exciting for us. He's going to be a major player for this football club for many years to come. It's a big coup for us to have such a quality player coming from a huge team like AS Roma. That fact that he chose to play for us, when he probably could've joined some of Europe's best teams, is a major coup."
Many thought with the money TFC splashed to bring Bradley to BMO Field, plus his experience in Europe and with the U.S., that he'd be taking the captain's armband on arrival.
But it shows the huge admiration and faith head coach Nelsen has in Caldwell. The big Scot revealed that respect is reciprocal, as he heaped praise on Nelsen's coaching techniques and is desperate to repay the faith shown in him by his manager.
Captaining teams is not new to Caldwell. He's been the skipper of Burnley, Birmingham City and now Toronto, which is a role Caldwell is relishing as he leads TFC into a brave new era.
But what about the future? Can Toronto really overtake the perennial MLS powerhouses?
Caldwell has been with Toronto since the start of the sides huge rebuild, and despite hiccups along the way, the progress everyone was hoping for is finally clicking into place ahead of the 2014 season.
"When I came to Toronto at the end of last May, I still felt like we were progressing a little bit. Not as quickly as we would've liked, but this process is a building period," Caldwell said. "We've now got a structure, a nucleus and a way we want to play. The guys who've been kept on this season know their jobs and roles. We've got the base to be a very successful team, with the likes of Defoe, Bradley and Gilberto adding to that. We need to learn how to win consistently now. Once we do that, the sky is the limit for this football club."