"You don't stop playing when you get older. You get old when you stop playing," M.C. McCoy.
M.C. McCoy reportedly grew up in South America. His parents were missionaries, and he fell in love with soccer before going on to play at Guilford College. But he skipped a tryout with the Atlanta Chiefs of the NASL and regretted it ever since.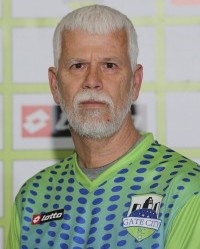 So earlier this month, the 64-year-old McCoy went to an open tryout with Gate City FC. And though it has all the feel of a PR stunt — there were cameras at the small club's tryout, after all — the Greensboro club has signed him to a contract.
Again, it's a good bit of publicity-savvy for a first-year club that happens to have both a reserve and a veteran/alumni team, but as the video shows it's a good story of a man who didn't want to have trying out for a club after college on his bucket list. Whether he gets on the field or not, it's a neat moment for the veteran referee and coach.
Disclaimer of sorts: I operate a club in the NPSL, but I hope you're not cynical enough to accuse me of bias. This is just an interesting story from our growing American soccer world.