Don't underestimate the importance of a strong Toronto FC
Two months of anticipation came good on Saturday. Toronto FC not only came through with a win at one of the leagues marquee venues, but one of their high-priced acquisitions was responsible for their opening day result. With two goals from Jermain Defoe, the Reds have already seen returns from their winter's big spend, with midfielder Micheal Bradley also playing a part in Saturday's big result.
This is obviously an important year for TFC, with Tim Leiweke's expensive stars trying to reverse the diminishing attendance figures we've seen at BMO Field. Having never made the postseason, the Reds are intent of playing into November, a relevance that will help Leiweke and Tim Bezbatchenko's campaign a facility that seats more than 20,195. If they make their case — something that's impossible to do when the team's at the bottom of the standings — Bradley and Defoe's purchases could pay for themselves.
More broadly, Toronto is a city that could really use a winner. Whether you're talking Maple Leafs hockey, Blue Jays baseball, or Raptors basketball, Toronto has had to deal with decades of disappointments and dysfunction, part of the reason Cito Gaston's name still has such resonance in Canada's biggest city. The next Toronto team to have major success is going to capture hearts.
TFC has a window. If they can jump through it, they can achieve a relevance no other MLS team has. While it's too early to suggest Ryan Nelsen's team can do it, Saturday was a great start.
(MORE: Two goals in Seattle from Jermaine Defoe get new era off to winning start for Toronto)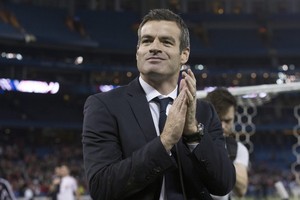 Ryan Nelsen remains very, very conservative
One of the biggest problems with last year's team was Ryan Nelsen's extremely conservative tactics – an approach that often left Toronto a sitting duck late in matches. Too happy to recede into it own end too early, TFC became would give other teams too many chances to find late goals. If one philosophy of defense says possession is the best prevention, Ryan Nelsen's from an entirely different school.
We saw the same thing on Sunday as Toronto seemed to come out of halftime trying to preserve their lead. Seattle pulled back a goal mid-way through the half, giving them 22 minutes to hope a corner kick, penalty, defensive breakdown, or random luck could produce an equalizer. TFC has receded too soon.
In the first minutes after Clint Dempsey's goal, we saw how Toronto should play. Thanks in part to Bradley's presence, Toronto fought to gain some type of hold on the match, allowing them to kill off some of the match's final 20 minutes while possessing in Seattle's half.
Toronto has the talent to kill off matches with the ball at their feet. Unfortunately, they don't have the coach. Unless we see a new philosophy from Nelsen this year, Toronto FC fans can expect more games like today's.
(MORE: Jermain Defoe scores two goals in his first 24 Major League Soccer minutes)
The good, the bad of Clint Dempsey
We finally saw the Clint Dempsey we've been expecting. In the 68th minute, the Seattle attacker dropped back into midfield, played wide to start a counter, then ghosted into the penalty area to score his team's only goal. His ability to read the game,  skill with the ball at his feet, finishing touch – they were all there as the Sounders clawed back to within one.
Until that point, however, Dempsey's most noticeable moments were a series of chippy incidents that culminated with him striking Mark Broom's crotch. If you're a Seattle fan, it probably seemed feisty. For others, it probably went too far.
In an earlier post, we intimated Dempsey's chippiness was a sign of frustration. At least, our headline did. Hopefully today's goal will help. Now up to two goals in rave green, Dempsey took the first step to righting his course.
(MORE: Clint Dempsey takes out his frustrations on Toronto's Mark Bloom)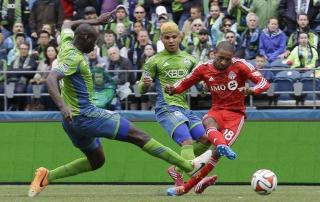 Seattle gave Jermain Defoe his big day
Jermain Defoe might win Major League Soccer Player of the Week, but take a moment to have a closer look at his two goals. Though the former Tottenham Hotspur deserves credit for his finishes, Seattle played a huge part in the early double.
On the first, Chad Marshall comes out of defense to no avail trying to mark a man in midfield. Neither DeAndre Yedlin nor Djimi Traoré adjust quick enough, leaving a gaping hole in defense for Jonathan Osario's pass. The finish still required a sniper's touch, but the chance was created by Seattle's mistakes.
Eight minutes later, Marco Pappa made his first impact with his new club. Unfortunately, it wasn't a good one. His back pass to Defoe left Seattle defense in contain mode and the Guatemalan attack apologizing post-match. Sounders defenders saw the England international bury it.
Credit Defoe for the finishes, but Seattle's defense can't giveaway those types of chances. Sigi Schmid will be disappointed his team dug its own hole.
Let's not be drawing any conclusions about the Sounders, yet
When we look back on the 2014 season, Saturday's first half may be one of Seattle's worst of the season – the type of outlying performance you'd never use to indict a team's potential. Toronto scored two within 24 minutes, held Seattle without any chances, and controlled a half in which its starting XI were playing its first 90 minutes together. It was a result few should have expected, given what we saw from the Sounders last week against Sporting KC.
Though they lost, the second half should give Seattle hope. For the first time this year, the were regularly generating good scoring chances. Clint Dempsey, again instilled in the middle of attack, was having the type of impact people expected when he arrived from London. Obafemi Martins put himself in position to have three or four good chances. The team looked legitimately dangerous.
It was progress, something that may prove more valuable than results this early in the season. Though Seattle won 1-0 last week, their attack was only able to generate one chaotic 94th minute goal. This week their defense let them down, but row attack showed signs of living up to its high-priced potential.