Welcome to a new era of Toronto FC soccer, one in which the Reds are capable of going to places like CenturyLink Field and earning three points. Thanks to two first half goals from Jermain Defoe, a revamped TFC registered a  2-1 victory in Seattle, sending early notice to those left doubting the potential their offseason rebuild.
After Seattle controlled much of the ball over the match's first quarter-hour, Toronto broke through in the 16th minute, with Jonathan Osario setting up Defoe. Eight minutes later, a poor back pass from Seattle's Marco Pappa allowed Defoe to add his second from inside the arc, giving the Reds a lead two-goal lead they'd carry well past halftime.
Converting on a second half counter attack, Clint Dempsey cut Toronto's lead to one, scoring his first of the season to make it 2-1 in the 68th minute. Awakened, Toronto was able to carry their one-goal edge to full-time, starting their 2014 season with a victory on the road.
(MORE: Defoe scores twice in first 23 minutes of his Major League Soccer debut.)
For Seattle, the result drops the team to 1-1-0, with the Sounders slipping after last week's opening day win over visiting Sporting Kansas City. While that slip was defined by a poor performance over Saturday's first 45 minutes, the Sounders will be able to take little consolation from a spirited response that left them one goal short.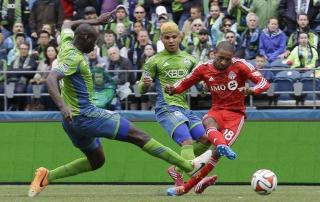 Toronto's initial break through came after Osorio, having done well to maintain control at the edge of the Reds' attacking third, fed a ball into the left channel for Defoe. Taking advantage of the positioning of Chad Marshall and DeAndre Yedlin, Defoe beat former Red Stefan Frei into the right of goal, giving Toronto an early lead.
Eight minutes later, Defoe doubled his goal total, taking advantage of a poor back pass from Pappa to score the game's winning goal. After retrieving the ball just outside the Seattle penalty area, Defoe dribbled onto his right foot inside the arch, giving him an open look at the right side of Frei's goal. Beating the new Seattle number one for the second time in eight minutes, Defoe put his new team up, 2-0.
(MORE: Clint Dempsey takes out his frustrations on Mark Bloom.)
The second half saw a more aggressive Seattle team generate a couple of early chances for Obafemi Martins. In the 68th minute, however, it as the Nigerian's part in building an attack that led to the Sounders' break through.
Countering off a ball played wide right by Dempsey, Martins streaked down the flank, seeing no resistance before hitting the edge of Toronto's penalty area. Once there, Martins laid off to his left for an oncoming Dempsey, who blasted home from just inside the box to reduce his team's deficit to one.
Having relinquished control to Seattle for the half's first 23 minutes, Toronto began putting up more of a fight after Dempsey's goal. Whereas the Reds were too willing to collapse into the defensive third before conceding, Toronto started maintaining some possession once their lead was reduced. Though the team wasn't able to generate any significant chances over the match's final 22 minutes, they were able to stymie the control Seattle had exercised over the period's opening moments.
With Marshall coming forward to threaten on the match's late set pieces, Seattle maintained the threat of an equalizer against Nelsen's conservative tactics. Once full-time was blown, however, Toronto had survived Seattle's late pressure, giving them the first win of their new, higher profile era.
Lineups
Seattle Sounders: Stefan Frei; DeAndre Yedlin, Chad Marshall, Djimi Traore, Dylan Remick; Brad Evans, Osvaldo Alonso; Lamar Neagle, Clint Dempsey, Marco Pappa; Obafemi Martins
Goals: Dempsey (68)
Toronto FC: Júlio César; Mark Bloom, Steven Caldwell, Doneil Henry; Justin Morrow; Jackson, Michael Bradley, Jonathan Osorio, Álvaro Rey; Jermain Defoe; Dwayne De Rosario
Goals Defoe (16, 24)