Liverpool: calm, structured, lethal.
Manchester United: disjointed, frantic, out of control.
With NBC guest commentator Tim Howard dubbing this match the "biggest fixture in English football," Liverpool proved the far superior squad at Old Trafford.
As one side jumped to within four points of the Premier League's top spot, another fell to uncharted depths in seventh.
Steven Gerrard hit twice from the penalty spot and Luis Suarez added a third as the Reds made no mistake in their late charge towards the Premier League title.
Both teams proved bold yet nervy in the opening 20 minutes.
Each end saw action, but neither team had a serious effort on goal.  With either defense solid in their shape, Liverpool had more of the attack during match's opening quarter, but the trio of Reds at the attack found it difficult to find any bit of space.
With both teams probing, Liverpool were gifted a chance to go ahead in the 34th minute, and they didn't disappoint. Daniel Sturridge on the right touch floated a ball across the pitch to Luis Suarez, and he looked to work it into the box with Rafael guarding.
Suarez attempted to chip around the United defender, and with Rafael off balance, the ball clipped his outstretched arm.  Suarez immediately popped up shouting for handball, and referee Mark Clattenberg pointed to the spot.
Liverpool pleaded with Clattenberg for a yellow card for the offense, which would have been Rafael's second already, but the referee refused.  There was no surprise as Gerrard stepped up to the ball for Liverpool, and he poked it past a wrong-footed De Gea for the first-half lead.
Manchester United did produce one moment to hang their hat on, but just minutes before halftime Simon Mignolet countered with a spectacular diving save to keep out Wayne Rooney's shot from the center of the box.
Looking to bring it back level after the break, things instead got much worse for Manchester United directly out of the tunnel.
Suarez found Jordan Henderson in all kinds of space at the top of the box, and the youngster finds fellow midfielder Joe Allen cutting laterally across the box and tracked by Phil Jones.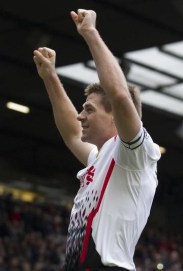 With Jones beat, the big center back lowered his shoulder and bowled over Allen from behind, and Clattenberg again awarded Liverpool a penalty.  Gerrard converted for a second time, again firing right but this time harder and lower past de Gea.
The penalty marked the first time in Premier League history that opposition were given two penalties at Old Trafford.
The deficit caused the hosts to press harder, but they were panicked much too frantic, and they appeared more likely to get a man sent off than score a goal.
However, as United settled down and began to built, they produced two chances, but Clattenberg denied them twice.  Wayne Rooney looked for a foul outside the box as Martin Skrtel clattered him to the ground, and it appeared Glen Johnson slightly handed the ball, but both were waved off.
Things only got worse for Manchester United.  David Moyes waited all the way until the 76th minute to make his first substitution, a double change bringing on Tom Cleverley and Danny Welbeck, but it would be at the back where they would soon see a blow.
Daniel Sturridge rocketed past Nemanja Vidic, and the Manchester United captain went body-to-body looking to recover.  Sturridge hit a heavy touch, and instead of shooting a tight angle he went down softly, an obvious dive, but Clattenberg bought it giving Liverpool a third penalty and sending Vidic off with his second yellow card.
Gerrard stepped up with an opportunity to bag the first-ever Premier League penalty hat-trick, but he clanged the left post for a miss.
With United a man down, it was all Reds from here to the final whistle. Sturridge probably had a shout for yet another penalty when he checked back with the ball in the box and was felled by Michael Carrick, but Clattenberg waved it off.
Suarez then beat the defense and went one-on-one with David de Gea on 80 minutes but the Spaniard made a fantastic save.
But he couldn't keep out Suarez with five minutes to go, as Sturridge found him just onsides through the United back line and he touched far post for a 3-0 lead.
LINEUPS:
Manchester United – De Gea; Rafael, Jones, Vidic, Evra; Mata (Ferdinand 87′), Fellaini (Cleverley 76′), Carrick, Januzaj (Welbeck 76′); Rooney, van Persie.
Liverpool – Mignolet; Johnson, Skrtel, Agger, Flanagan; Gerrard (Lucas 87′), Allen, Henderson, Sterling (Coutinho 72′); Suarez, Sturridge (Aspas 90′).
Goals: Gerrard 34′, 46′; Suarez 84′