1. Chelsea falls apart in Birmingham
You could almost hear conventional wisdom scoffing at José Mourinho when, in the lead up to Chelsea's visit to Villa Park, the Blues' manager said a draw in Birmingham would be a good result. Having never won at Aston Villa, Mourinho's view was informed by hard-fought point after hard-fought point against Martin O'Neill's teams. Even if the current Republic of Ireland manager has since moved on, Mourinho was not taking his trip to the Midlands for granted.
His worries turned out to be prescient. Chelsea, as is their recent pattern, went into halftime on Saturday without a goal, with their chances to produce another second half onslaught evaporating when Chris Foy harshly dismissed Willian. After Ramires earned his own sending off and Mourinho was sent to the stands, headlines cast Villa's victory in terms of a nine-man Chelsea.
(MORE: Aston Villa 1-0 Chelsea: Villa benefit from Blues' loss of composure (video))
Which, of course, is deceiving. Villa scored their winner well before Ramires was sent off. They were just as good as Chelsea before their opponents were reduced to ten. Pointing out the Blues were reduced to nine makes for a catchy headline, but it also paints a deceiving picture of the match.
The importance of that treatment goes beyond weird editorial minutia. It's important to understanding Saturday's game. Chelsea didn't entirely fall victim to soccer randomness and officiating misfortunate. Those were contributing factors in an otherwise disappointing performance. The Blues had a bad day, one that would have ended in a draw had Foy's judgment not compounded their problems.
This has been the issue with Chelsea's title credentials all along. They are too easily drawn into these sorts of games, as the showed last month at West Brom, in January against West Ham, in December at Stoke. Other title contenders have their own problems (mostly, defense), but this is theirs. Their approach often leaves them playing down to their competition.
On any given weekend, against any team in the league, Chelsea can be drawn into this type of game. That may not be enough to keep it from the title, but it is something to worry about, particularly after it cost the team points on Saturday.
2. Long odds improving for Liverpool
When talk of Liverpool contending for this season's title began in earnest last month, we noted the long odds. Liverpool would not only have to out-play Arsenal, Chelsea, and Manchester City but do so to a degree that made up the ground they'd conceded over the previous four months. At the time, the Reds were in fourth place and closer to Europa League than the title.
Fast forward one month, and Brendan Rodgers' team has in fact out-played their competition. They are making up the ground. After their 3-0 win at Old Trafford, Liverpool's within four of the top. They also have a game in hand on Chelsea.
All of which is big picture stuff. More narrowly, Liverpool were so much better than Manchester United, the match became a symbol of one team's climb, another's decline. Whereas Liverpool has struggled to match their rivals' Premier League success, now the Red Devils are little more than a speed bump, one that can't even mount a challenge at Old Trafford. And while Liverpool are much stronger than last year, there's little explanation for why Manchester United, over the course of seven months, have fallen so far behind its rivals.
(MORE: Manchester United 0-3 Liverpool: Gerrard hits twice from the spot to send Reds second)
Nobody expected David Moyes to replicate Alex Ferguson's accomplishments, which is why so few pundits picked them to repeat. At the same time, nobody could have reasonably foreseen they would be this bad, and had you told people in August that this team would add Juan Mata, Marouane Fellaini, and see Adnan Januzaj ascend to a starter's role, Moyes wouldn't have been given the leeway he received in fall.
But that leeway's led to this. Manchester United is inexplicably bad, perhaps indefensibly so, an it's nothing new. Liverpool's rout provided more proof, but this is United's 2013-14 season: A quest for rock bottom.
3. 11th man not necessary for Manchester City at Hull
Vincent Kompany's case as one of the world's best defenders is a strange one. Physically, and in terms of skill, talent, and capability, he may be the most complete defender in the world. He's reputed to be one of the smartest players in the game, yet when he doesn't have a somebody to his left that can provide decent cover, things go awry. His want to venture from his place in the defense — to take advantage of his athleticism, skill, and ability to read the game — comes back to haunt him.
On Saturday, perhaps he was hard done, but defenders know. If you are behind a guy and pull him down, you're going to walk when nobody else between that man and goal. Argue about when defines a true goal scoring opportunity all you want, but the moment Nikica Jelavic got past him, Kompany couldn't foul.
Thankfully for City, the dismissal didn't matter. Playing with 10 men for 80 minutes, the Citizens still produced at 2-0 win at Hull. A quick response from David Silva and late insurance from Edin Dzeko helped bring City within six points of Chelsea, with their league-leading +44 goal difference set to help them in any tiebreaker scenario.
(MORE: Hull City 0-2 Manchester City: Silva inspires 10-man City to victory (video))
Their biggest advantage, though: Three games in hand on the Blues. On a points-per-game basis, Manchester City have the best record in the league. Whether that holds up while it makes up those games in hand will determine whether Manuel Pellegrini will finally break through and claim a European league title.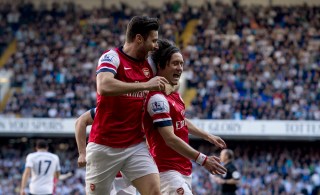 4. Rosicky, Arsenal add to Sherwood's woes
When Tomas Rosicky finished into Hugo Lloris's left side netting in the second minute, Sunday's North London Derby looked set to become the third in a series of lopsided Spurs losses. With a little help from Arsenal (and its willingness to sit on that 1-0 lead), Tottenham avoided another embarrassing loss, something that won't placate supporters hoping their team could do against their biggest rivals.
(MORE: Tottenham 0-1 Arsenal: Early Rosicky goal, solid shape give Arsenal derby double over Spurs)
The match's telling moment may have been in the middle of the first half, when Alex Oxlade-Chamberlain's failed breakaway prompted Tim Sherwood to throw his coat to the ground. The fit of emotion eventually forced the new Spurs boss back to his chair, folded arms across his chest employing a five-year-old's method of anger management. It was a show of passion, but it also was a sign of immaturity.
Before the match, Gary Lineker shared his views on Sherwood's recent outbursts, saying encouragement tends to be the better option than criticism (at least, in public). Graeme Le Soux noted Sherwood's use of a negative approach so early in his tenure didn't speak well of the manager's methods. Today's sideline outburst only adds to the cracks in the new boss's armor.
Had Spurs won on Sunday, they would have been within three points of fourth. Champions League would have been a realistic possibility. Failing to put a plan in place that could compete with a lackluster Arsenal, Sherwood showed he isn't the man to take them there. Now it's question of what Tottenham does next.
5. If Fulham, West Brom can win games, anything's possible
As the relegation race progresses, we've had to start breaking out the clichés, perhaps the most used of which is "one good streak." If any of the teams at the bottom of the Premier League can go on a good three- or four-game run, it'll be in the first division come August. March's results may be terrible, but turn it around mid-April? Life in the Championship becomes a hypothetical.
Fulham, for example, has been the league's worst team this season. On Saturday, however, they got a 1-0 win over Newcastle United, bringing them to within five points of safety. Though they have Manchester City and Everton on the schedule in the coming weeks, they also have a number of opponents from whom even a slightly improved Cottagers team could take points: Aston Villa, Norwich, Hull, Stoke and Crystal Palace. As bad as this season has been at Craven Cottage, there is hope.
(MORE: Fulham 1-0 Newcastle United: Dejagah strike and late non-call give Cottagers three huge points)
West Brom, like Fulham, is experiencing an uptick in hopes after this weekend's action. With their 2-1 win at Swansea, the Baggies registered their first victory under Pepe Mel, putting three points between them and the drop. With a goal difference edge on the rest of its relegation rivals, West Brom suddenly look like a good bet to stay up.
(MORE: Swansea City 1-2 West Brom: Pepe Mel gets first win, likely saves his job (video))
But let's check back next week. After all, seven days ago, Cardiff City looked ready to make a charge. Then the team had to go to Everton, and the room it'd created on Fulham evaporated. It may take one good run to ensure survival, but runs extend beyond a single result.
6. Nicolas Anelka may go away, but the FA wants his ban to follow
England's Football Association should get out of the Nicolas Anelka business as soon as possible, even if that means not pursuing his ban as he leaves English shores. After the French attacker quit West Brom (before being fired), the Premier League is rid of a player whose latest incarnation brought nothing but controversy. While the early season passing of his agent unfortunately hindered his adjustment to the Baggies, his midseason quenelle ensured any lasting impact he had on the club would be a negative one.
While you can see why the FA wants Anelka's ban to be observed by other leagues, thus strengthening the credibility of their punishments, the pursuit has given Anelka another day in the headlines. Better to just move on. Particularly at this time of the season — with league races, FA Cup, and Champions League in focus — it's okay to forget about Nicolas Anelka.