LIVERPOOL TITLE FAVORITES?

Since the Premier League began in 1992, Liverpool have never lifted the glistening silver trophy. This year is their best chance of doing that. A stunning 3-0 win Sunday at Manchester United sent Liverpool into second. They now sit four points behind leaders Chelsea with one game in hand.
With nine games to finish the season, talk of winning the title has finally left the lips of Liverpool's leading man.
"We've showed that we are genuine contenders and we are going to fight to the end for this," said Liverpool captain Steven Gerrard, after his two penalty kicks helped the Reds win the Northwest derby. "We believe that we can win the league."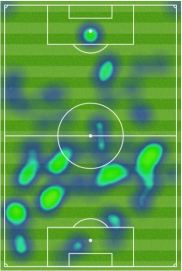 Honest or misguided … call it what you will, but hearing Gerrard state Liverpool's intent win the PL crown is as refreshing as it is likely.
The England national team captain, 33,  knows other teams are flagging to get over the finish line, while his side are cruising. One of the things that's impressed me so much about Liverpool is the relentless high-pressure approach imposed by manager Brendan Rodgers. United couldn't deal with the visitors' hunger to win the ball, as a midfield trio of Jordan Henderson, Joe Allen and Gerrard provided, once again, a steady and inspiring base.
(MORE: Latest Premier League standings)
If you look at Gerrard's heat map on the left, Liverpool's captain plugged the gaps vs. Man United superbly, as well a netting two penalties, which allows the other midfielders to pour forward and hold higher lines up the pitch to dispossess the opposition.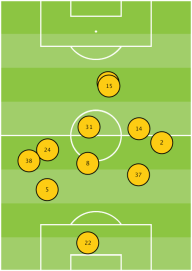 One player whose excelled at that is Henderson. The England international is channeling his sublime guile and determination in a hugely constructive way. Allen started alongside those two, with the tiny Welshman knitting everything together superbly well, as intricate passing brought a calming influence to proceedings and helped the Reds win the midfield.
The shape of Liverpool's midfield is also interesting, if you look at the average position map on the right (handed to me by our good friends at Opta) you can see Gerrard's deep-lying lynchpin role allowing full backs Johnson (2) and Jon Flanagan (38) to push on and almost play like wing backs. With Henderson and Allen tucked inside, the channels are covered and stop teams from pumping one ball into the corner to get in behind the Reds.
The passing matrix on the left, which totals how many times each players passes to each other, shows plenty of passes between both full backs and the midfield trio, with Henderson exchanging passes with Glen Johnson 14 times and Gerrard picking the ball up from the center backs 12 times. That ease of taking the ball from defenders and dictating the flow of the game has served Liverpool well, and with Daniel Sturridge and Luis Suarez ready to pounce and finish whenever they get a sniff of goal.

Liverpool, as Stevie G said, are real title contenders. So get used to the idea of seeing the PL crown draped in red ribbons at the end of this season. Chelsea and Manchester City visit Anfield in April, with the Reds remaining fixtures looking extremely manageable aside from those two monster clashes.
Their remaining games are against: Cardiff (away), Sunderland (home), Tottenham (home), West Ham (away), Man City (home), Norwich (away), Chelsea (home), Crystal Palace (away), Newcastle (home).
Could the title be on show at Anfield on May 11 when Liverpool host Newcastle? Now, more than at any point this season, that seems like a distinct possibility.
Premier League Schedule – Week 30

CHELSEA LOSE THE PLOT
In stoppage time Saturday at a fired up Villa Park, Chelsea were two-men down, one goal down and then lost manager Jose Mourinho, who was sent to the stands. They also lost for the first time in 15 games.
During Villa's 1-0 win, Fabian Delph's superb late goal ("I just Cruyff-ed it into the corner") compounded with Willian's sending off to ensure Chelsea's frustration boiled over as Ramires stomped on Karim El Ahmadi. In the melee that ensued right in front of the benches, Mourinho and Villa manager Paul Lambert were both on the pitch as well as their backroom staff. Mourinho, of course, stayed on the pitch for a little longer than everyone else and after asking referee Chris Foy a question (according to Mou) he was sent off.
(MORE: Mourinho hints that Chris Foy should not be allowed to ref future Chelsea matches)
Chelsea's implosion came after another display which saw them fail to carve out many clear cut chances, as Fernando Torres cut a forlorn figure as a lone forward. After the final whistle, Mourinho failed to open his mouth in fear of being banned for his comments, but the Portuguese boss was clearly upset with the way his side were treated. The pivotal moment came when Willian was sent off for a pretty ridiculous second yellow card. The Brazilian winger chased Delph back in 68th minute and hardly touched Villa's midfielder. Yet Willian was shown another yellow amid jeers of the 40,000 plus home fans. To compound Mourinho's misery, he was just about to substitute Willian one minute earlier but decided to take off Oscar instead. Luck was against Chelsea on Saturday.
So, after going down to 10-men Chelsea couldn't handle the heat and promptly shot themselves in the foot several times, as their charge for the PL crown took a hit. For so long they've seemed to thrive on the pressure this season and come through it, but at a sold out Villa Park on Saturday evening they failed to assert their dominance. Another title contender fared far better after having a man sent off, though. Step forward, Manchester City.
MAN CITY'S SPIRIT, SPITTING, STUD MARKS
At the end of a week which saw them crash out of the FA Cup to lower-league opposition and then dumped out of the UEFA Champions League by Barcelona, the last thing Man City needed was to go down to 10-men away at Hull City on Saturday. But it happened, very early.
However the way the Citizens reacted to losing captain Vincent Kompany after just nine minutes of their 2-0 win over Hull City was quite remarkable. David Silva bent in an unstoppable shot into the top corner four minutes later to put City 1-0 up, then Manuel Pellegrini's men regrouped marvelously well and defended superbly against a stubborn Hull side who whipped countless crosses into the box, but marshaled by a determined Martin Demichelis they kept a high line to keep Hull at bay. A late clincher from Edin Dzeko sealed the win, which means if City win their games in hand, they will go above Chelsea and sit top of the standings.
I was at KC Stadium to witness City's superb resilience, 0rchestrated by the incredibly calm Silva, as they kept the ball for long periods and at times looked like they were playing against 10-men rather than the other way around. After a fiery Yorkshire-Lancashire clash, a rivalry which runs much deeper than these two teams, there are plenty of things to clean up.
First, Kompany may be facing a longer ban after his sending off. City's Belgian skipper seemed to make an obscene gesture then kicked the brick wall in the tunnel leading from the pitch. After leaving his stud marks behind (proof below from the BBC team in the tunnel) and dishing out insulting gestures, Kompany could be facing an FA ban to go on top of his one-game suspension for taking down Nikica Jelavic as the last man. If he's disciplined for making the gesture, Kompany could miss City's derby with Manchester United on March 25.
Other City players were involved in the thick of things after he'd departed, with goalkeeper Joe Hart squaring up to Hull attacker George Boyd after the Tigers man appeared to dive in the second half. What happened next wasn't originally caught by TV cameras at the KC, but from a different angle you can clearly see Boyd spit at Hart during a heated confrontation. For that, he should get a ban and a fine from the FA. It wasn't a penalty kick as Boyd went over and was looking for contact, which is bad enough, but there's no place for that kind of behavior in the game. At all. That clash personified a niggly affair which threatened to boil over throughout.
(MORE: Pellegrini questions Kompany's red card, praises Manchester City's resilience)
Afterwards both managers were asked about the incident, to which Manuel Pellegrini stated he felt Kompany was fouled by Jelavic and referee Lee Mason missed it. Then Hull manager Steve Bruce defended Boyd for his dive when nudging the ball past Hart, and brought up an interesting point to the gaggle of journos piled into the cramped press room at the KC stadium.
"Let me tell you, there's a difference between simulation, diving, cheating if you like, and trying to get out the road," Bruce said. "Boydy is not going to stand there with Joe Hart hurtling towards him. He is going to try and get out the road, and stay on his feet. Obviously he has gone over, how many times have we seen it. But the referee was on the spot, and I think he made the right decision [to not give a penalty]."
TOP FIVE GOALS: HAVE WE HAD A BETTER WEEK THIS SEASON?
We are into the 30th matchday of the PL campaign, and I can't remember seeing a stronger top five goals video than the one compiled below. From Silva's stunning long-range bender to Delph's deft-flick and Tomas Rosicky's howitzer, we had a plethora of top strikes to choose from as our favorite from the weekend. Sit back, get some popcorn and watch "reem" goals fly in from all angles.
Your favorite? Let me know in the comments below. Mine? I love Silva's strike. The way he shifted the ball onto his left and bent and unstoppable drive into the top corner was sublime, especially given the importance of the moment as City had just gone down to 10-men and needed a boost after a tricky stretch. But whichever goal you pick from the five below, you can't go wrong.
FINALLY, PERFECT EXAMPLE WHY GOAL-LINE TECH IS NEEDED
In the grand scheme of a hectic PL season, these kind of calls matter. No wonder millions of dollars was spent on bringing goal-line technology in, but until now it hasn't had too many close decisions to call. Scratch that, on Saturday Fulham were a fine horse hair away from taking the lead against Newcastle.
In the past, it all went down to the judgement of the match officials to determine whether or not a ball went over the line. With the Goal Decision System (GDS) in place for the 2013-14 season, now technology makes it easier for the officials. When Johnny Heitinga smashed an effort off the underside of the crossbar, it looked like the ball was clearly over the line. But to the amazement of everyone, the entire ball didn't go over.
Look at the image below from GDS, and you'll see that a smidgen of the ball is on the line which proves just how precise and incredible this technology is. No goal. Fulham, who in the end beat Newcastle United fair and square 1-0, are scrapping for survival and although in the past a goal like that may have been awarded without GDS to their advantage, they can rest easy knowing no incorrect goals will be given to opponents or relegation rivals down the stretch.
The old saying that close calls "even themselves out over the course of the season" no longer applies. GDS is here to make sure everyone gets a fair crack of the whip. To see close calls, red cars, stunning goals and controversy, an enthralling weekend of PL action is below.
Premier League Playback takes an alternative look at all the weekend's action from the PL, it comes out every week.