Search Julian Green's name on Twitter, add a "USMNT" hashtag, and after Tuesday's announcement from U.S. Soccer, you'll see a level of excitement that can only be contained by a 140-character limit. If you're already ensconced in this world, the energy's probably also hit your Facebook, with corresponding coverage spreading like wild-fire throughout American soccer media. To both U.S. Soccer and national team fans, this is big news; even if, on first blush, it's not obvious why.
Green is attached to the Bayern Munich brand, though – to the extend somebody who has yet to play a league game can be attached to a team. He's also bee tearing it up for Bayern Munich II, where he's scored 15 goals in 21 games this season. Said to have impressed after being invited to March's national team camp, the now aspiring U.S. international carries enough mystery to tickle both optimism and cynicism.
Right now, with only two minutes of play above the German fourth division, Green is what you want him to be. If you want to see that Bayern pedigree as a sign he deserves special attention, there's enough product there to do so. Never mind that most of the people generating that excitement haven't seen enough of his games. There has to be a reason why Bayern not only signed him but are featuring him in their second team. And with Green also seeing time with various German U-level teams, the feeling was not exclusive to München.
But don't begrudge people their cynicism. In fact, a more cautious approach seems to make sense. The raw numbers look great, and the prospect of fast, dynamic wide presence is tantalizing, yet we have no real idea how performance in Germany's fourth division translates to the international stage. We don't know if Green's goal totals are a result of individual brilliance or his team's collective talent. Does his 2013-14 reflect a natural ascent, or is blip in his development curve? Ask most fans and writers, they wouldn't be able to tell you if he's right- or left-footed.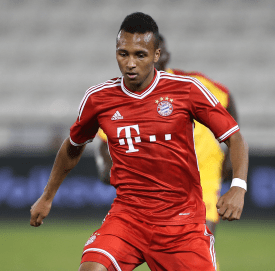 The one thing U.S. soccer fans can rely on is Jurgen Klinsmann. On the surface, Green may seem like the latest manifestation of Klinsmann's fetish: A German player the former Nationalmannscraft star wants to bring into the fold. And ultimately, that may be all Green (right) is, but if he does turn into a player who can made Fabian Johnson or Jermaine Jones-esque contributions, some of that hype will be worth it. Both players switched from Germany to the U.S. Both are sure to start in Brazil.
Green, however, has nowhere near the track record of Jones or Johnson. Or Danny Williams. Or Timmy Chandler. The closest comparison we have to Green is Terrence Boyd, whose acclaim among U.S. soccer's followers has diminished slightly since his move to Rapid Wien. When he was playing with Borussia Dortmund II, people used that cache to entertain greatness. Now, he's a valuable squad player on the bubble for Brazil.
The big difference between then two (besides Boyd being much older): Klinsmann seems much higher on Green …
[tweet https://twitter.com/J_Klinsmann/statuses/446035584792805376 width="400″ align="center"]
… an optimism has translated to the U.S. fan base. After seeing Klinsmann sift through the U.S. talent pool, bring new players in while casting others aside, the program's new technical director has built huge credibility with a fan base that was once highly skeptical. It's not only the success of Johnson or the cultivation of players like Graham Zusi and Eddie Johnson. It's the results, too. In what many thought would be a transition cycle for the U.S., Klinsmann's team easily won their final qualifying group, and accomplishment that's won supporter's trust.
If Klinsmann had looked at Green, saw nothing, and didn't pursue him, fans would have said "15 goals in the fourth division obviously aren't worth that much." Instead, Green has Klinsmann's stamp of approach. And in Klinsmann, U.S. Soccer has come to trust.
Green's inside track to Brazil
When U.S. Soccer distributed their announcement today, they didn't cut Green's feelings about this summer. "I hope to do everything I can to earn a spot on the World Cup roster," he said. Somewhere along the way, he's been given the impression he has a chance.
Some are already speculating that Green's been guaranteed a spot. That's possible, but it's also not Klinsmann's style. As much as the coach values competition, he's unlikely to guarantee Clint Dempsey's spot, let alone a player who has yet to put on the uniform.
But it's also likely Green is very close, close enough that Klinsmann convinced him to switch. Three months from Brazil, Klinsmann already has a full depth chart laid out, one he wouldn't disrupt without reason. If Green wasn't going to be a meaningful part of that picture, Klinsmann could have put off his full court press until the fall.
From the player's point of view, this change could have happened at any time. The only reason to rush a decision is if a delay would cost him a spot at the World Cup. That's likely the picture Klinsmann painted ahead of this filing.
Green is probably not a lock for Brazil, but he may now have to play his way out of a spot. With Brek Shea struggling in England, Green may be the player most likely to join Alejandro Bedoya as wide options off Klinsmann's bench this summer.