"Whoever wishes to foresee the future must consult the past; for human events ever resemble those of preceding times. This arises from the fact that they are produced by men who ever have been, and ever shall be, animated by the same passions." -Niccolo Machiavelli
In 2008, Fulham FC produced one of the greatest three-match stretches the bottom of the Premier League table has ever seen. In what is known throughout Fulham lore as The Great Escape, the club retained its Premier League status.
With just the disastrously poor Derby County below them in the table and the club five points from safety, Fulham popped off consecutive season-ending wins against Manchester City, Birmingham City, and Portsmouth to avoid relegation.
The win over Manchester City was nothing short of a miracle. Down 2-0 after just 21 minutes, 64th-minute substitute Diomansy Kamara produced a double for the ages along with a penalty from Danny Murphy to begin their mountain climb.
It was a David Tyree moment, one that will live in club history no matter where Kamara's career were to take him in the aftermath (namely, nowhere).
Then, after a comprehensive 2-0 win over Birmingham behind goals from American Brian McBride and Erik Nevland, it was set up for the final match of the season.
With Fulham and Reading tied on points and Reading scheduled to take on hapless Derby, it was win and you're in, lose and you're almost certainly down.
They did it, as Murphy's 76th-minute header was enough to put Fulham past Portsmouth and the Great Escape was complete.  Just two years later, under Roy Hodgson's guidance, the team would go on to defeat Juventus in by far the club's greatest-ever win and eventually make the Europa League final.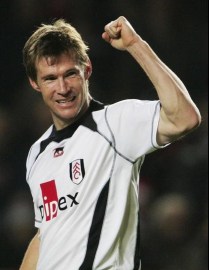 All of this is in the history books. It's done and dusted. But it's still relevent.
Why? Well, this year the Whites find themselves in a undeniably similar position.
Almost eerily so.
Having risen so far from their position of relegation that fateful 2008 spring, the club on the River Thames now finds itself again staring the drop in the face.  This time around they are bottom, without the cushion of a Derby County to buffer them from the basement.
But with a trip to Manchester City next on the fixture list, things are looking similar to their Great Escape. At the time of the 2008 City match, Fulham were five points back of safety. Currently, they sit four back of Crystal Palace in 17th, but it might as well be five given their horrific -35 goal differential which will be virtually impossible to overcome.
And who was the man in goal when Kamara rifled home the winner six years ago? A 20-year-old Joe Hart, who now ironically plays for Hodgson on the England squad.
This time around, there are plenty more matches for Fulham to pick up points before the end, including crucial 6-pointers against Norwich City and Crystal Palace.
No, the problem this time around isn't time, even if they are running out of clock fast. The problem is simple: they're not very good.
Fulham don't pass the eye test. In fact, they flunk it quite miserably. They had a massive opportunity against fellow relegation candidates Cardiff City, in which three points would have put them in a pole position to escape.  Instead, they were beaten up and down the pitch in a disappointing 3-1 loss to a team that hadn't scored in five games.
Thing is, that 2008 team wasn't very good either, and they burned chance after chance to save themselves much before the home stretch.
On March 29, 2008 they took on Derby County – proud owner of just one win all season and 10 total points – and conceded an 80th minute goal to draw 2-2 and drop 2 critical points.  Or like on February 9, when Fulham fell 1-0 to Middlesbrough who ended the year just 3 points above the drop.
Go back even farther, and it took Hodgson (appointed on December 30 for the fired Lawrie Sanchez) nine matches to earn his first win.
But, there's hope. With the club's official Twitter account essentially spamming the hashtag "#believe"  the past few weeks, they went out and firmly defeated a Newcastle club mired in turmoil. Despite the slim 1-0 scoreline, Newcastle hardly threatened and Fulham picked up their first win under Felix Magath, first league win since New Years Day, and first league clean sheet since December 8.
And that, too, has precedent from six years ago.
Two weeks before the miracle at Manchester City, on April 12, Fulham soundly put Reading to rest on the road 2-0 (again from Nevland and McBride) to plant the seeds of what would come. They'd fall 2-0 at eventual Champions League runners up Liverpool the next week, but the Reading match was an incredibly important fixture.
Often overlooked for the flashier three-game season-ending stretch when narratives of the Great Escape are recalled, the win at Reading was an enormous victory. They led nearly the whole way, and rattled the crossbar three times outside of their two goals. The victory was their first in the league away from home all season, and their fourth league clean sheet of the campaign.
The similarities are there. The opportunities are there.
Make no mistake: at the moment, Fulham are a very safe bet to be playing in the Championship next season. The point is, that's also what we thought in the spring of 2008.