Last week Minnesota United became the first-ever professional American soccer team to practice at the HQ of the English national team, St. George's Park.
After speaking with their players, coaching staff and members of the front office on their return to the U.S., it's clear the facilities on offer at SGP are some of the best on the planet.
Traveling halfway around the world to prepare for the upcoming 2014 North American Soccer League (NASL) season was a no brainer, according to club president Nick Rogers, as Minnesota prepared in style for the new campaign.
"If you hang out at St. George's Park long enough, you'll run into somebody you recognize from television," Rogers explained. "There was a managers' meeting while we there, we met David Moyes was very nice posing for pictures with us and I was having a coffee next to Roberto Di Matteo. I was lucky enough to go to Manchester United vs. Liverpool while we were there… that night after the match, Ryan Giggs was at our hotel bar. Those kinds of experiences, for our players and our staff, really made an impact and made us realize it was a special opportunity."
English teams usually travel to the U.S. for their preseason schedule in July-August, while most American and Canadian sides head to Florida or South Carolina. But Minnesota United, they like to think outside the box. Regardless of the grey clouds, blustery conditions and rain-drenched vistas present in England during most of the year — though curiously there wasn't one drop of rain during their 10-day visit — they flew 4,000 miles across the pond to prepare at great expense. The ambitious club, who were re-branded as Minnesota United in 2012 and were just named as the Twin Cities best emerging business, are doing all they can to grow their outreach on both sides of the Atlantic.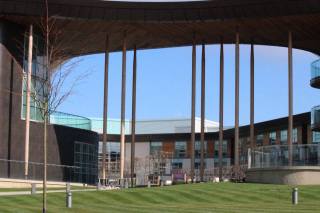 How it all came about involved the NBA's Minnesota Timberwolves, Derby County and a bad experience during last preseason.
"Our principle owner Dr. Bill McGuire knows the President of the Timberwolves, Chris Wright, who is connected to the American/Canadian ownership group who own Derby County," Rogers explained. "We spoke with him about our failed preseason last year (stuck in a snowstorm in Kansas City, unable to train outside) and it started with wanting to have a better preseason. I don't know who suggested a preseason tour to England… but when we learned about the facility at St. George's Park, it seemed to make a lot of sense."
More than just sense, it gave United's players a chance to bond on and off the pitch too, something which could be invaluable throughout the tough season ahead in an expanded NASL.
Getting the chance to spend so much time together, on and off the field, was a wonderful factor of their trip to Staffordshire according to Minnesota's midfielder Jamie Watson.
"This is my 10th year as a pro, and I can say that was the best preseason trip I've ever been on or known anyone to go on," Watson laughed. "We were able to just concentrate on the team and focus on training. It makes a difference when you have to put the work in to support the guy next to you. Having the team as close as they are now, after our trip, the level of camaraderie is one you wouldn't be able to manufacture."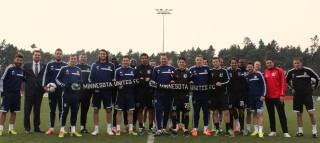 The lowdown on St. George's Park
You've heard  little bit about Minnesota's experience at SGP, but what about the place itself? This project, a central hub for soccer training, coaching and education for the English national teams, was first broached in 1975. Financial restrictions from delays and spiraling costs of rebuilding the national team's Wembley Stadium, located 132 miles sout in London, placed St. George's on hold for a little while as the English FA figured out how they could centralize the national setup in Burton-upon-Trent.
However on Oct. 9, 2012 the 330-acre site, set in the picturesque Staffordshire countryside, was opened by the Duke and Duchess of Cambridge (William and Kate to most of the world) as a crucial step to help England return to being a global power on the international stage was in place. It was worth the wait.
SGP is home to 24 England teams, from the full men's and women's national teams through to the youth setup, plus the Futsal and disability squads and many more. It has everything you could possibly imagine, with two stunning hotels on site, a full replica of Wembley's pitch and a full-size indoor pitch.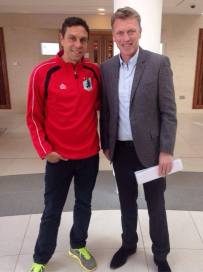 There are 12 full-size soccer pitches; five have under-soil heating and floodlights. An altitude chamber, 2 Futsal pitches, indoor running tracks, four gymnasiums, a 500 seat conference center and a purpose built sports hall are just some of the highlights of the Football Association's stunning epicenter.
During their 10-day trip to SGP Minnesota's United's players got to experience all of that and more, as they made the most of the facilities on offer. With the English FA keen to give the players the true experience, they set up a number of challenges between United's player in the vast array of sports science labs, which you can watch right here.
Minnesota coach Manny Lagos spoke fondly of the history and tradition his players witnessed whilst overseas, and believes the club would return for preseason in the future.
"There are a lot of good facilities in the U.S. but one of the things I loved about SGP is the nostalgia of it being the home to the English national team," Lagos said. "Combined with the technology they're using with the fields, the physio and regeneration areas and then you have a hotel that is soccer-centric right there. That was a very unique experience for a lot of the guys on our team, especially the Americans, who aren't used to so much focus on just soccer for a facility. It worked out really well and put us in the right mindset for our season."
Minnesota's 'perfect' preparations
Of course Minnesota had to pry themselves away from the luxurious surroundings of SGP a few times on their trip overseas, as Lagos' men were busy preparing for a successful season ahead, after all.
With scrimmages against local teams, finishing up with a friendly against English Championship side Derby County, Minnesota feel they had the perfect mix of match-action and practice on their trip to soccer's homeland. As for the overall experience? Every player felt the same.
"It was an unbelievable experience, one I will take with me long after my playing days are over," Watson said. "I am very appreciative that the club allowed us to experience this."
With a 3-0 win against Matlock Town (watch above), a training scrimmage against Pro Player Academy and then a 2-0 defeat to Derby, Minnesota mixed with players from all walks of life in English soccer.
United also got the chance to meet up with Premier League side West Ham as the Hammers' star players and manager Sam Allardyce, who were training at SGP after a weekend off, welcomed the NASL club to England with open arms.
"What is really cool is that when you're at St. George's Park, there is a level of respect from everyone there," Watson explained. "The big timers like West Ham, David Moyes, Howard Webb, everyone has a mutual respect for each other because people think 'if they are here, they deserve to be here.' Everyone respects SGP so much, that if you are in there using the facilities then you're on an equal level."
The second-tier club also spoke about the 'aura' surrounding SGP, as even though the building is just a few years old, that sense of history still oozes from their pores of the foundations, with memorabilia and artifacts on show to depict the rich history of the game in England.
"You walk down the hallways and their are black and white pictures from way back of ex-England internationals, to a 30-foot mural of Joe Hart," Watson said. "It is really cool to see, it has an aura and mystique about it because you walk up to the venue and its so beautiful. It has a presence to it."
With U.S. Soccer having their own similar facility in Bradenton, Fla. to nurture young talent, the full national team doesn't have anything like SGP. But it's much more difficult to do that with the USMNT. Number one, the distance players have to travel all over the world to get to a training center for a week would be tough. Number two, the U.S. has no defined national stadium like England does. If the U.S. were ever to build a national stadium in say, D.C., then a facility like SGP would be a great idea.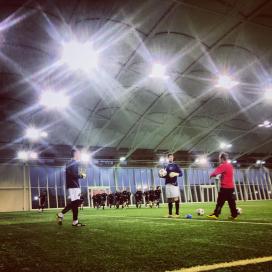 Former Real Salt Lake and FC Dallas midfielder Watson knows that only too well. A graduate of the U.S. youth setup up Bradenton, Minnesota's star summer-signing from Orlando City has seen the benefits of training in a top class facility day in, day out. He points to a current USMNT star as the prime example of how a centralized approach will help the USA in the future.
"When Michael Bradley came in there were 30 of us, if you would've asked the 29 other guys we would all agree that he was the 30th best player there," Watson said. "When you're in a setting where everything is setup so you can only succeed, it only makes you better. Literally every day you get better, and Bradley was a prime example of that. He spent two years there, when he left he was starting for the New York MetroStars at 17 and you've seen where his career has taken him."
The future for United: NASL or MLS?

Speaking of the future, any soccer fan in North America knows rumors of Major League Soccer and new expansion franchises are always rife, especially in the league's current climate of rapid growth.
Minneapolis-Saint Paul is always one of the places earmarked to have an MLS side arrive in the next few years. With Atlanta looking increasingly likely to get MLS' 23rd franchise with a stadium deal in place to share the Atlanta Falcons new home, could something similar happen in Minneapolis between the NFL's Vikings and Minnesota United?
Club president Rogers was coy when asked about United becoming an MLS franchise, but didn't rule anything out.
"My focus is on building a great club, right now we are competing in the NASL," Rogers said. "We want to win an NASL title and make noise in the U.S. Open Cup. Because we don't have promotion and relegation in this country you can't work your way to the top. It is a business transaction. We are aware of MLS and what they are doing and the talks about expansion. Our focus is on building a great club and that will guide our decision making. I'm not going to say it's something we would never pursue, but it's not something I think about right now."
Speaking with Watson and Lagos, they both agree that Minneapolis could support an MLS franchise, but for now they're just focusing on winning an NASL Championship. A historic trip as the first-ever American club to train at England's stunning HQ will set them up for that assault on the title.
In the future, will we see other clubs follow Minnesota's lead and head to England for preseason? If this trip is anything to go by, clubs across the U.S. should already be making plans to pencil in a trip to St. George's Park for their 2015 offseason.
Look for my behind-the-scenes look at SGP next week on ProSoccerTalk.