EXCLUSIVE — Sporting a rather impressive ginger beard this season, Nat Borchers' presence at the heart and soul of Real Salt Lake's defense is unchanged… even if his appearance has altered dramatically.
Laughing and joking about the flowing locks now emanating from his chin, RSL's veteran defender is in his seventh season at the Rio Tinto Stadium, and seems to be as relaxed and confident as ever in the Utah outfit's chances of proving everyone wrong. Once again.
Borchers has been ever present so far this campaign, with Salt Lake bagging four points from their opening two games, both on the road, after a 1-0 win over LA Galaxy was followed by a 3-3 draw at San Jose. With RSL's home opener coming up on Saturday at the Rio Tinto Stadium vs. LA (Watch live on NBCSN, 4 p.m. ET and online via  Live Extra) Borchers is confident the home side can beat their Western conference rivals for the second time in three games, in a rare back-to-back situation for the Galaxy.
"When you look back at the last five or six years, it has been us and them, and sometimes Seattle, who have been the best in the conference," Borchers said. "We both do similar things as clubs and we have a tremendous amount of respect for LA. It has definitely developed into a rivalry."
(WATCH: RSL vs. LA Galaxy, live on NBCSN 4 p.m. ET and online via Live Extra)
That rivalry intensified after RSL's MLS Cup win in 2009, as Borchers tasted success in just his second season with the club. With both teams keeping plenty of familiar faces around on the pitch, what is different about facing LA this season compared to the past? And what is Borchers expecting from their offense on Saturday?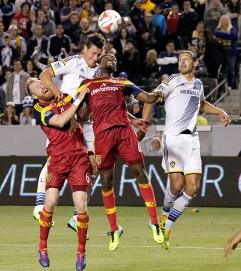 "The biggest difference for them is where Landon Donovan is playing," Borchers said. "He is now playing in midfield on the outside and they've added two big bodies up front with Samuel and Rob Friend. That's creating a different dynamic in their attack. I still think they are as dangerous as they've ever been. Having a big body up there like Friend, paired with Robbie Keane, is a great dynamic to have and it is difficult for guys like myself to mark him."
How RSL are going to overcome that threat from LA's offense is a familiar story: play through the midfield. With Kyle Beckerman, Javier Morales, Ned Grabavoy and others who can slot in seamlessly,  the diamond former manager Jason Kreis perfected means RSL have perhaps the best midfield unit in MLS. When it clicks.
"When our midfield is firing on all cylinders, I think they are the best in the league," Borchers said. "Against LA we will look to keep the ball, possess and find spaces in behind Sarvas and Juninho, and find Javier [Morales] in there to attack some of those points."
RSL have always been a team that tries to dictate the tempo of the game and try to force the issue and are notoriously tough to break down. What's the secret to that defensive solidity? Borchers explains.
"I think you can defend in different ways, some teams like to sit back and defend, some teams like to go high and be more aggressive with the defending. We can do both," Borchers said. "That's what's good about this group, we can push up high defensively and be aggressive but also try and keep the ball in the opponents half of the field."
Off the field, the big story of the offseason at the Rio Tinto was the departure of the franchises long-term head coach Jason Kreis, who had been with RSL since they became an MLS club back in 2005. But after accepting New York City FC"s offer to be heir new head coach, Kreis is gone.
Borchers admits there have been changes since Kreis' assistant Jeff Cessar has taken over, but extremely subtle ones. And the 32-year-old defender also hailed former assistant's C.J. Brown and Miles Joseph, who left when Kreis departed. Borchers also revealed how Cessar, who is unbeaten as an MLS coach after two very good away performances, acts behind the scenes.
"Jeff has come in and implemented his ideas and is just such a great guy to play for," Borchers said. "He's always asking for input from the players and you feel like it's your baby as much as it is his baby."
That baby, RSL, was blubbering at the end of last season. During the 2013 MLS Cup final RSL went into the home of Sporting KC and played tremendously well throughout a grueling 120 minutes, then lost on penalty kicks. Borchers admitted bouncing back from that defeat will spur on the team this campaign, as proving people wrong is part of RSL's DNA.
"We've always been a great with a chip on our shoulder, so losing MLS Cup last year just gives us another reason to fight hard and fight for each other," Borchers said. "Everyone, the media, pundits, says it every year, 'we have an ageing squad.' We have a limited time to get results, we have an ageing core and we know that. But we will continue to move forward and try to get some more trophies for this club."
On Saturday when Borchers walks out and lines up in the center of RSL's defense against LA, it could be his last home opener in the Cobalt and Blue. The former Odd Greenland defender has been a permanent fixture at the back for RSL for almost a decade, but his contract is up at the end of 2014.
Asked if he sees himself moving elsewhere in MLS or having another stint overseas, Borchers said the following.
"Ideally I'd like to retire with this club," Borchers said. "This is my seventh year here, I've developed a really good bond with the guys in the locker room and the fans. My wife and I like living here and we see a future here after soccer. That would be ideal. But the door is always open if things don't work out, as a soccer player I'd be ready if an opportunity knocked. But I will have conversations with RSL throughout the year, and hopefully I will get something done."
(MORE: MLS on NBC TV schedule for 2014 season)
With Borchers continuing to impress for RSL, a wealth of experience on his side and three U.S. national team camps, is he thinking about a possible call up to the U.S. national team camp in April for the game vs. Mexico? After all, the USMNT isn't exactly inundated with options in that position.
"If Jurgen called me up into a camp, that would be fantastic. If he doesn't, I don't feel any ill-will towards him," Borcher said. "I'm an older player, if you look at things from his standpoint he has a lot of younger guys coming in, so you can't take a whole of chances on a 32-year-old center back. I understand that. If my cards are called I'll be ready, if not I'm not going to be disappointed. I've had my chances on the national team and not many guys get to say that."
Not many guys get to say they have a beard as strong as Borchers, either. We bantered about  'the power of the beard' and how long it will stay around for, the likeable Arizona native is keen to leave the ginger beast where it is, for a while at least.
"The beard has just taken on another life," Borchers laughs. "I grew it out for the playoffs. Then my wife and I are expecting a baby over the summer, so it turned into a 'Daddy beard' now. The fans like it, my wife likes it, so I'm going to stick with it for a little bit."
LA have been warned; the beard, and Borchers, are hungry for more success when the 2014 MLS season finally kicks off in Utah on Saturday.