Is it even fair to call today's performance flat? That implies Vancouver's normal level of play is much higher – that today's game was some kind of aberration. If we consider the entirety of this season — the 270 minutes the Whitecaps have played under Carl Robinson (pictured) — "flat" seems assumptive. After today's 0-0 draw in New England, their opening day romp of a weakened New York looks like the exception, not the rule.
On Saturday in Foxborough, the team with the league's most impressive array of attacking talent was nearly held without a chance. Despite a midfield with the ball-winner talents Nigel Reo-Coker and Matías Laba, the Whitecaps never imposed themselves on the game. And in the first half, Johnny Leveron's willingness to watch Teal Bunbury run onto a long header from Chris Tierney almost made Vancouver pay for their caution with the absent Jay DeMerit. If it weren't for a Save of the Week candidate from David Ousted, the Whitecaps would have left with a loss.
(MORE: Everything there but the end product for New England against Vancouver)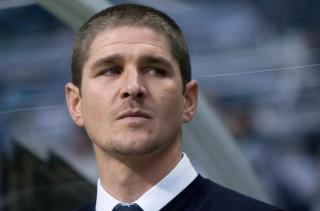 It wouldn't have been an unjust result. Though Vancouver looked better in the second half, the quantity and quality of chances New England generated usually produce a goal. If somebody better than a struggling Teal Bunbury had started at forward, Vancouver would have had their first loss of the season. With MLS's salary cap rules, every team will have their weaknesses, but on Saturday, New England's happened to guarantee a point for Vancouver.
In that light, the result could still be seen as a good one for the Whitecaps. Three thousand miles from home, without their captain, and generally out-played, Robinson's team still preserved a point, one that their improved second half helped them produce. After three weeks of the season, Vancouver remains unbeaten (1-0-2).
Given the hopes their 4-1 win on opening day produced, however, the last seven days have been wakeup call. Ninety minutes into the season, Vancouver looked like a team that's found the right balance for its myriad of attack talents. But after being outplayed by a 10-man Chivas USA and a goalless Revolution, the Whitecaps have a better idea of where they really stand so early in Robinson's tenure..