"I am excited, obviously, but given the club's history I'm anxious too. It wouldn't surprise me if Defoe blew his knee out today and never played again."
That's the statement from Michael, one of many Toronto FC (1-0-0) supporters buzzing about BMO Field for today's home opener against DC United (0-1-0).
The longtime season ticker holder is far from a loner in his thoughts. For a club that's only been playing since 2007, Reds supporters have done the dangerous dance with great expectations on plenty of occasions.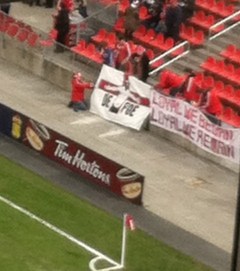 But Amado Guevara and Torsten Frings are one thing; The bevy of choice offseason acquisitions by Tim Bezbatchenko are another. With Michael Bradley, Julio Cesar, Gilberto, Dwayne De Rosario and Jermain Defoe in the fold, fans are ready for the on-field roar to match the noise the Red Patch Boys have been making from the stands for years.
Defoe seems to carry a reverence already, with his two goals against Seattle to open the season only buoying the optimism regarding the diminutive forward. Over an hour from kickoff and the supporters have already placed a banner depicting a celebrating Defoe on the English flag, his surname broken up by his torso: "DE FOE."
It's a windy and cold day in Ontario, with the city skyline across from the press box and inviting fans indoors. But not today, not with so much excitement and so much promise on the pitch, still patchy and fighting the winter like its city. Folks have come from all directions for the match; even Buffalo, N.Y., had several dozen on a bus across the border to witness Bradley and Co.'s debut.
All three Toronto DPs are in the lineup for the Reds, while Eddie Johnson will up-top for DC United against his American teammate Bradley.
LINEUPS
Toronto FC: Cesar; Caldwell (c), Henry, Morrow, Bloom; Bradley, Osorio, Goncalves, Rey; Gilberto, Defoe
Subs: Bendik; Orr, Morgan, Hagglund; Bekker, Wiedeman, De Rosario
DC United: Hamid; Parke, Fernandez, Franklin, Boswell (c); Arnaud, De Leon, Silva, Kitchen; Johnson, Espindola
Subs: Dykstra; Porter, Martin, Doyle, Jeffrey, Kemp, Attakora
And, oh yeah… nice scarves handed out for a cold day in Canada: