On a weekend where Chelsea's rout of Arsenal stole the headlines, Saturday's result at Stamford Bridge dominates our Quick Six:
1. The most Arsenal thing they could have done
In hindsight, the strangest part of Chelsea's barrage was its unpredictability. It's not that we couldn't foresee Arsenal collapsing in a big game. Gooners have been here before. It's that nobody was willing to predict it. And yet, as Chelsea scored twice in seven minutes, three times in 17, the feeling was less shock than de ja vu. It wasn't unpredictable because we couldn't foresee it. It was unpredictable because we wouldn't admit it. Arsenal was going to get blown out.
Samuel Eto'o had Arsenal down after five minutes, a lead André Schürrle doubled moments later. When Eden Hazard converted after Andre Marriner's own headline (more below), Chelsea was up three and a man, an advantage that helped Oscar (two) and Mohamed Salah finish the job. On a day when Arsenal could have pulled within one point of first, the Gunners title hopes died on the wrong end of a 6-0 embarrassment.
(MORE: Chelsea 6-0 Arsenal: Blues hammer Gunners, as bizarre red card ruins Wenger's big day (video))
And yet nobody's talking about how impressive Chelsea was. This is how low our regard for Arsenal has fallen. It's unfair (the team does have 62 points, after all), but it's reality. Beating Arsenal by six grabs headlines, but it doesn't change our view of a club. It only reinforces our view of Arsenal.
2. Andre Marriner shows his 'perceptual expertise'
Let's not dance around this one. There's an established realm of psychology that addresses why Andre Marriner might have sent off the wrong man on Saturday. Marriner is white. Both Kieran Gibbs (the man sent off) and Alex Oxlade-Chamberlain (the man who should have been sent off) are black. And yes, these things are important.
From the American Psychological Association's Siri Carpenter, in a feature titled "Why do 'they all look alike'?":
People are notoriously awful at recognizing faces from other races. It's a human foible often explained by the notion that we have more experience looking at members of our own race and thus acquire "perceptual expertise" for characteristics of our own kind.

… [Kent State University's Daniel Levin, PhD] says, people place inordinate emphasis on race categories–whether someone is white, black or Asian–ignoring information that would help them recognize people as individuals. In recent research, Levin has shown that people can, in fact, perceive fine differences among faces of people from other races–as long as they're using those differences to make race classifications.

For example, Levin explains, "When a white person looks at another white person's nose, they're likely to think to themselves, 'That's John's nose.' When they look at a black person's nose, they're likely to think, 'That's a black nose.'"
(Note: I am not a trained psychologist, so if there are better references for this phenomenon, fire away in the comments.)
Marriner later apologized for his mistake, one that may not be related to race at all. If it is, it's both explicable (in the psychological sense) and something that should never happened in an environment where everybody wears huge, distinguishing numbers on their backs.
(MORE: Andre Marriner apologizes for error in Arsenal's loss to Chelsea)
Now if only there was some kind of way officials could look at video footage to confirm …
3. Chelsea shines light on Arsenal's Wenger dilemma
Saturday's rout highlighted the Wenger conundrum. The man has been a huge asset to the club – somebody that defines their modern era. Once Manchester United finishes outside of Champions League, Arsenal will be the only team in the Premier League with top-four finishes in every season since Wenger's arrival (in 1996). In the plights of the Red Devils, Liverpool, and Tottenham, you can see why Wenger's success is so admirable.
But he's not José Mourinho. He's not Carlo Ancelotti. And he's being passed by managers like Brendan Rodgers. Whereas the level of competition in the mid-90s meant Wenger's ability to evaluate talent, instill a consistent style, and manage a squad could carry the Gunners to the top, now he also needs to be a master game manager to win the titles.
He's just not, part of the reason he can't beat Mourinho. And whereas we see Brendan Rodgers is making subtle tweaks every week to exploit his competition, Wenger has maintained a more consistent approach, one that leaves his players sitting ducks for the league's best managers. As the likes of Manuel Pellegrini, Guus Hiddink, and Ancelotti cycle in and out of the league, Arsenal's plight becomes more pronounced.
If Wegner left, Arsenal's would be one the most sought after jobs in the world. But they can't let him go. He's still too good at what he does, even if that means Arsenal seems to have no chance when in games like Saturday's.
It's the conundrum of this era of Arsenal soccer: Appreciate the good; swallow the bad; hope things change in the future.
4. Top three's outburst underscores the divide
Chelsea wasn't the only team to get its goals out of its system. Liverpool and Manchester City also blew up. Continuing their pursuits of the league's goal scoring record, the teams posted six and five (respectively) in their Saturday wins. If Arsenal's loss didn't highlight the divide between the top three and the rest of the league, 17 goals from that trio did.
It was a combination of coincidence and competition. All three happened to click on the same day. All three happened to play teams playing like relegation battlers. Fulham and Cardiff City are in the drop, while Arsenal plays like it is in very specific situations. Combine those factors with teams hitting their strides as they pursue first place and you get a series of embarrassing results.
(MORE: Liverpool's six-spot in Wales | City posts five on Fulham)
It was good for the highlight reels, with hat tricks from Luis Suárez and Yaya Touré boosting each stars prodigious totals (Suárez is up to a league-leading 28; Touré leads midfielders with 16). For the losers, however, it was only good for demoralization. Fulham and Cardiff still sit in the league's bottom two, while Arsenal look destined for another fourth place finish.
5. Wayne Rooney's First should have been WORTH two
Part of me wants to say "Poor Adrian," but most of me wants to thank him. Wayne Rooney's goal from just inside West Ham's half left the Hammers' keeper on his back and United up at Upton Park.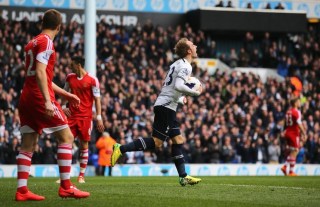 6. Eriksen, Sigurdsson stop Tottenham's fall
For all the issues Tim Sherwood has managing Spurs, motivating his players isn't one of them. Even when they've looked aimless tactically, the players have put in the work, an effort that paid off in Sunday's last hour at White Hart Lane. After falling behind two within 30 minutes, Tottenham got two goals and an assist from Christian Eriksen, with the Danish international assisting on Gylfi Sigurdsson's stoppage time winner.
(MORE: Tottenham 3-2 Southampton: Sigurdsson puts icing on three-goal comeback after Eriksen double)
Mistakes by Nathaniel Clyne and Dejan Lovren helped, but on a weekend where we saw leads snowball, Tottenham's resolve deserves some credit. While we (read: I) mocked the idea that something would carry over from Spurs' loss at Benfica, Sherwood was proven correct. The same fight that pulled Tottenham within one goal of extra time in Lisbon brought them all the way back in North London.
If returning to Europa is a goal, the win moved Spurs a step closer, mostly by throwing a major wrench into one of their pursuers' chase. More readily, it stopped the four-game slide that had begun to send their season into chaos. Instead of trying to manage a sinking ship, the team can get back to seeing who will be part of next year's crew.