World Soccer Talk brings us more leaked images of the alleged away shirt for the United States' 2014 World Cup charge through Brazil.
The post compares them to Bomb Pops (yes, the popsicles) and the tops worn by a certain pizza chain's delivery drives and, well, that's fairly astute.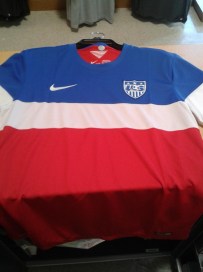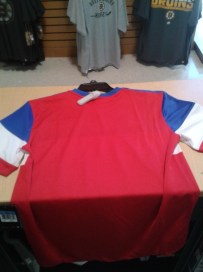 They aren't hideous, but — if authentic — they do continue to beg the question of why the US refuses to go with a standard look for their shirts. I recognize that the away shirts will always dare to be a little different, but wouldn't you appreciate the strip more if they stayed with the same dark blue? Or even the same blue at all?
When I think of soccer powers, I think of identities. We know the blue hue of Italy, the green of Mexico and the orange of Holland. Can't we roll how our flag rolls? For goodness sake, they certainly sell enough flag-branded apparel at gas stations nationwide to know the flag is working for people.
Perhaps our identity is over-thinking it and putting out something mediocre?