Some fantastic newspaper headlines and accounts coming out of Spain following Barcelona's 4-3 away victory over Real Madrid yesterday.
Whether Madrid based El Pais, AS and Marca or Catalonia's Mundo Deportivo, all outlets were united in noting that last night's El Clásico has left the race in La Liga wide open.
A match report from El Pais noted that despite pre-match claims of a changing of the guard in Madrid's favor, no such story played out.
Instead it was Ronaldo missing while Messi and Iniesta once again found glory:
"This Barca, still an epic team, said no to the changing of the order which had been foretold for this clasico. In Chamartin, with Messi inspired, the Azulgrana did not give in during an enormous game, an encounter for the museum, one of those which with time you will not mind putting on again and again. The best CR7 [Ronaldo] was missing, but it was a duel at the level of Messi majestic and Iniesta sublime."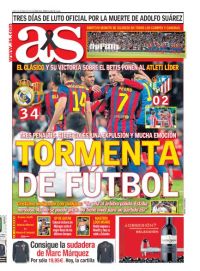 AS' front page described the match as a "Storm of football: three penalties, seven goals, a sending off and lots of emotion." The paper went on to discuss Cristiano Ronaldo's post-match rant on referee Undiano Mallenco while lead editor Alfredo Relano claiming:
"What a clasico! I cannot remember any better, more emotional, more intense than this one, with so much football inside…. Barca won with tremendous merit, thanks to Messi and Iniesta above all."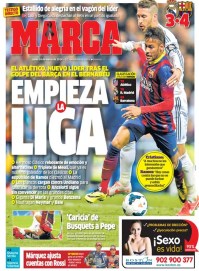 Marca's front page claimed: "La Liga begins" noting the current La Liga table and describing the game as having "overflowed with emotion and possibilities."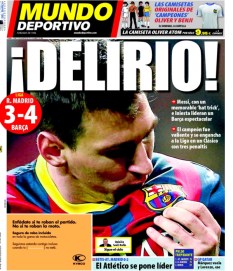 Over in Barcelona, Mundo Deportivo's cover blared: "Delirio!" with a photo of Messi kissing the badge on his shirt after scoring. From editor, Santi Nolla:
"They wanted to put on an 'end of an era' show in Madrid. It was all ready to proclaim, finally, after many years of swallowing it, that the replacement had arrived. But they did not count on the pride of Barca's players, and Messi, the best player in the world, left it clear again at the Bernabeu yesterday what is the true dimension of his duel with Cristiano. There is no doubt who is number one. Games like yesterday's confirm that."