Following Manchester City's comfortable 3-0 win over Manchester United pointed out plenty of things on Tuesday night.
Most notably, the balance of power in Manchester has shifted seismically towards the Blue half of the city.
From start to finish Manuel Pellegrini's Man City took the game to United, and their relentless high-pressing and clinical finishing paid off. With this crucial win, City are now second in the league and just three points behind leaders Chelsea with two games in hand.
(MORE: Man United 0-3 Man City: Dzeko's double hands City derby delight)
City are in the driving seat to win the PL crown, as United's fans look on longingly from way down seventh as their 'noisy neighbors' are making quite the racket once again.
Let's see exactly what we learned from yet another derby day demolition from City.
David Silva's superb form will give Man City an extra edge in the run-in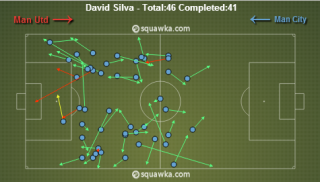 Less than a minute. That's how long it took for City to take the lead and deflate the electric atmosphere United's home fans created. David Silva was at the center of Edin Dzeko's opener as the diminutive Spaniard surged from the edge of the box toward the goal and created havoc. Rafael blocked Silva's shot but Dzeko followed up to slot it home, as all game long Silva's first-touch was sensational. United just couldn't mark him, and the little man kept popping up in spaces behind Dzeko to devastating effect. Away at Hull last weekend just after City had gone down to 10-men, Silva curled in a world-class strike from 30-yards out to help grab a vital three points. He was the fulcrum of the Citizens attack and the heartbeat of their creativity once again on Tuesday. In recent weeks Silva has stepped it up when its really mattered, that's the sign of a stellar player, and often a season curtailed by niggling injuries the Spanish sensation has regained the form which catapulted City to the PL title back in 2012.
If Silva keeps this form up, City will win the title at a canter this time.
(MORE: David Moyes takes responsibility for 'disappointing' derby before walking out of press conference)
City's defensive nous key in next two huge away games
With plenty written about City's marvelous attacking talents this season — and rightly so after they've smashed in 79 goals in 29 games — but City kept their fifth clean sheet in a row in the English top-flight. They haven't done that since 1915. With the defensive unity looking incredible solid, shielded by the excellent Fernandinho, two big away games against Arsenal this Saturday, and then Liverpool on April 13 will likely determine if the Citizens will win their second PL title. Having Vincent Kompany back at the heart of their defense is key, plus Martin Demichelis has shaken off his nightmare in the FC Barcelona defeat and is now showing his fine pedigree as a defender.
Both full backs are reliable and add impetus going forward, but with trips to Arsenal and Liverpool coming up they have to be content with not having the lions share of possession and defending patiently throughout both matches. If they can shut out those two title challengers, they'll give themselves one hand on the title.
Manchester United's backbone needs rebuilding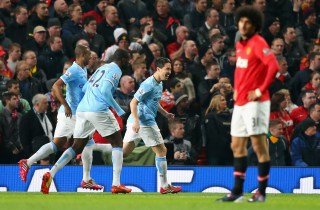 All season long, when things look to be heading back on track for United they've faltered. Once again that was the case, as they've now lost 10 times in a single Premier League season for the first-time in club history. Six of those games have been at home, losing all three against their North West rivals Everton, Liverpool and Manchester City without scoring. There's no way we can dig deep into United's plethora of problems here, quite frankly I could write a thesis on it. But it's clear the spine of the side needs rebuilding. Two quality central defenders, a strong holding midfielder and a lively forward who can tear up opposition defenses with pace, something neither Wayne Rooney or RVP possess. With Nemanja Vidic gone and Rio Ferdinand on the way out, we've seen time and time again that Phil Jones and Chris Smalling aren't good enough. In midfield the holding players are aging, Michael Carrick and Darren Fletcher, while Tom Cleverley can't quite cut it when it matters.
David Moyes needs to spend big, but right now after his buys in the last two windows, you have to question whether Juan Mata and Marouane Fellaini were panic acquisitions or the right players to fight into United's age-old philosophy of fast-paced attacking soccer. During the first half when United started to gather some steam, Mata was found on the edge of the box with the ball, but waited an age, then cut back inside and played the ball back to the defense. Their was no offensive urgency. That's been a huge issue for the Red Devils. They need to find two-way players who can keep the ball and drive forward with it. For too long on Tuesday City were able to keep the ball and pass it around United's players who were off the pace. United were nowhere near good enough, as the need for reinforcements is clear for all to see.