Leicester City's dream season in the Championship continued on Tuesday when goalkeeper Kasper Schmeichel's last gasp goal-creating heroics secured a point for the table-leaders against Yeovil Town.
Though he hasn't been formally credited with a goal like his dad Peter, Kasper rose above the Yeovil defense to head off the bar and over the line in stoppage time. Play continued for a couple seconds after the goal and Chris Wood put the ball "back" across the line, and was given the goal on the scoresheet.
Not the highest of quality video, but check the goal out in slow-motion here:
You can't disparage referee Andrew Madley for allowing play to go on, as the margin was razor-thin. Did it go in or didn't it? Almost impossible to tell. Here's a grainy still frame.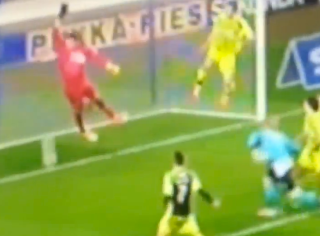 In any event, Kasper's father still has the bragging rights in the family. The retired two-time IFFHS World's Best Goalkeeper scored a backdoor volley for Aston Villa in the dying moments of a match against Everton:
Follow @nicholasmendola