Getting 100 touches in a match doesn't happen all too often, making Philipp Lahm's passing numbers in Bayern Munich's Bundesliga-clinching win on Tuesday even more impressive.
As our own Richard Farley detailed on Tuesday, the Bavarians beat Hertha Berlin 3-1 to secure its status as deutscher meisters for 2014, and Lahm was stunning in the center of the park. He attempted 134 passes and completed each and every one.
Get out of here. Thanks to the folks at Squawka, we have graphic representation of what it looks like to absolutely dominate the middle of the park.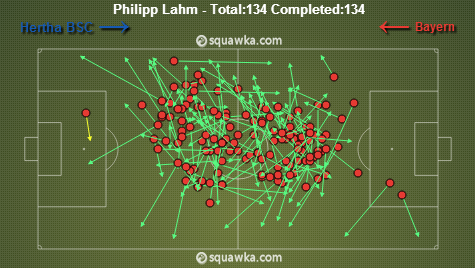 Oh yeah, and the match was away from home.
If it's possible to be more impressive, Bayern's Mario Gotze earned a 100 score from Squawka for the match.
There are some other facts that put this performance in better perspective. Bayern completed 93 percent of its passes on the night, 992 out of 1063. Here's Bayern's entire evening of work (and some stats on their run to the title that will rock your soccer-loving mind, thanks to the BBC):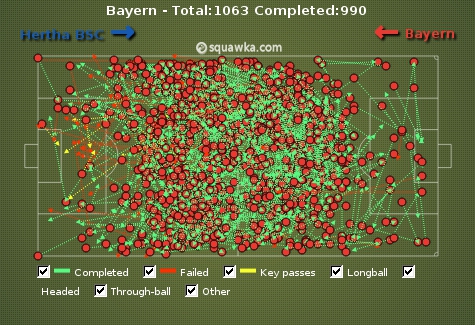 Ready for the kicker? Lahm's night was bettered on Squawka's scoring algorithms by three teammates: Franck Ribery, Toni Kroos and Gotze.