The most impressive part of this U.S. squad: the depth, particularly compared to the team assembled in Frankfurt ahead of the team's match against Ukraine. Where that team ended up starting the likes of Sacha Kljestan, Edgar Castillo, and Oguchi Onyewu, the lineup that will start next week against Mexico will feature locks for this summer's World Cup. In stark contrast to the squad that Bob Bradley took to South Africa, this summer's team will be built around North America-based talents.
The most notable of which are Michael Bradley, Clint Dempsey, and Landon Donovan, but they're not why this camp is important. This camp is about Michael Parkhurst and DeAndre Yedlin. It's about Brad Davis, Maurice Edu, and Luis Gil. And yes, it's about Julian Green.
Though Jurgen Klinsmann's sure to relish an opportunity to get so many of his regulars together, the real drama of next week's out-of-window camp is about the 30-man preliminary roster – the one the U.S. will submit to FIFA mid-May. Who can cement their place on that list? Because without that, you're out of the fight for the 23-man team that will leave for Brazil.
That's what this camp all about, so position-by-position, here's where each everybody stands ahead of next week's test.
Goalkeepers: Bill Hamid (D.C. United), Sean Johnson (Chicago Fire), Nick Rimando (Real Salt Lake)
It's amazing how clear the goalkeeper depth chart is. Then again, when we're talking about a position where only one person can play at a time, perhaps there's no room for ambiguity. Tim Howard (Everton) and Brad Guzan (Aston Villa) are clearly numbers one and two, after whom we get Rimando (a consistent call up), Johnson (Rimando's backup, when the big two aren't around), and Hamid. One through five: no debate; no doubt.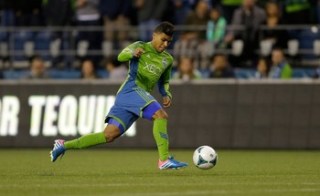 Defenders: DaMarcus Beasley (Puebla), Matt Besler (Sporting Kansas City), Brad Evans (Seattle Sounders FC), Omar Gonzalez (LA Galaxy), Clarence Goodson (San Jose Earthquakes), Michael Orozco (Puebla), Michael Parkhurst (Columbus Crew), DeAndre Yedlin (Seattle Sounders FC)
Five of these guys are going to Brazil, and given how highly Klinsmann spoke of Michael Parkhurst after the January camp, the versatile Columbus defender seems very close. Add Geoff Cameron to the mix and whether there are spots available may depend on a.) what Klinsmann plays to do at left midfield (and how that affects Fabian Johnson), and b.) whether versatility within the squad means the U.S. can take more than eight defenders.
The most obvious candidate to snare that extra spot is in Europe, but center back John Brooks is staying with Hertha Berlin during this out-of-window friendly. But between his struggles against Ukraine, Cameron's versatility, and DeAndre Yedlin's (right) continued improvement for Seattle, the 20-year-old Sounder seems to have a shot, even if that would make five players who can play right back (Evans, Cameron, Parkhurst, Fabian Johnson being the others). It's a long-shot, and in light of that depth it doesn't make a lot of sense. But it's a shot nonetheless.
As much as anybody on this team, Michael Orozco seems to have the thinnest chance of making this summer's squad. Even on a roster without European call ups, the Puebla defender may be the team's fifth-best center back.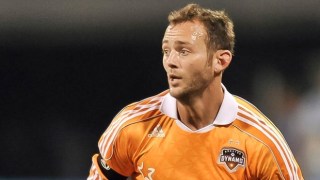 Midfielders: Kyle Beckerman (Real Salt Lake), Michael Bradley (Toronto FC), Brad Davis (Houston Dynamo), Landon Donovan (LA Galaxy), Maurice Edu (Philadelphia Union), Luis Gil (Real Salt Lake), Graham Zusi (Sporting Kansas City)
The stakes are highest for Davis, Edu, and Gil. The rest of the guys are, presumably, on the plane, with Bradley and Zusi having served as regular starters throughout the qualifying cycle.
Edu has the longest odds. His lack of playing time at Stoke City left him on the outside looking over the last two years, but after an impressive start with the Union, Edu can play his way into consideration for a "what id Jermaine Jones, Bradley, or Beckerman get injured" spot. Even then, with Geoff Cameron and Brad Evans also capable of playing in the middle, the U.S. already has other options embedded in the squad.
Gil's path is slightly different. His competition is more likely to be players like Mix Diskerud and Sacha Kljestan – midfielders who will can come off the bench and give the team a different look. Ultimately, this may cast the 20-year-old into the pool with Yedlin and Brooks – players Klinsmann my take for experience rather than purpose.
Among the people who could be hurt by the Julian Green switch is Brad Davis (right). Klinsmann already has a number of options who can play on the left, among them being Landon Donovan. It's unclear what Davis would bring to the team that Donovan does not, and with players like Fabian Johnson, Eddie Johnson, Beasley and Green also capable of playing that side, Davis is a good bet tog et squeezed out. He needs to impress next week.
Forwards: Clint Dempsey (Seattle Sounders FC), Julian Green (Bayern Munich), Eddie Johnson (D.C. United), Chris Wondolowski (San Jose Earthquakes)
All eyes will be on Julian Green, who starts his transition from unknown to what U.S. fans hope will be a regular fixture in the squad. Expectations are unreasonably high for a player who most fans have never seen in action, but come next week, those expectations will become grounded in fact, one way or another. Based on how Klinsmann uses him alone, we'll get a much better idea of where Green ranks against the other players vying for spots in Brazil.
And then there's Chris Wondolowski (right), the player who has usurped Kyle Beckerman as the most debated part of the national team picture. For some, he's an exemplar of the limits of Major League Soccer success. For others, including it seems Klinsmann, he's somebody whose continues to defy doubts to keep himself on the edge of the World Cup squad.
It's easy to look at the U.S. roster and ask "why would they make a place for Wondo," but here we are, a little over two months ahead of the final roster announcement, and the San Jose captain has another shot to impress. His odds of getting to the World Cup are still long, but merely by being in this squad, he's defied expectations. Like Edu, he could keep himself in frame as a backup plan should injuries befall players going to Brazil.