Consider this our attempt to pick the biggest snubs, but with Jurgen Klinsmann calling up 22 North America-based players for next week's camp in Arizona, it's difficult to identify many players who were wronged. Sporting Kansas City's Benny Feilhaber, who played so well for Peter Vermes during the 2013 Major League Soccer postseason, is the obvious name, particularly considering his place at the 2010 World Cup. Looking at the list of players that were called in, however, it's hard to say Feilhaber should have clearly been chosen over Maurice Edu (who Klinsmann may just want to look at) or Luis Gil (an important part of the next cycle).
Nobody was really expecting the likes of Mike Magee or Dax McCarty to make a late push for this team. With Klinsmann having cycled through so many players during his tenure, we had a good idea of where everybody stood before Wednesday's announcement. When U.S. Soccer announced the invites for next week's camp, most of the surprises (Edu) were in the team, not out.
(MORE: Position-by-position: Breaking down the U.S.'s squad for Mexico)
In lieu of some legitimate controversy, let's have some fun. Let's look across Major League Soccer, take inventory of the U.S.-eligible players, and ask what a 23-man roster would look like if we were limited to Klinsmann's snubs. Consider it a quick, accessible way to see how big the step down is from next week's 22-man team, but also consider it a light, mostly meaningless way to highlight that divide.
At some positions, the picks were obvious. There isn't a ton of U.S. depth at forward and wide midfield (at least, not in Major League Soccer). The team runs deeper in central midfield, but the choices still weren't difficult.
In defense, however, there were a number of legitimate snubs, particularly in the middle, where one starter from the 2010 World Cup couldn't even make our bench.
(MORE: Players who need to impress in next week's U.S. national team camp)
Goalkeepers: Jon Busch (San Jose Earthquakes), Tally Hall (Houston Dynamo), Dan Kennedy (Chivas USA)
Hall and Kennedy were easy choices, though picking Jon Busch over Luis Robles (New York Red Bulls) felt like a toss-up. Robles has been getting some deserved press for some great early season saves, but Busch's performance throughout the 2013 season was overshadowed by the Earthquakes' fall from first. The team finished with fewer goals allowed than in its 2012 Supporters Shield-winning season.
Others on the notepad: Robles; Troy Perkins (Montréal Impact)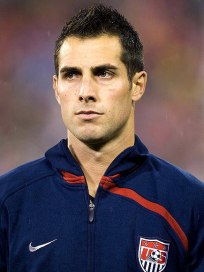 Defenders: Corey Ashe (Houston Dynamo), Tony Beltran (Real Salt Lake), Carlos Bocanegra (Chivas USA), Nat Borchers (Real Salt Lake), George John (FC Dallas), Chris Klute (Colorado Rapids), Chad Marshall (Seattle Sounders), Kofie Sarkodie (Houston Dynamo)
The central defense may be the strength of our hypothetical team, with the league's embarrassment of riches reflected in the All-Star caliber players left on the notepad. Even at right back, a player like Philadelphia's Sheanon Williams can't get into this team, though he is every bit as useful as (just different from) Ashe and Beltran. We gave those two the benefit of the doubt based on participation in previous U.S. camps, though that rule went out the window when we vaulted an improving Sarkodie over a number of players who have gotten Klinsmann's call.
Others on the notepad: Jay DeMerit (Vancouver Whitecaps), Michael Harrington (Portland Timbers); Drew Moor (Colorado Rapids), Amobi Okugo (Philadelphia Union), Seth Sinovic (Sporting Kansas City), Williams
Midfielders: Benny Feilhaber (Sporting Kansas City), Jeff Larentowicz (Chicago Fire), Justin Mapp (Montréal Impact), Dax McCarty (New York Red Bulls), Dillon Powers (Colorado Rapids), Kelyn Rowe (New England Revolution), Shea Salinas (San Jose Earthquakes), Wil Trapp (Columbus Crew)
The fact that Mapp and Salinas are the only wide players in this midfield speaks to the lack of depth in those spots. Where quality options like Ricardo Clark (Houston Dynamo) and Luis Silva (D.C. United) can't crack this team, Salinas and Mapp might be starters (in that game well never play). It's not that they're bad players – they immediately went into the notebook as I was compiling this team. It's more that there's very little competition at their spots.
Others on the notepad: Clark; Silva
(MORE [Soccerly]: Red, White, Blue & (Julian) Green)
Forwards: Will Bruin (Houston Dynamo), Alan Gordon (San Jose Earthquakes), Steven Lenhart (San Jose Earthquakes), Mike Magee (Chicago Fire)
Steven Lenhart? Noooo, the internet says, but the man is a legitimately useful player, part of the reason he has four major team honors on his résumé. He might not start for this team, but he's a great option to have late. Same goes for Gordon, though the starters are pretty clear. Magee playing off Bruin is a combination that would thrive in a down Gold Cup.
Others on the notepad: C.J. Sapong (Sporting Kansas City).