Oguchi Onyewu's road to redemption has been a long, eventful and frustrating one. But the former U.S. men's national team stalwart is close to fulfilling it.
With 77 days remaining until the FIFA World Cup in Brazil, Onyewu's plying his trade in the second-tier of English soccer and has his sights locked on the prize: get into Jurgen Klinsmann's U.S. squad.
Currently leading Sheffield Wednesday's charge up the Championship table from central defense, Onyewu, 31, is enjoying life in the England's Steel City. He returned to England (following a loan move to Newcastle back in 2007) to kick start his career after stints with European giants such as AC Milan, Sporting Lisbon and Malaga have all been hampered by injury. Last October, Onyewu initially landed at Queens Park Rangers on a short-term deal, after Klinsmann had recommended his services to Harry Redknapp. But for all the talk QPR gave about giving Onyewu a chance, that never materialized as he stepped into a winning team that Redknapp didn't want to tweak.
So, with less than six months to go until the World Cup, Onyewu knew he had to play regularly. That's when English Championship side Wednesday stepped in.
"Going into the winter market I knew I had to find a situation where I had at least an opportunity to showcase what I could do… If I flopped and fell flat on my face, so be it. But I needed that opportunity," Onyewu said, in an exclusive interview. "There were some options on the table, but Stuart Gray [Sheffield Wednesday's head coach] contacted me and expressed his interest in wanting to help out my situation, and wanted me to help out with their situation. I spoke with U.S. international Stuart Holden about the club, who was on loan to Wednesday last year, and the move ticked every box I think needed to be ticked."
ALL THE LATEST WORLD CUP NEWS, RIGHT HERE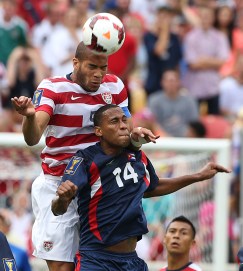 Since he has joined Wednesday, the Owls have only conceded eight goals in the 12 games Gooch has appeared in, and the sleeping giant of English soccer has risen from relegation fodder to midtable security. There's even talk of a late playoff push towards the Premier League from Gooch, but he's just happy to be playing regularly and regaining his form.
"It is one thing to be playing regularly, that's half the battle," Onyewu said. "I think after that, you have to have good form. If you speak to anyone who has watched me play at Wednesday, I have been in very strong form and defensively we have been good. That can only help me in my efforts to make the final World Cup squad. It is Jurgen's decision, but I'm sure he is keeping tabs on all of us."
Speaking of Klinsmann, Onyewu revealed he's a huge fan of the Germans tactical nous and feels close enough to the USMNT head coach to call him whenever he wants to talk. That fondness is obviously reciprocated, as Klinsmann made Onyewu the USA's captain in a Gold Cup match against Cuba in 2013. And, of course, that close bond may enhance Onyewu's chances of playing in his third-straight World Cup for the U.S., as experiences in 2006 and 2010 surely boost his chances.
After struggling through injury hit spells, being with clubs in financial turmoil and everything in between, Onyewu has been preparing for these next few months for a long time.
How huge would it be for him to make the USA's final 23-man roster?
"It would be massive," Onyewu said. "I set that as my goal, a year ago, to make this World Cup team. I've had to fight through a lot of injuries, fight through a lot of adversary playing wise and a lot of different pain. The character of a person or a player shows strongly when you can push through pain and into progress and not let your pain pull you back. I've accepted negative situations, but the person I am means I'm moving forward. I am going to do whatever I can to get to where I need to go."
Gooch's most recent appearance for the U.S. national team came in the 2-0 defeat to Ukraine on March 5, which was played in Cyprus after the political unrest forced the match to be switched. That peculiar situation aside, Onyewu showed up reasonably well in a makeshift backline which had been flung together by Klinsmann. Factor in that Ukraine is probably the top nation who didn't make it to the World Cup, and Onyewu fared pretty well during his comeback game for the national team.
"It was a disappointing result," Onyewu said. "A lot of players were playing with each other for the first time, and it was all a learning experience. The reality of the situation is that we don't have a lot of time to learn. So you hope to learn quick from the mistakes and be able to rectify them."
Asked whether or not he'd spoken with Klinsmann about his possible selection for the World Cup, and about what he needs to do to make it, Onyewu had the following to say.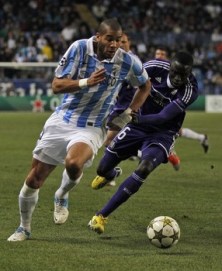 "There was no specific talk talk. I know what needs to be done, every player knows what needs to be done," Onyewu said. "As a human being, you can only control factors that are within your realm of control. Jurgen controls the roster for the World Cup, what can I control? I can control my performance, my 90 minutes week in, week out at Sheffield. After that, there's nothing for me to stress about. I am going to focus on finishing the season strong, maintaining the form I have and improving on it."
The former Milan, Malaga, Metz, Standard Liege and Sporting defender knows his veteran status is key to the U.S., and that his 68 caps-worth of experience can be passed onto younger defenders such as Omar Gonzalez and Matt Besler, who have made the central defensive positions their own in recent months. With other central defenders Clarence Goodson, John Brooks, Tim Ream and Michael Orozco Fiscal all fighting for spots, Gooch's 'been there, done that, got the t-shirt' past may hold the key.
"That veteran role is one I welcome and embrace," Onyewu said. "If I can't do that, then what player can do that? If a player that has two World Cups under his belt and has played in Europe his whole career can't take on the leadership role, then I'm in the wrong profession. When I was a youngster at the World Cup, it definitely helped to be alongside a veteran like Eddie Pope who was a veteran and could direct me. Experience is invaluable. Hopefully that will work in my favor in my push to make the World Cup."
Back to club soccer, and Onyewu confirmed his current deal with Wednesday runs out at the end of the 2013-14 season. Speaking of options beyond this campaign, the towering defender didn't rule out a move to Major League Soccer in the future.
"I've never cancelled MLS out," Onyewu said. "If it was an option, it would be just as much of an option as anywhere else in Europe, granted that they show me the proper interest and approach me in the manner that they want me to come back. At this point, that hasn't been the case. I'm sure if that ever did happen, I'd review the situation thoroughly and take it seriously."
With Onyewu's career entering a pivotal stretch — the last few years of his playing days are in-sight and one final sojourn for the U.S. national team at a World Cup awaits — who have been some of the biggest influences on his career?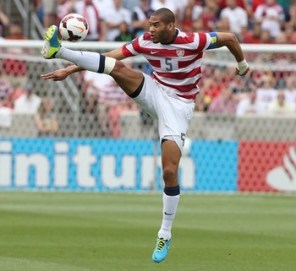 "The first one is Francis De Taddeo, he was the French scout and the youth team coach at Metz in France. He was the one that scouted me and convinced the club that I had talent. He was a big springboard to my career," Onyewu said. "Then there is Ariel Jacobs, the current coach of Valenciennes in France, he was the coach who gave me the first chance as a starter in Belgium. That was big. He had blind faith in me. Plus the entire club at Standard Liege were incredibly supportive and believed in the player that I could be when I was in Belgium."
However, with Onyewu's resurrection clear for everyone to see, the gentle giant reserved special praise for the man who has been instrumental at giving him a shot of making his third World Cup and donning the Stars and Stripes on the biggest stage of all, one more time.
"Stuart Gray has pretty much resurrected me, he took a chance on me," Onyewu said, before pausing. "I hadn't played in six months and he was confident in what I could do. He definitely resurrected the player that I am now."