EXCLUSIVE – DC United have picked up where they left off last season – at the bottom of Major League Soccer.
One of just two MLS clubs without a point thus far, the 2013 basement-dwellers were looking for goals, goals, and more goals when they signed Eddie Johnson to a Designated Player contract this offseason.
While he – or anyone else – has yet to score for DC, Johnson is adamant that early improvement from their first match to their second is promising enough to ease the players, even if it has yet to ease the fans.
"It's hard to say 'oh there's positives things out of two losses,'" Johnson admitted, "but there's actually some spells in the games where we got some good possession within the team and in the final third, and it's just that final pass or two that's not there right now.  But we know with due time that's going to come, so that's why we're not panicking."
In a vacuum, the two losses mean little in the big picture of a very long MLS season.  However, following the dreadful nature of last season, it's hard for fans not to panic after the pair of disappointments: a 3-0 loss to Columbus at home to open the season followed by a narrow 1-0 defeat to Toronto.
(MORE: MLS Preview: Chicago Fire at DC United)
Johnson admitted building chemistry with his new teammates at the head of the DC attack has been harder than expected, especially with fellow newcomer Fabian Espindola, but not for the reasons one may think.
The Argentinian is a talented player in his own right, with MLS Cup experience as well as time with one of the biggest South American clubs in Boca Juniors.  For Johnson, working with a player who has many quality facets to his game has been tough to adjust to.
"It's been a bit challenging because he's a very good footballer and someone I very much admire, and I want to make the most of my opportunity in playing with him.  It's been too bad in two games where things haven't been clicking for us.

"For me, it's about trying to figure out how I be effective when he drifts wide when it's too congested in the final third up top when they really squeeze in and make the field small for us.  It's how can I still be effective, and develop a communication with him and stay connected with him to give ourselves some real chances to be dangerous in front of the goal.  But we worked on that this week and we're looking forward to seeing all the hard work we put in training this week trying to play that tomorrow against Chicago."
Cutting off that connection between the two has been a point of emphasis for DC's early-season opposition, and so far it's worked.  Espindola has completed just 65% of his passes throughout his first two games.  While that's not too uncommon for an attacking player, and it's not terribly far off his last season percentage of 72%, it's still not where DC will want his service to Johnson to be.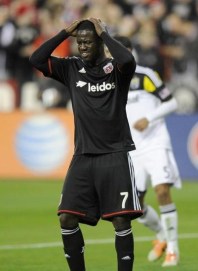 But with Chicago coming up at 4pm ET Saturday on NBCSN, it's a golden opportunity for DC to get off the schneid.   The Fire have just two points through three matches in the young MLS season, and having seen them in preseason twice already earlier in the calendar year, Johnson is well aware of what they bring to the table.
"I'm familiar with their back four and their center backs.  I played with [Chicago defender Jhon Kennedy] Hurtado for two seasons in Seattle and I know what he likes and what he doesn't like, so I'm going to try and play him and get him into positions he's not comfortable with, and really going out there and putting them on our terms."
And most of all, he wants to show the fans that last season is in the past.
"You go two games without scoring a goal or getting shots on goal and everyone starts to panic that the guys aren't gelling and stuff.  But I feel like every game we've gotten better, and it's just a matter of time that the ball starts bouncing our way.  Really, the focus is more on ourselves than the focus is on Chicago."
With the focus on themselves, Johnson's really enjoyed his time working with head coach Ben Olsen.  The pair have history, as teammates on the US National Team from Johnson's debut in 2004 until Olsen's retirement in 2007. Now, despite one standing as the boss, the two still share a similar relationship.
"Now playing under him as a coach, nothing has really changed from playing with him and his mentality is still the same.  He's still a hard worker, he's a winner at the end of the day, and those are the guys he wants in his team every weekend.  The results haven't been great, but we know they're going to come so the more we can stay positive and the more we can stay focused on trying to build and create the identity we're trying to create here, the more successful we're going to be."
In addition to his new MLS venture, Johnson is also staring a chance at making his third World Cup in the face. However, as a more experienced player, he believes the two ventures of club and country to him are completely separate entities in his mind.
"If I was younger with no World Cup experience and never having been in this situation before, it would probably be eating me up through these two games not really having opportunities on goal to win games for my teams. But for me, with my experience and being in this situation for the third time now, it's about taking it one game at a time and staying true to myself, what I believe in, and my abilities.  And if I'm honest with myself at the end of the day putting the work in week in and week out and I can look myself in the mirror and say hey, I've been doing all the right things, at the end of the day it's up to the manager to pick whatever players he wants to see."
So with the 29-year-old on the squad to take on Mexico next Wednesday, he knows not only is this a chance to earn a trip to Brazil this summer, but it's also a chance to play Mexico – something that these players never take lightly.
"It's not a friendly.  National team call-ups don't come easy these days, and this is a very important game.  I think a lot of players are going to come into the camp fully focused, committed, and on top of their game, and they're gonna leave it all out on the field and give themselves a real, real good chance at making the team.  And on top of that it's our rivals, so any time we play against our rivals it's about bragging rights and about showing who's on top of CONCACAF.  [Mexico] are going to have a lot of hunger for revenge, and we're looking forward to it."
With making the national team a dream for just about every American-born player, Johnson got nostalgic for a moment when a former club of his was brought up.  As Fulham struggle in the bottom of the Premier League, Johnson hoped the team that gave him the opportunity to play in one of the biggest leagues in the world manages to stay up, just as he did with the Whites six years ago.
"I remember when I first went over in 2008, we were in the same situation at the bottom, and we survived," said Johnson. "One thing I can say about everyone in that dressing room and organization is they're fighters at the end of the day, and they're going to do everything they can to stay up.  So I'm praying for them, I wish them all the best, and they gave me the opportunity to go over and make my dreams of playing in the Premiership come true and I'm forever grateful for that."
So as DC United look to pick themselves up in the midst of a 14-match winless streak dating back to last year, one thing is for certain: their newly signed forward has the experience and work ethic to get them out of it.  If anyone can scrape DC United off the bottom of the standings, it's Eddie Johnson.  He just needs a little help from his friends.