When watching soccer on TV, have you ever sat there and wondered what the man behind the microphone really thinks?
Maybe this will go someway to helping with that.
In the latest edition of "View from the Booth" we chat with NBC Sports' lead soccer announcer Arlo White about Manchester City's massive clash against Arsenal, Liverpool's title credentials, some massive matches in the relegation zone and much, much more.
(MORE: VIEW FROM THE BOOTH ARCHIVE)
You can hear Arlo calling live games every weekend on NBC Sports Network and NBC, and watch every single game available live online via NBC Sports Live Extra,
So, let's get to it.
After Arsenal's midweek draw with Swansea, does Saturday's match with Man City now become a must win if the Gunners are going to win the title?
It has to be, and Arsene Wenger has admitted as much. What a difference a week makes. Last Saturday, they went to Stamford Bridge knowing a win would place them one point behind Chelsea at the top, with a game in hand.  A 6-0 dubbing and a midweek draw with Swansea later, and they are clinging onto the fringes of the title race by their finger tips.
I said during the call last Saturday that teams who ship 17 goals in three visits to their top four rivals can't be considered legitimate title contenders, and I stand by that. Arsenal's failure to adapt their approach after previous thrashings is very concerning for Arsenal fans. If they lose to City, then another concern is the form of Everton right behind them. The Toffees are six points behind the Gunners with a game in hand.  Arsenal visit Goodison Park next weekend, which could be vital in deciding who finishes in 4th place.
What about Man City… were you impressed with their derby day demolition of Man United in midweek? Are they the Champions elect?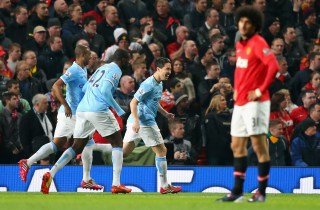 They are one of the favorites, four has definitely become three. They were clinical in their dismantling of United at Old Trafford. Much of the press has been about how poor United were, but you have to look at City and the way they got after United from the very first kick of the game. They had a couple of opportunities very early on and they were camped in the United half. Then they took the lead after 40 seconds, which was a great start. Graeme Le Saux, who called the game alongside me, his concern is that City have to put a consistent 90 minutes together and not have these spurts of activity and then sit back a little. They have players on terrific form, Vincent Kompany was excellent, Joe Hart hasn't conceded a goal for 508 minutes, Yaya Toure is in dominant form and is scoring bags of goal, David Silva is at his ghost like best. Even though they aren't getting the best out of Alvaro Negredo at the moment, Edin Dzeko filled in brilliantly at Old Trafford.
It looks like they are the favorites for the title, as Jose Mourinho has been saying all along. If they can get a fit and firing Sergio Aguero back into the side, they are looking very good indeed. But they still have to go to Liverpool and Everton, they will be big trips after this tricky encounter vs. Arsenal at the Emirates.
Let's look at Liverpool vs. Spurs, both teams need the win for different reasons, Liverpool in their title charge and Tottenham to make the top four. What do you expect from this?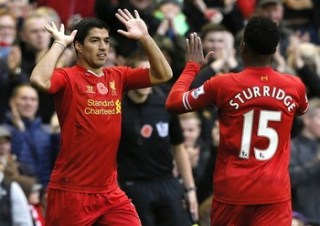 On paper you'd expect a Liverpool victory, they've won seven in a row, the S.A.S. are firing on all cylinders and they were cruising to victory against Sunderland on Wednesday. But that late goal seemed to instill a few nerves into Liverpool in the closing stages. Whether that was because they realize the enormity of the situation they've got themselves into, or just that they aren't used to being in tight games at the end of matches, I'm not sure. There was a slightly nervy crowd at Anfield, but I wouldn't be too worried about it as they still played their natural game for 75 minutes of that encounter. Liverpool are very much in the title race.
We now know Tim Sherwood is able to rouse his troops to get decent results, that comeback against Southampton last weekend was a big result for Spurs and Sherwood after some recent disappointments. We will see what happens in this one, but you'd expect Liverpool to make it eight in a row… however Spurs are capable of causing an upset.
One game that stands out at the bottom is West Brom vs. Cardiff. Simple question: which way do you see this going?
This one is very hard to call, but teams are desperate for the win. You have to say, with West Brom at home, they should be the slight favorites. Despite being very well liked, their new manager Pepe Mel has come in and struggled to get results for the Baggies. I do look back to the sacking of Steve Clarke earlier this season and how big of a decision that was for West Brom. Okay, they weren't doing fantastic, but they weren't doing too bad either, so you still have to question why they would get rid of him, especially if Mel can't turn things around.
As for Cardiff, it really is do or die for them. They need to start winning games, and fast, if they're going to dig themselves out of trouble. This is a classic example of a relegation six-pointer, this time of the season it is vital to pick up points at the wrong end of the table.
Finally, what else are you looking forward to?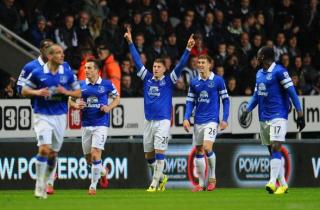 The game on Sunday between Fulham and Everton at Craven Cottage is a very intriguing game. For the home side, they must start winning if they are going to survive, but they come up against a very strong and in-form Everton unit. The Toffees have won four on the spin, and everyone thought their season would peter out after a sensational start saw them in the top four for most of the season. However coupled with Arsenal's recent poor form, if Everton can win on Sunday and Arsenal lose against Manchester City on Saturday, all of a sudden Everton welcome Arsenal to Goodison Park on April 6 in a massive clash where a win could see them regain fourth spot.
In Ross Barkley they have a real talent who is a making a concerted push towards England's World Cup squad for this summer, and his stunning midweek goal against Newcastle was reminiscent of Paul Gascoigne in his prime. The way he picked the ball up on the halfway line, slalomed past several players and finished superbly, he's a real gem and if he keeps performing well for Everton then he could well be on the plane to Brazil. If Roberto Martinez's men somehow finish in the top four this season, it would be a monumental achievement for the Toffees.