Set in the leafy countryside of middle England, there's a soccer facility starting to become known as one of the world's best.
The headquarters of England's 24 national teams features 12 full-size soccer pitches (five have under-soil heating and floodlights), an altitude chamber, a Futsal pitch, indoor running track, four gymnasiums, two Hilton hotels, 500 seat conference center and a purpose built sports hall are just some of the highlights of the English Football Association's epicenter. Completed in 2012, it is also home to the League Managers Association (LMA), England's center for coaching education and has become a business conference destination, where soccer and business leaders collaborate.
That is St. George's Park.
The goal was to bring all levels of the game together in England, — professional, grass roots and coaching eduction — and give it a home. They've done that. But having a world-class facility is only a first step. That's why I decided to go behind the scenes to see the people who are shaping the future of the game in England and how U.S. Soccer could learn lessons from the English, as the allure of St. George's (SGP) spreads across the pond.
THE LOWDOWN: A DAY AT ST. GEORGE'S PARK
As you drive into the idyllic Staffordshire countryside, thatched cottage reminiscent to the ones you'd see on English Fudge boxes are replaced by field after field. Then you arrive. Nestled on the edge of the National Forest, SGP is big on spectacular entrances. That's exactly what you get.
First up: check out the incredible sports science equipment and have a go at recreating the humid atmosphere both the England and U.S. players will be facing in the Amazonian city of Manaus at the World Cup this summer.
Hopping onto a bike and peddling my little heart out in an altitude chamber isn't usually how I spend my Wednesday mornings, but how can you not have a go? After enduring 14 percent oxygen levels for almost half an hour, I started to become slightly light-headed as my workout came to an end. The incredibly informative Ian Aylward — Strength and Conditioning coach for Perform who run SGP's sports labs — guided me through the treadmills designed by NASA, the 'Batak' reaction center, which measures perceptual awareness. Signs on the wall showed that both Dider Drogba and Radamel Falcao scored 101 on the test. I got 75 on my first and only attempt, apparently Didier and Falcao had several shots at it… just saying. During the week, these labs are helping players from across the English soccer spectrum, and regular members of the public, recover and regain fitness with the latest and greatest technology.  I learned throughout my trip to SGP, that this center isn't just about the elite level athletes.
[youtube http://www.youtube.com/watch?v=pyQGtfeeRqQ&w=560&h=315%5D
Then it was onto an underwater treadmill – which Olympic Gold medalist Mo Farah apparently swears by – and after that, into the icy cold waters of the plunge pool to cool down. Shivering in the freezing waters, I then jumped straight into a warm Jacuzzi to recover, properly, as pins and needles overtook my body. 'This SGP experience is pretty intense' I thought to myself. Turns out, this was only the start.
Touring gyms which make most airport terminals look miniscule is a bizarre feeling. All the rehab and workout areas look out onto the main indoor and outdoor Wembley replica pitches to act as a carrot dangling in front of the players returning to fitness.
It was specifically designed that way to keep the motivation levels of returning players high, as they would still feel part of the team, even when they're recovering from inside glass-windowed luxury gyms overlooking the pitches. Little things like that are what make SGP special.
(MORE: Why NASL's Minnesota United flew 4,000 miles for 10 days of practice)
With English soccer's new HQ gleaming in the afternoon sunshine at St. George's, many revel in the beauty of the wonderful high-tech facilities inside the facility. But let's get onto this most important components of SGP, and the reason the vast oasis of soccer empowerment was built in the first place: the soccer pitches.
Boasting 12 state-of-the-art pitches; five with undersoil heating and floodlights and two exact replicas of the pitch at Wembley Stadium (inside and out) SGP doesn't shirk its responsibility as a world class soccer facility when it comes to the grass the game is played on.
The man tasked with organizing the upkeep and condition of the pitches is a wily old Scotsman, Alan Ferguson. As I wandered towards the outer reaches of SGP to get a word with Ferguson, a tractor in the distance begins to speed towards me. Surely not? But it was. In stereotypical fashion, Ferguson arrived by tractor and parked up next to myself stood smartly dressed in a suit. Priceless. So what has been the biggest changes in pitches Ferguson has seen over the years, and how do these pitches at SGP fare compared to others?
"The big differences are sand dominated root zones reinforced with artificial fiber, which is the Wembley stadium pitch, two of which we have here. Phenomenal surfaces. I call them the 'Rolls Royce' of surfaces," Ferguson laughs. "They cost over 1 million pounds each ($1.6 million), but you get what you pay for. You get a surface to die for, as a player or a coach you've got a billiard table like level. They are unbelievable."
As he tells me about the ins and outs of preparing each pitch and how the exact replica of Wembley on the site is identical in the texture, dimensions and every single facet imaginable, I had a thought. "Can you replicate the pitches that England will be playing on in Brazil?" With no hesitation, this was Ferguson's reply.
"When they get down to Brazil, they will be playing on similar surfaces but the reinforced grass will be rye grass and Bermuda. We can recreate that no problem at all," Ferguson said. "However, what we can't create is the effect of the humidity on the grass, but as far as the way the ball will move we can give them 100 percent replication of that here, before they go."
How many other nations can say they'll have pitches from Brazil in their own backyard? During my tour, all day long I've seen Ferguson and his 14 staff hurriedly going about their business. They always seem to be busy, and according to the Scotsman helping to shape the pitches England's national team play on, the future will be even busier.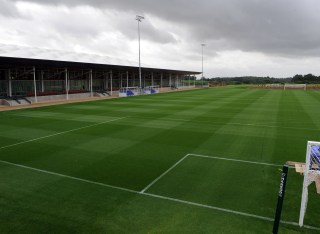 "It is acknowledged that we don't have enough pitches. We need about 20 pitches here to satisfy the business plan," Ferguson said. "I think that is the one big surprise for everybody here. We all thought we'd be pretty busy with England teams, but I don't think anybody could've imagined the demand from teams beyond the UK for the facilities here at St. George's Park."
Those teams from overseas that Ferguson is alluding to, are starting to stream over the Atlantic Ocean from the U.S.
THE USA: HOW SOCCER IN AMERICA RELATES TO SGP
Up to my neck in water, pounding away on a treadmill below and watching a sport scientist analyze my running style on two plasmas screens that are relaying an underwater video recording of my endeavors, the last thing I expected to hear were some American voices at SGP. But I did.
The week before my visit, Minnesota United became the first-ever professional soccer team from America to use the splendid soccer-specific facilities on offer. Now another U.S. side were at it, as teenagers from Ashland High School in Oregon were touring the place.
"We wanted the kids to see the nuances of the game and how it started here in England," their club coach at Chillers FC, Garin Coster, said. "We want them to be able to play, watch and experience all that they can. Hopefully it will sink in and make us better players…. and better people in the end."
The allure of SGP is spreading far and wide, right across the U.S. That intrigue works both ways, as Associate Director of Football Development, Education and Operations at SGP, Dani Every, explains to me over a sandwich in SGP's bustling cafeteria which overlooks the sprawling national forest that encompasses the grounds.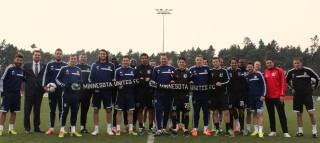 "Various people involved in the project had experience of going to American universities and it's fair to say we admire the way America structures their facilities, especially for college sports," Every explains. "Personally I had a look some of the facilities in Dallas, both professional and at a collegiate level. I was fortunate enough to go to Nike's HQ in Oregon, and even that campus when you look around, you see things and bring those back. There is a drive for continuous improvement at this facility. In terms of what we have, it's beyond our wildest dreams if you look back to five years ago when we started to plan it out."
Jamie Robinson is England's Head of Youth Coach Development, and his role is to help educate the coaches sent to monitor every English side involved in the Elite Player Performance Program (EPPP) and his team of 16 have four to five pro teams each to look after.
Instead of trying to force the FA's ideals onto each club, they aim to assist the way the clubs are currently working and help produce the best 'decision makers' they can produce. That seems to be the way England are heading, in terms of player development, as creating a new generation of gifted 'decision makers' are the aim for English soccer's greatest minds.
Earlier this year Robinson, and other coaches who help to shape England's future, visited the U.S. to share their ideas and hold lectures on the English FA's philosophy of player development.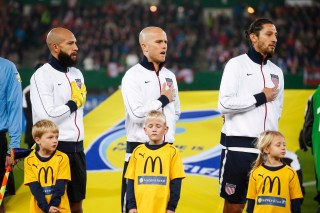 "I went over to the NSCAA conference in Philadelphia at the start of the year and spoke there," Robinson explained. "There were 8,000 coaches there, all hungry to learn and get better, plus have a few beers with their mates at the same time, it was interesting."
What does Robinson, in his expert opinion, predict for the future of soccer in the U.S.?
"It will be interesting what they will do. If they ever un-tap their resources they will be an unbelievable footballing nation," Robinson exclaimed. "But if soccer only gets a tiny bit of press and is on never on TV, you struggle to see how it is going to gain momentum. Who knows. The interesting thing about America is the different sports and the way they influence the fabric of society. Places like, what am I reading at the moment… Friday Night Lights? … places like that, it is just bizarre and miles away from anything we can recognize here in a soccer nation."
Switching the conversation from FNL country in Odessa, Texas back to the visiting team from Oregon, their players continue to wander around the vast halls of SGP in awe at this soccer mecca. Could a centralized facility like SGP ever flourish in the USA?
"We do big things there, but it would probably end up being in Texas… because everything is bigger in Texas!" Coster laughed. "Or it could be in California or somewhere like that, it would be cool. Eventually something like this could happen, or even a few smaller scale facilities, similar to this, in different spots around the U.S."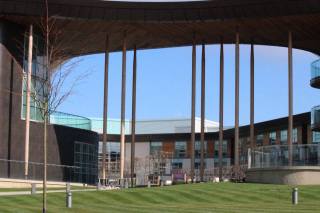 So, after seeing SGP for myself, and hearing plenty of buzz from Minnesota United and the other U.S. individuals who've visited the site, here is my proposal: why not build three soccer-specific facilities in California, the Midwest and the South East? U.S. Soccer already does a great job with the Bradenton residency program in Florida, where it has nurtured young U.S. talent such as Michael Bradley, Freddy Adu, Jozy Altidore, Landon Donovan and Omar Gonzalez to name a few. But with the sheer size of the USA geographically, it seems too difficult to centralize the entire development program like they have at St. George's. Currently, some of the ODP programs take place at Nike's HQ in Orgeon, as well as Bradenton and many other sites.
One of those players who came through the Bradenton program is Minnesota United midfielder Jamie Watson, who was previously with both Real Salt Lake and FC Dallas in Major League Soccer. He believes the U.S. would benefit significantly, if a center like SGP was set up and the Bradenton center was expanded.
He saw first hand how current USMNT star Michael Bradley arrived at Bradenton bottom of the pile out of 30 guys, and within two years he'd been transformed into a started in MLS at 17 and has become one of the best midfielders the U.S. have ever seen.
"When you're in a setting like SGP and Bradenton, that is set up for you to only succeed, it only makes you better," Watson said. "Literally everyday you get better. Having a place like that means you get better, if you bring the top quality players at Bradenton it will breed better overall talent for your national team. There are all the expenses that go into, but for a soccer standpoint, any player that goes through those doors will become a better player every single day."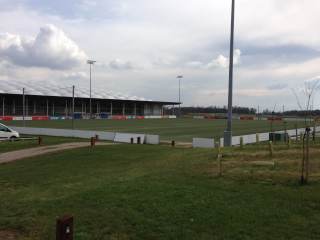 It is just an idea, but having three centers spread across the country could help the development of Klinsmann's ideals as technical director and help promote the national teams message in a centralized approach. Of course with college sports and the varying success of different MLS academies, the next few years will be key in the future of how young soccer players are developed in the USA. Seeing the benefits of SGP and how people from all walks of the game work together for the betterment of their national team is inspiring, and something which would be incredibly helpful, if implemented properly, in the U.S. Finances would be an issue, but having a similar center in the U.S., or expanding the existing ones, would surely help in the long-run.
Manny Lagos, Minnesota's head coach, was keen to take his American squad overseas to spend their preseason in England at SGP. He explains why a team from the U.S., which has access to phenomenal facilities on their doorstep, would fly 4,000 miles to prepare elsewhere.
"There are a lot of good facilities in the U.S. but one of the things I loved about SGP is the nostalgia of it being the home to the English national team," Lagos said. "Combined with the technology they're using with the fields, the physio and regeneration areas and then you have a hotel that is soccer-centric right there. That was a very unique experience for a lot of the guys on our team, especially the Americans, who aren't used to so much focus on just soccer for a facility."
THE FUTURE: HOW WILL SGP HELP ENGLAND WIN TROPHIES?
As you wander around the vast SGP complex, you see plenty of people either in suits or tracksuits, all wearing large smiles and all seemingly working towards the same cause. I was led over to the coaching education wing, this place was a shrine to the great minds of the game. Each meeting room was named after inspirational figures in the English game.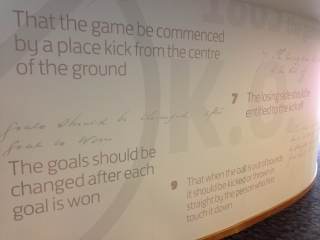 On the wall behind a coffee and tea unit were pictures of eight framed pictures of legendary figures in the soccer world. Sir Alex Ferguson, Bill Shankly, Jose Mourinho and Sir Matt Busby were amongst them.
Etched onto the other walls were the rules of the game, with some of the more obscure ones listed from the original Association Football handbook codified in 1863. "The goals should be changed after each goal is won," reads one of the original rules. So, that one slipped by the wayside…
Sat down on a fancy leather sofa, sipping coffee from a St. George's Park mug, and kitted out in full England training gear from head to toe, Head of Youth Coach Development Jamie Robinson lives and breathes the game. In his thick Scouse accent, you can tell he genuinely cares about helping to foster a positive environment to educate new coaches at SGP, which will then in turn help the national game prosper.
St. George's arrival has, in Robinson's opinion, been monumental in the progress of English soccer and allowing the different facets of the game to mesh together.
"It has been amazing," Robinson said. "What people can do now, is that people like Les Parry from Manchester United comes in to talk about his vast array of experience, and walking down the corridor he meets people like Mike Rigg who is our head of talent ID. The facility has got all the people here in one place."
Then Robinson points out the window towards a vast courtyard with a perfectly manicured garden, complete with soccer inspired monuments, as one of the reasons why England's soccer operations are now centralized became more apparent.
"See, there's Matt Payne, our psychology researcher wondering around the grounds… trying to figure out all the answers!" Robinson chuckled. "Building a place like this, means all kinds of people are here. You bump into people and the environment dictates that we get together and meet. Before, without a home, everyone was going off doing their own thing."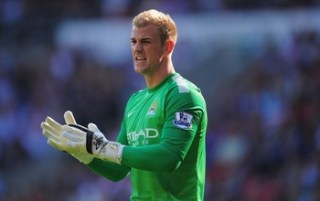 But with such a monumental challenge ahead of Robinson, his coaches, plus the sports scientists, psychologist, directors and every single person involved in the English FA, what is the key to pulling the fabric of everyone's work at SGP together?
"We need to make people feel as if they're part of something bigger. People call me the head, I'm not the head, I just try and bring people together to talk about this stuff. We've all got a responsibility to work together for the greater good of the game," Robinson said, then squeezed his paper coffee cup tightly before rubbing his chin reflectively. "Obviously, at some point down the line, if people are working passionately around the game and dealing with players in the right sort of way, to empower them to be the best decision makers they can be, then we've got good players. We will just get more of them. If we get environments that can do that, and can interact with players in the right way then players will come through."
Before joining the FA, Robinson was involved in the professional game with lower league side Shrewsbury Town. That's when he retells the story about how he helped Joe Hart continue his journey as a soccer player, as the man who is now England's no.1 goalkeeper almost walked away from the game.
"My goal is about long-term player development. My group of coaches who are working at football clubs and dealing with players from 9-21. Any of those players that any of those guys come into contact with could play for England," Robinson said excitedly. "I was at Shrewsbury as a youth coach, when I had Joe Hart as a 14-year-old, I persuaded him to not be a cricketer and come and sign for us at 16. You don't know, any of these kids could play for England. So we have to make sure we develop the best environment for kids, is our interaction and practice for these kids as challenging as they can be to try and strain them to be decision makers who are desperate to be footballers."
The progress SGP has made in the last 15 months since it opened is astonishing, as expanding the 330 acres of land has already been discussed.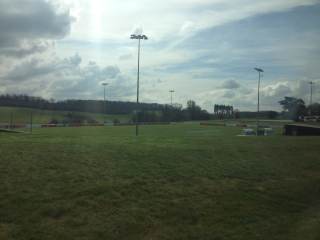 "We have long term goals, some of the really encouraging signs are that the hotel is full and vibrant, the England teams have visited 80 times," Every said excitedly. "We've had 70 plus other teams stay here, Minnesota United, Galatasaray, Steau Bucharest, Monaco, West Ham, that is brilliant and enhances the vibe and buzz about the place. We've already had over 12,000 coaches physically come and use the center, plus 240 grass root teams."
Despite all the glowing references about the facilities being magnificent, the wider community benefiting from its creation, the star-studded athletes using it year-round and its prestige, the purpose of SGP mustn't be forgotten: it must be the hub of a successful England set up, across the board.
"It is a fantastic facility and the idea was to use it for a catalyst to change and improve our coaching education and drive performance in our England teams," Every explained. "That said, it is a facility. So where we get the real benefit is the people who work inside the facility, the buzz, collective energy and drive. We are using St. George's Park as a catalyst to achieve our stretching goals because, obviously, we want to see winning England teams at some point."
Finally, I ask Every to sum up the meaning of St. George's Park. Slightly flustered, she took a minute to compose herself before delivering a sentence which encapsulates what soccer's home in England is all about.
"It is our training home for England teams and coaching education. And the catalyst to improve performance in English football," she says with a nod and a confident smile.
Just over a year in, the future looks bright for SGP and English soccer.
Now, can the U.S. mirror this facility, if they need to, in order to help the national teams flourish in the future?