50 years ago to the day, Liverpool defeated Tottenham at Anfield to move from 2nd to 1st in the table, and went on to win the league.
Things were no different today, and with six matches to go Liverpool are in command of the title race.
Sturridge and Suarez commanded the first half, and Philippe Coutinho picked up a third as the Reds sent a noisy Kop home beaming with the title race firmly in Liverpool's hands.
As Anfield rocked, the home side went ahead just over two minutes into the match, and they never looked back.  A streaking Glen Johnson put the ball across the face of goal for Sturridge, and with Younes Kaboul off balance the Spurs defender bungled the ball, ending with a backheel into his own net.
The goal was only the beginning for Liverpool, as they pummeled Spurs in the opening 20 minutes with endless pressure. A high line for the hosts earned them nearly all the meaningful possession, and Spurs spent all their energy keeping the ball away from the feet of Suarez and Sturridge in the box.
Strap in, Spurs fans, it doesn't get any better.
On 25 minutes, with Liverpool punishing Spurs for every mistake, they got a second.  Michael Dawson, just on for an injured Vertonghen, tried to touch to Kaboul at the back on a clear by Jon Flanagan, but the ball ended up at the feet of Suarez who charged down 1-on-1, beating Kaboul and Hugo Lloris for Liverpool's deserved second.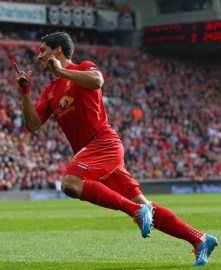 The goal put Suarez level with Didier Drogba in Premier League goal-scoring history on 29 goals for the season, two behind the record 31 by Cristiano Ronaldo and Alan Shearer.
Liverpool's top striker nearly had a second four minutes before halftime, but his open header was impressively saved by Lloris via the post, leaving Suarez with his hands on his head.  Not surprisingly, the chance came when Kaboul was again dispossessed in defense.
Spurs settled a bit in the second half, but eight minutes after the break it could have been worse had Jordan Henderson not lifted the ball into row Z with the net gaping.
But Philippe Coutinho would pick his teammate up, dribbling through the midfield before a low drive found the corner for his fourth goal of the season and a dominating 3-0 lead.
Jordan Henderson would add a fourth with 15 minutes to go on a free kick that evaded the feet of everyone in the box, including Suarez who pointed to Henderson in celebration to indicate the midfielder would get credit.
Steven Gerrard was smartly substituted off with 20 minutes to go, with Rodgers not wanting to risk him receiving his 10th yellow card. If he can make it one more match without a booking, he would avoid the 2-match suspension that comes with 10 domestic yellows.
The win puts the Reds top of the league, passing Chelsea and becoming the first club to reach 70 points on the season with six matches to go.  Liverpool control their own destiny in the title race, and would complete their first Premier League championship should they win out.
They also closed the goal differential gap on Manchester City, something that could prove important.  City's early-season flurry of goals see them at +52, while today's four goals at Anfield have Liverpool creeping closer to +49.
Spurs, meanwhile, drop their two matches to Liverpool this season by a total of 9 goals to none, with the first matchup at White Hart Lane seeing Andre Villas-Boas fired soon after.  They now remain just two points above Manchester United in sixth, owning a game in hand on the Red Devils.
LINEUPS:
Liverpool – Mignolet; Johnson, Skrtel, Agger, Flanagan; Gerrard (Lucas 70′), Henderson, Coutinho (Allen 64′), Sterling (Moses 83′); Sturridge, Suarez.
Goals – Kaboul (og) 3′, Suarez 25′, Coutinho 55′, Henderson 75′
Tottenham – Lloris; Naughton, Kaboul, Vertonghen (Dawson 24′), Rose; Bentaleb (Dembele 60′), Sigurdsson, Lennon (Townsend 66′), Chadli, Eriksen; Soldado.