After 270 minutes, we have a pretty good idea of what to expect from Barcelona and Atlético Madrid. Unfortunately, we don't have much that tells us which side is better, a mild inconvenience when you're trying to figure out which club is most likely to advance from the teams' UEFA Champions League quarterfinal matchup. Each of their three meetings this season (two in Spain's Supercopa; one in La Liga) has ended in a draw, with the sides combining for only two goals. Sure, one side could prove clearly better than the other, but there's nothing in recent history that says that will happen.
Instead, we're left wondering what, if anything, can keep away goals or penalty kicks from deciding which team advances to Europe's final four. One day ahead of leg one's kickoff in Barcelona, there are four possibilities:
1. Lionel Messi is as hot as ever – In the teams' last meeting, Messi only played 45 minutes, his return in January at the Vicente Calderón marking his first appearance since a thigh injury prematurely ended his 2013. Now fully healthy, Messi has scored in 11 of his last 12 games, accumulating 17 goals along the way. As he showed with three goals in El Clasico, that form's certainly capable of translating to big games.
(MORE, this weekend: Atlético, Barcelona snare road wins)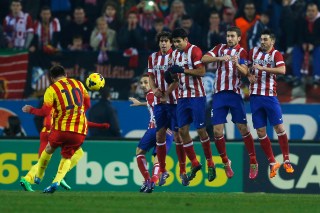 2. Atlético has changed things up – In those first three games — 0-0, 1-1, and 0-0 affairs shared between August and January — Diego Simeone started David Villa up top with Diego Costa. In the two August games, Villa actually ended with a higher average position than Costa, who played wide right. In January, however, Villa was farther behind the Atlético number nine, playing alongside Atleti's midfielders as Simeone crowded the middle of the park.
Now, after the team's mid-winter slump, Atlético typically starts somebody more suited to that role. Natural midfielder Raúl García has been cast into the starting lineup at Villa's expense, and while he has often been used as more of a supporting striker than a highly deployed midfielder, Garcíá still brings more of a center-of-the-park mentality to Simeone's choice XI.
Unfortunately, García is suspended for leg one, a problem exacerbated by the potential absence of Costa. The Brazilian-cum-Spaniard left Monday's training session with an apparent leg injury. Though Costa had yet to be evaluated by the team's medical staff by the end of practice, Simeone said it was "unlikely" Costa would play on Tuesday.
Personnel-wise, that means a huge step down. Villa is likely to start up top, while Thiago could join Gabi and Mario Suárez to make a three-man midfield. Or perhaps Uruguayan Cristian Rodríguez will get the call.
Regardless, Atlético will be different. They won't start two true strikers. But whereas over the last two months that's been by choice, in Barcelona, it may be by necessity.
(MORE, Barcelona's path: Win at City | Advance at home)
3. Champions League is different. Right? – I'm not sure how much I believe this will matter, but in the past, when we've seen teams face off over 180 minutes (as opposed to 90, as they do in league) the games sure seem to change. Long-term thinking leads to cagier affairs, ones often complicated by the away goals rule. Insert battle versus war analogy here.
There are a few other reasons to believe Champions League, in particular, is different. The stakes are certainly higher, and whereas in Spain Atlético and Barça will get an officiating crew very familiar with each side, Tuesday's officials hail from Germany.
To whatever extent those things matter, Barcelona will be more familiar with how to deal with them, compounding any differentiating effects that might exist in Champions League.
(MORE, Atlético's route: Late winner in Milan | Easy day at the Calderón)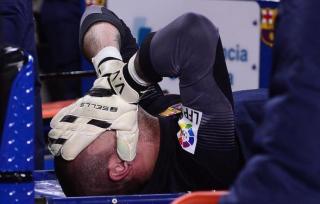 4. Víctor Valdés is out – As Real Madrid's handling of Iker Casillas has shown, sometimes the effect of a perceived great goalkeeper can be overstated. Very often, good teams have solid options waiting in reserve. It's not always the end of the world when your number one goes down.
Barcelona's position, however, may be different. After suffering a torn ACL this weekend, usual number one Víctor Valdés is gone. He's done for the year, and having declared his intention to leave the club at the end of the season, he may have also played his last minute with Barcelona. This isn't a case of Barça choosing to try somebody else.
On Tuesday, that somebody else will be 38-year-old José Manuel Pinto, a volatile Copa del Rey specialist who has played only 27 Liga games since joining Barcelona seven years ago. On Tuesday, he will make his seventh Champions League appearance for the Blaugrana, one that will undoubtedly become his most important contribution on the European stage. To date, the only lasting memory he's crafted in Champions League was being red carded as a reserve against Real Madrid in 2011.
To be certain, he is not the Diego López to Valdés's Casillas. This is a bigger step down, one which may become more apparent if Costa plays. Sure to seek contact (if not outright entice fouls), the Atlético sniper would tempt the more unpredictable side of the former Celta number one. On Tuesday, Pinto may be spared such temptations.
Beyond Costa's antics, it will be up to Barça's possession game to limit Pinto's exposure. Against an opponent the three-time champions have failed to distinguish themselves from this season, the loss of Valdés could prove particularly important.