Manchester United and Bayern went toe-to-toe on Tuesday at Old Trafford, as the tie is level at the halfway point. A pulsating first leg saw United stun everyone, as the Red Devils gave Munich a real scare after a dogged and determined display.
(MORE: Man United hold Bayern Munich, keep Champions League hopes alive)
Yes, Bayern dominated possession, but United looked dangerous throughout and if they'd been more clinical they could well be taking a lead to Bavaria with him.
It certainly wasn't the huge one-sided affair everyone was predicting, as United battled courageously against the favorites for the UEFA Champions League.
What did we learn from a 1-1 draw in the first leg?
Possession isn't everything
After the first 45 minutes, Bayern had 78 percent of possession and the soccer purists were having a field day. But the most important stat at half time: 0-0. At the end of the game the possession stats stood at 74 percent in favor of Bayern, but again the most important stat line was the goals: 1-1. United absorbed the pressure superbly and frustrated Bayern with their makeshift defense. Alexander Buttner at left back, Phil Jones at right back, and the aging duo of Rio Ferdinand and Nemanja Vidic cranked out a top display as a back four, while David De Gea stopped Arjen Robben superbly in the first half and looked solid throughout. United knew their limitations going into the game and set out their stall accordingly. The only minor blip was not tracking Bastian Schweinsteiger for his equalizer, but a realization of where they're at as team, and not trying to be something they're not, helped United thwart the reigning European champions. In the past Bayern have struggled against English teams defending with power and pace; see the UCL final 2012 against Chelsea. United must follow that blueprint, as the last four times English teams have played at the Allianz, they haven't lost.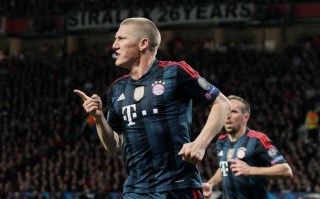 United's counter-attacks cause havoc
As we've mentioned, for most of the game United sat back and stopped Bayern. But when the Red Devils did surge forward, they did it ever so well. Danny Welbeck was a menace and ran himself into the ground. Often chasing his own flicks ons and making superb runs in the channels. The Englishman, who sports a devine flattop haircut, put in his best display of the season. That said, he was unlucky to not have scored twice. Early on, he flicked the ball over Javi Martinez and rifled his effort into the top corner. But referee Carlos Velasco Carballo said Welbeck had a high foot and harshly chalked it out.
(MORE: Moyes – "We've given ourselves a great opportunity" as Man United dig in)
Then in the 39th minute Wayne Rooney slotted Welbeck in, but instead of placing the ball either side of Manuel Neuer, he opted for a cheeky dink and the German 'keeper kept the ball out. Early long balls in behind Bayern's defense made the Bundesliga champions nervous all evening, and United should replicate that in Bavaria next Wednesday.
Schweinsteiger

, Martinez missing… United have a big chance at the Allianz
Okay, so Bayern are stacked with talent in midfield, we all know that. But if you take the experience of Schweinsteiger out of any team, it makes them weaker. The German midfielder, 29, slid into a tackle on Rooney in the final few minutes at Old Trafford and timed it wrong. The referee brandished a second yellow and a subsequent red card for Schweinsteiger, and he will now sit out the second leg. Incensed by what he thought was a dive by Rooney, Bayern's heartbeat in midfield lost his cool. Earlier, Martinez had also picked up a yellow, as his accumulation of cards means he'll sit out the return leg. Yes, Dante will return from suspension, but United have a chance to get at Bayern's core at the Allianz. Mario Gotze will likely step in for Schweinsteiger, but you can't underestimate that Marouane Fellaini and Michael Carrick will fancy their chances of getting at Gotze. United hassled and harried Bayern all night long, and they got under the skins of the German powerhouse. Another 90 minutes of doing that, against all the odds, David Moyes' side could be in the semifinals.
It's all to play for.