The true World Cup hype won't being until mid-May, when the 30 players named to the United States' preliminary roster will  convene ahead of the final team's trip to Brazil. But the anticipation for this summer's World Cup? It will pick up after tonight's friendly, with the U.S. facing rival Mexico in Glendale, Ariz. – the teams' final friendly before the European season ends and focus shifts to this summer's tournament.
Relying almost exclusively on North America-based players, the game also serves as a kind of Major League Soccer versus Liga MX showdown. Though players taking part in CONCACAF Champions League action are not called up, Miguel Herrera's side is relying exclusively on players from the Mexican league. And between the out-of-FIFA-window date (leaving most European players with their clubs) and Puebla's late refusal to release its two U.S. internationals, 19 of the 20 players head coach Jurgen Klinsmann has called into camp play in MLS.
The one except is this weekend's most talked-about player. Tampa, Fla.-born Julian Green, the 18-year-old Bayern Munich attacker who recently completed his one-time switch to the U.S., should make his first senior international appearance at University of Phoenix Stadium, with the former German youth international expected to see time at some point on Wednesday. When he appears, Green will immediately become one of the best prospects in U.S. soccer history – the first player in the program's setup who can claim to have a Bayern-esque pedigree.
Klinsmann's likely starting lineup will also be noteworthy, with Michael Bradley, captain Clint Dempsey, and Landon Donovan expected to take the field together for the first time since June 2012. Between injuries, sabbatical, and coach's considerations, the U.S.'s three biggest stars haven't played in the same side since third round World Cup qualifying in Guatemala. On Wednesday, however, the trio who formed the heart of the 2010 World Cup team's midfield are each expected to be in Klinsmann's starting XI.
Elsewhere, the U.S. will be missing some obvious starters. Up top, Jozy Altidore will be absent, remaining with his English team in Sunderland. In goal, Tim Howard is at Everton, while the fullback positions are wide open. The top two options on both the left and right sides — Fabian Johnson, DaMarcus Beasley (left), Brad Evans, Geoff Cameron (right) — remain with their clubs, meaning Michael Parkhurst and one-time international DeAndre Yedlin are likely starters out wide.
In that sense, the half-team feeling that accompanied last month's friendly against Ukraine could be replicated on Wednesday. Though the tension of the Mexico rivalry and the unique nature of an all-MLS lineup will draw more eyes to today's game, nearly half the starting XI will feature players unlikely to occupy the same role this summer. With midfielder Jermaine Jones also missing, between five and six spots in Wednesday's team should see different faces once the U.S. kicks off June 16 against Ghana.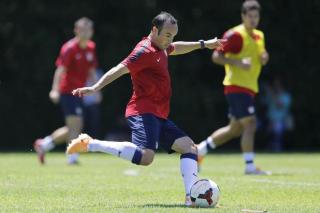 In the absence of those starters, however, comes a chance for players to prove themselves. In addition to Donovan (right) hoping to impress, whomever starts at fullback will be trying to make strides towards a place on the plane. For Parkhurst, that means cementing a spot that's thought to be his to lose. For Yedlin, that means continuing his surprise push to snare one of the spots Klinsmann could give to a 2018 prospect.
Up top, Chris Wondowloski will surely see time, even if it's in relief of Eddie Johnson. The 2012 Major League Soccer Most Valuable Player's case would be greatly enhanced with a strong performance against a decent (if not full strength) Mexican team. Likewise, players like Brad Davis, Maurice Edu, and Luis Gil will be fighting for places in May's camp.
And then there's Green, who has gone from fanciful hope to viable World Cup prospect over the last few months. With the U.S. in need of another wide attacker — particularly one that offers a different look than those already available — the 18-year-old has a path to the final roster, even if he's yet to play a minute for the team. When he appears, it will be for more than  a mere thank you for flying in from Europe. Green's audition will be as important as everybody else's; perhaps more so, given this first impression will be the only one the Bayern Munich II scorer will make before May.
As for Mexico, they will be trying to make the same assessments as the Americans, though from the U.S. point of view, the opposition is almost irrelevant. Between Wednesday and the three games the U.S. will play during May's farewell tour, Klinsmann's auditions will take place against a wide variety of styles and quality. No matter the opponents — be they World Cup qualifiers, European minnows, arch rivals or rarely seen foes — players will be expected to perform. The tensions of the U.S.-Mexico rivalry won't be a mitigating factor when Klinsmann's making his last cuts for Brazil.
Wednesday in Glendale, the process of selecting that final, 23-man roster picks up in earnest. Against Mexico, players will get apply the last two days' training, with their performances potentially deciding whether they make May's preliminary squad.
Though a good final score would help, Wednesday's most important outcomes will be how players influence their chances of making it to Brazil.