Week five of Major League Soccer's season begins on Saturday at 3:00 p.m. Eastern in Portland, Ore., with the latest installment in Timbers and Seattle Sounders' rivalry kicking off a nine-match slate that concludes Sunday with the Clásico Angelino. Here is our quick look at the coming weekend of MLS action.
Note: All rankings reflect PST's weekly MLS Power Rankings.
NBCSN's GAME OF THE WEEK
#13 Portland Timbers vs. #7 Seattle Sounders (Saturday, 3:00 p.m. Eastern, NBCSN/NBC Live Extra)
Last week: Portland lost at FC Dallas, 2-1; Seattle lost to visiting Columbus, 2-1
Aw, yeah. This game's supposed to be The Best Rivalry in Major League Soccer®, a label that some fans, particularly on the east coast, are tired of hearing. This Cascadia Rivalry stuff is being shoved down our throats … [insert 'dog', 'bro', or 'man' here]!
But it's true. Portland and Seattle is the league's best rivalry, and easily so. There's a reason why media from beyond MLS regularly fly in for these games. Sure, with ever patronizing BBC piece there's a hint of "oh, look at what those Americans are doing", but the reality on the ground remains the same. Saturday's match at Providence Park will provide an atmosphere unmatched in Major League Soccer:
[youtube https://www.youtube.com/watch?v=IITKEKeE74c align=center width=500]
So sorry D.C. United versus New York. There is a reason why people fawn over this game. I know it's annoying, and yeah, there's a point where the navel-grazing gets a bit ridiculous, but there is a reason why these game are always on national television. Not only do the two teams play entertaining soccer and legitimately embrace the intensity of the rivalry, but the games themselves are the best products MLS can offer. Portland-Seattle gets forced down your throats for a reason.
As far the game itself is concerned, Portland's winless in four, and while Caleb Porter is trying to maintain an even keel in the face of a disappointing start, that doesn't make March any less disappointing. A loss at home to his team's arch-rivals would put the Timbers' slow start in an entirely different, slightly more apocalyptic context.
As for Seattle, they've lost three in a row to the Timbers, including twice in last year's Western Conference semifinals. Though Clint Dempsey returns from suspension this week, he brings with him uncertainty as to which formation Seattle should play. With the U.S. captain out, Seattle went to a 4-3-3, something that produced their season's game-and-a-half of soccer.
---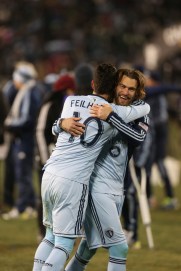 THE OTHER GAME YOU JUST CAN'T MISS
#2 Sporting Kansas City vs. #1 Real Salt Lake (Saturday, 8:30 p.m. Eastern)
Last week: RSL beat previous #1 Toronto, 3-0; Sporting won 3-2 at Colorado
A second straight one versus two matchup? Wow. It's almost as if the nature of Power Rankings lends itself toward this, especially early in the season. You know, I'm starting to wonder if those Power Rankings really mean anything.
Something that's slightly more meaningful: This year's only meeting between December's MLS Cup finalists. Real Salt Lake, having already knocked off Toronto FC and the LA Galaxy, continue a brutal opening schedule, while Sporting Kansas City gets its first big test since their CONCACAF Champions League commitments (and, squad rotation) ended.
Last time these teams met, it took 10 rounds of penalty kicks to crown Sporting the winner, but with a number of key players just returning from U.S. international duty, it will be interesting to see if fatigue plays a part. This early in the season, most people say players should be able to handle it, but will Graham Zusi or Matt Besler show any effects for Kansas City? And what about Kyle Beckerman and Tony Beltran for Real Salt Lake?
If these teams needed 10 penalty kicks to decide their last matchup, any microscopic edge might could send this game swinging one way or the other. There'll be no Lovel Palmer to decide this one.
CANCEL YOUR LIFE: THERE'S A THIRD GAME YOU JUST CAN'T MISS
#3 Columbus Crew vs. #4 Toronto FC (Saturday, 6:00 p.m. Eastern)
Last week: Columbus won at Seattle, 2-1; TFC fell at Salt Lake, 3-0
Coming off a win at CenturyLink, the league's last perfect team hosts the other club that's won in Seattle, though whereas Columbus needed the Sounders to lose a man before it got on the board, Toronto picked apart Seattle in the first 30 minutes of its 2014 opener.
In that light, it would be unwise to look too deeply into last week's loss in Salt Lake. Though Toronto looked terrible against the league's best team, their performance against a common opponent hints they'll be a good match for Columbus.
Too bad they'll be without captain Steven Caldwell, suspended for plowing through Ned Grabavoy last week. And again, Ryan Nelsen's reluctance to change his team's shape may be a problem. Whereas last week it was Real Salt Lake meticulously picking his 4-4-2 apart — building down its right to find Javier Morales behind TFC's first line of four — this week Toronto risks being bent out of shape by the movement of Federico Higuain. Even if they don't bite, there's still the potential to be overwhelmed by Bernardo Añor and Hector Jimenez creating a four-man middle.
---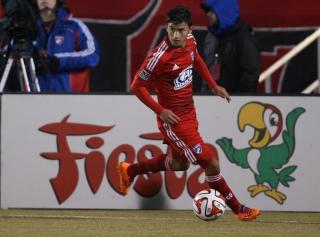 THIS SECTION IS ABOUT MORE DERBY ARCH RIVALRY NEMESIS-NESS … WEEK
#6 Houston Dynamo vs. #8 FC Dallas (Saturday, 8:00 p.m. Eastern)
Last week: Houston lost at Vancouver, 2-1; Dallas beat visiting Portland, 2-1
Given their ranking, I'm obviously not sold on FC Dallas (3-0-1). But guess what? They haven't actually looked that amazing, yet. A one-goal home win over Montréal? Only one shot on target against a hamstrung Sporting KC? The 10-on-10 aberration against Portland? FC Dallas's 3-1 win over Chivas USA was their most impressive performance, which kind of seems like something an obviously above average team would do. Hence, their obviously above average ranking.
If they win in Houston — heck, if they get a draw in Houston — they'll climb. Houston may have lost last week, but there was a lot to like about how they played at BC Place. Unless this game plays out totally unexpectedly (which never happens in soccer, right?), this will be a litmus test for Dallas.
In truth, part of me thinks Dallas is ranked too low, but it was impossible to bump them up after a game played 10-on-10. If they perform well in Houston, I can stop feeling so conflicted about their No. 8-ness.
#15 Chivas USA vs. #9 LA Galaxy (Sunday, 3:00 p.m. Eastern)
Last week: The Goats drew last week in New York, 1-1; LA was not playing Real Salt Lake
It's the L.A. Derby! Or the Derbi Angelino. Maybe it's the Clásico Angelingo, or better yet: El Derbi con el Nombre Lamentable (author's note: I  made the last one up). You may know it as the SuperClasico, but I'm going to use this platform to say something controversial: That may be the worst name for this rivalry. With next year's rebrand, that recycled moniker might die out. May its passing be a celebrated one.
On the field, LA Galaxy continued their pattern of off week-on week with an actual game, one that, for this first time this season, doesn't seem them matched up against Real Salt Lake. To LA's credit, it was only -1 on goals (+3 in shots on goal) over 180 minutes against the league's best team, but they should still be allowed to play the rest of the league. I don't like the Galaxy's Supporters' Shield odds if they have to play RSL each week.
As for the Goats, they return to Carson for a home game that's no home game at all. An LA team given two weeks to target its first win  will be Wilmer Cabrera's biggest challenge yet.
---
BE AN MLS ULTZY AND EMBRACE
#10 Vancouver Whitecaps vs. #11 Colorado Rapids (Saturday, 6:30 p.m. Eastern)
Last week: Vancouver beat Houston, 2-1; Colorado fell at home to Sporting, 3-2
While all your friends are watching Michael Bradley in Columbus or getting ready for that MLS Cup rematch, turn to what's destined to be a track meet in Vancouver. The Whitecaps are 2-0-0 and have scored six goals this season at home, in large part because the league's deepest (and, probably most talented) attack has been blowing past Eastern Conference foes trying to adjust to B.C. Place. The wonders of LigaTurf are no mystery to Colorado, however. With DeShorn Brown and Gabi Torres, Colorado may actually score its first non-penalty kick goal.
---
I'M THINKING ONE OF THESE IS YOUR FAVORITE TEAM
#16 Montréal Impact vs. #18 New York Red Bulls (Saturday, 4:00 p.m. Eastern)
Last week: Montréal got a draw at Philadelphia, 1-1; New York did the same against visiting Chivas USA
Marco Di Vaio will play, but in all likelihood, Tim Cahill and Thierry Henry are out for New York. Henry's not going to step foot on Olympic Stadium's turf (does he still get paid for the game?), while Cahill's hamstring problem leaves the Australia international on the sideline.
So are you ready for that epic Di Vaio vs. Bradley Wright-Phillips shootout? It's not what the crowd in Montréal was expecting, but it's what they're going to get. They may also get their team's first win of the season.
#17 Chicago Fire vs. #5 Philadelphia Union (Saturday, 5:00 p.m. Eastern)
Last week: Chicago drew at D.C. United, 2-2; Philadelphia dropped points at home to Montréal, 1-1
Remember how I said I wasn't comfortable with FC Dallas's Power Ranking? (Just pretend you didn't skip to your team's section.) I'm not thrilled with Philadelphia's, either. It seems too high for a team that was pulled back by a 10-man Montréal. At home. I was focused on the Union's underlying play, I may be over-valuing their potential.
As for this game, Jeff Larentowicz has some heavy lifting to do. Partnered with Alex in midfield, if Chicago destroyer will be expected to stop Maurice Edu, Brian Carroll, and Vincent Nogueira. If that sounds like a mismatch to you, that's because it is.
#19 D.C. United vs. #12 New England Revolution (Saturday, 7:00 p.m. Eastern)
Last week: D.C. United drew with Chicago, 2-2; New England won at San Jose, 2-1
Both teams got off to disastrous starts, going a combined 0-2-0 and -7 (goal difference) in week one. Since then, both sides have experienced week-on-week improvement, and while that leaves New England slightly ahead of United (having played an extra game), it also means something has to give.
There's no result that sees United go from mediocre to decent that also allows the Revolution to improve on their win in Santa Clara. One of Ben Olsen and Jay Heaps will leave RFK disappointed on Saturday, and for the first time in 15 games, it might not be Ben Olsen.
Might.